After an intense three-game series, New Mexico State volleyball finished 1-2 in the Wildcat Classic. NM State had a promising start after defeating their first opponent, Alabama State, but fell short against the hosting University of Arizona. After five tough sets, NM State dropped their final match against Long Beach State University.  
The Aggies were off to a winning start after scraping out their first two sets 25-19 and 26-24 against Alabama State's Lady Hornets. Despite dropping the third set, the Aggies responded in the fourth and pulled through with a 25-18 win.  
Redshirt junior Kacia Brown had a standout performance, tallying six kills in the first set alone. Brown reached a hitting percentage of .455 against the Lady Hornets and tallied a career-best 13 kills.  
Head coach Mike Jordan applauded his team for the win but expressed the need for improvement. 
"We're making a concerted effort to get Kacia the ball more often," Jordan said. "She was good today. We'll take the win, but we can play better."  
After cruising through their win against Alabama State, the Aggies had a less than favorable game against the Wildcats. A close win in the third set promised hope for the Aggies, but U of A pulled through to win the fourth set, finishing 3-1.  
Despite the loss, Brown and senior libero Darian Markham were powerful tools for the Aggies. Markham tied her season high of 21 digs, and with her 16 digs in the first match against the Lady Hornets, Markham set a 24-hour total of 37. Brown broke the record she set in the first match, reaching 14 kills in the second.  
"We had chances. We had more kills and dug more balls, but we made poor choices late in sets two and four, hitting low into the block," Jordan said. "We're competing hard, but we have to do so late in sets as well."  
The second day of the tournament posed new challenges for the Aggies after losing two sets against Long Beach State University. Both sides underperformed offensively and had low hitting percentages below .100. 
NMSU started to gain momentum in the third set and grinded out another close set 27-25. Brown, once again, performed powerfully after scoring six points on her own. Veterans Mari Sharp and Ryleigh Whitekettle ended the thrilling set ended after two back-to-back kills.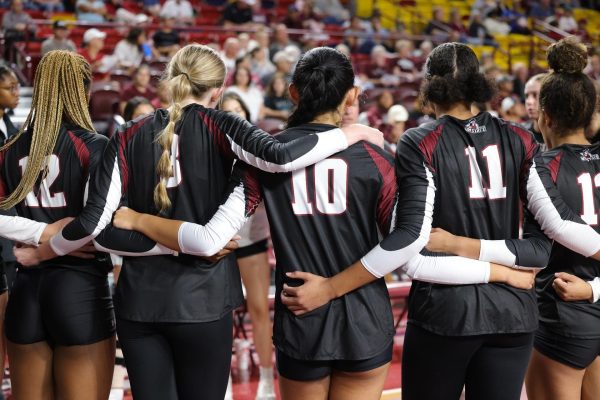 The fourth frame featured 11 lead changes and 20 ties. The match hung in the balance for 19 consecutive points, with neither team getting more than a two-point lead against the other. 
In a typical fifth set, the teams play to 15 after winning by two but after three consecutive points, the Hornets took the final set 35-33. Both teams exhibited great perseverance with 11 lead changes and 20 ties. The Aggies fell offensively with 27 hitting errors and a .175 hitting percentage. 
"We started slow and made too many attack and set errors early,' Jordan said. "Then, we got it going and it was a great match versus a really good team that has a win against the defending national champions." 
The Aggies will return home for their first Conference USA in a double-header against Middle Tennesse starting on Friday, Sept. 22 at 6 p.m. Coverage will be streamed on ESPN +.