New Mexico State University students practiced their modeling skills in professional clothing on Thursday, September 14 in Corbett Center Student Union. 
The 16 students volunteered to be part of NMSU's first-ever Professional Wear Fashion Show, hosted by the Office of Experiential Learning. Including a raffle and free snacks, the event aimed to show NMSU students what to wear – and what not to wear – in a professional setting.  
"I think it's important because we do have students who are unaware of how professional dress wear should go in regard to fashion," said Audria Lujan, coordinator of the OEL. "So, it's just preparing them so that when they are doing internships and jobs, they're prepared on how to dress." 
The show opened with a video demonstrating what not to wear or bring to a career environment, followed by a live version. The student models appeared in Hawaiian shirts, t-shirts and jeans, etc. as an example of what not to do. The models then walked the stage in professional outfits they had chosen for themselves. 
"I kind of think of professional wear as looking stuffy and like an old librarian," said Ignacio Alvarado, a graduate assistant with the OEL. "Kind of like a penguin, you know; that black and white, no personality and style." 
"But when you look around you see you can have style when it comes to professional wear; you don't have to lose part of yourself just because you graduate and have a full-time job. You can still be yourself and show off who you are in terms of like your cultural identity, gender identity, any of that."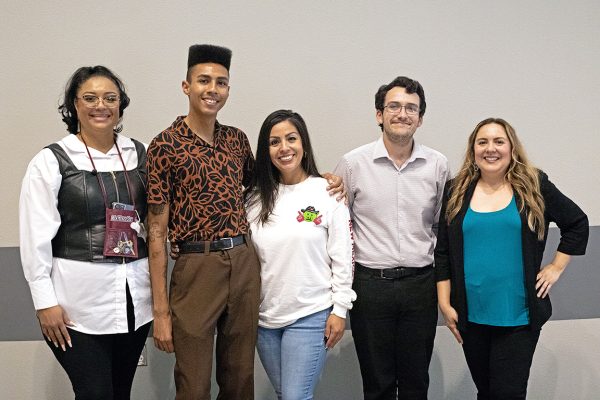 As host of the fashion show, Alvarado wore clothes he picked out from NMSU's Career Closet along with the show models. Full of donated professional clothing for students to wear, the Career Closet has several locations across campus, with one in Corbett Center, another in Gerald Thomas, and the last in Garcia Center.  
"It's a very useful resource," said Cameren Valenzuela, one of the models. "I think having free professional clothing is way better than having to go buy it somewhere else like Dillard's or any of the big-name brands when you could just get it here for free." 
While all of the models wore clothes chosen from the Career Closet, Marci Salinas, who oversees the closet, said that the OEL is still trying to spread the word that the clothing is available to all students.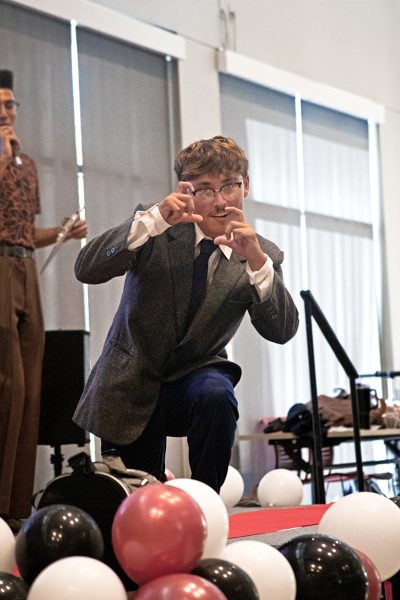 "We thought this was a perfect opportunity with the upcoming Career Expo to let students know that there are free resources for them, like the professional dress clothing if they're not able to afford it, or they don't know what to wear for the Career Expo," Salinas said. "We have options for them and it's available."
The Career Expo is an annual event which allows NMSU students to meet with employers from different fields and learn about jobs, internships, and more. It occurred Sept. 19 and 20 as a continuation of the OEL's career-oriented events to prepare students for life after college. 
"I think learning how to dress professionally is important regardless of where they're at in their college track because they're going to enter the career workforce sooner than later," Salinas said. "So just getting the experience with attending career fairs, starting to talk to employers but also dressing to impress and I think when you dress nice and you're looking for a job it just helps boost your confidence."