Despite a powerful offensive start in the first half, New Mexico State football dropped their early lead against the University of Hawaii Rainbow Warriors 20-17.    
The Aggies got off to a hot start on their second drive. After a short two-yard gain by junior running back Star Thomas, quarterback Diego Pavia rushed for 12 yards on the next play to give the Aggies a first down. On the following play, Pavia completed his first pass to redshirt sophomore running back Ahmonte Watkins for a 39-yard touchdown, giving the Aggies an early   7-0 lead.  
After quickly regaining possession, sophomore wide receiver Jonathan Brady rushed for seven yards on his only carry of the game. Despite their effort to gain momentum, the Aggies settled for a 35-yard field goal from kicker Ethan Albertson to go up 10-0. 
After Hawaii's third punt of the game, their defense desperately needed to stop the bleeding. After Pavia scrambled for 44 yards to set up a first down when defensive lineman Daniel Williams forced a fumble and returned it for 40 yards.  
Riding their momentum, Hawaii's' Jordan Johnson rushed for 22 yards in two plays that put them i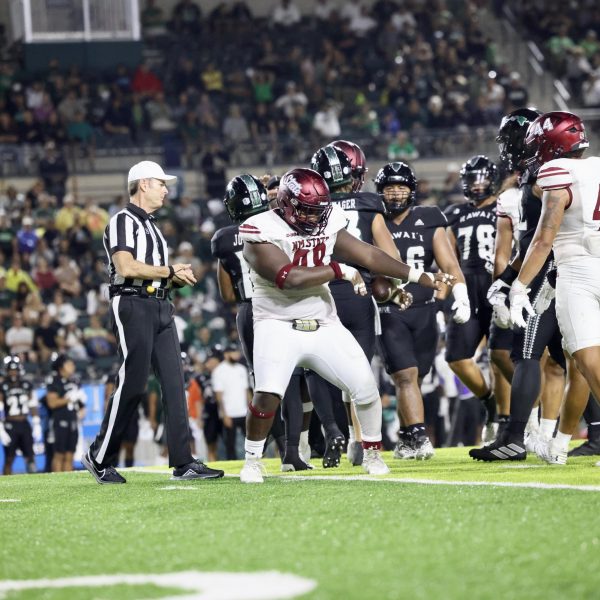 n field goal range. Facing a fourth down, Hawaii settled for a 35-yard field goal to cut the Aggies lead to seven.  
Pavia responded and fired a 21-yard touchdown pass to Thomas on an eight-play, 73-yard drive to give the Aggies the lead 17-3 heading into halftime. 
The Rainbow Warriors flipped the switch in the third quarter and quickly moved the chains and cashed in a four-yard touchdown to only be trailing 17-10. 
Hawaii began to overwhelm the Aggies offensively and Schager completed four passes for a total of 46 yards before he found Jordan Johnson in the endzone to tie up the game. 
With under three minutes left and the Aggies unable to respond,  Hawaii regained possession and Shipley nailed a 24-yard game winning field goal to give the Rainbow Warriors a 20-17 win over the Aggies. 
Moving forward after the loss, the Aggies have a long break before returning home to host Florida International University on Wednesday, Oct. 4 at 7 p.m. Coverage will be streamed on CBS Sports Network.