New Mexico State's swim and dive team made its first splash at the intersquad meet between Team Crimson and Team White. After stellar perforamces from both teams, Team Crimson prevailed 55-49.  
Fifth-year Italia Aranzabal led off the meet with the one-meter dive for Team White and earned seven points to give her team the early lead over Team Crimson's senior Casey Schmidt and freshman Mira Tinani. 
Riding their momentum, Team White's 200-medley relay team of freshmen Emily Dobbins and Foteini Charitou and sophomores Kira Brownell and Faye McDonagh to stay in the lead. Team White continued to dominate in the next two events after sophomore Naomi took the 500-free and Dobbins splashed through the 100-freestyle.  
In event five, Team Crimson turned the tides with their first win of the meet. Freshman Riley Crespo clinched the 200 IM while senior Lindsay Puhalski led in the 100-yard fly. In the 3-meter dive Tinani carried the crimson torch and brought in their third straight win.  
With Team Crimson trailing by one point, sophomore Katie Rink shot her team into the lead after the 50-free. Team White retaliated and dominated in both the 100-meter backstroke and 200-yard freestyle thanks to backstroker from down under Dobbins and Canadian powerhouse Slee.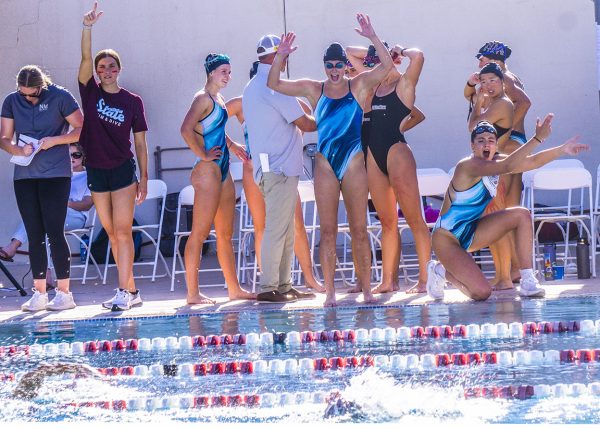 Going into the final event, Team Crimson was trailing by one point but that was the fuel swimmers Rink, freshman Callie Ceshker, sophomore Dreamer Kowatch and junior Elizabeth Cervantes-Vanderlugt needed to secure the win. The final scores put Team Crimson on top with 55 points and Team White trailing right behind with 49 points. 
Following the match, head coach Rick Pratt was excited about the team's performance and the start for the rest of the season. 
"Today was a lot of fun, and for it being very early, we had some exceptional swims," Pratt said. "The goal was to have fun and really focus on our energy and spirit, and on that we were awesome. The meet only last 45 minutes and for many they were pretty fried by the third event, but that is part of the process and will improve now that we're upping our training levels. I am really excited about this group and how much energy, focus and fun they're bringing to the deck each day." 
The Aggies now look forward to their first Western Athletic Conference match as they host Northern Colorado on Saturday, Oct. 14 at the NM State Swimming and Diving Complex. Coverage is being presented by the WAC streaming services.