The New Mexico State Floral Team is springing up with growing fundraising opportunities such as the spooky Halloween-themed "Scare-arium" event they hosted on Tuesday evening. The Floral Team competes in floral design competitions at the local, regional, and national level. It is open to anyone with a love of flowers and hopes to help students build skills and become keen about all things green.   
The team generally does not receive any money from the university to fund their organization, so the costs to travel to competitions and maintain the organization are raised directly by the team through sales and community events. 
For fundraising, the team sometimes hosts classes, such as this one, where attendees could build their own spooky terrariums, along with a plethora of other activities and events. These include special event orders, floral sales, and selling student-grown plants.  
Sabrina Montoya, the president of the Floral Team, spoke on how the team works together to function on such a large scale around campus.  
"It's really a collaboration," Montoya said. "So, I couldn't do it without the team I have…they take on a lot of the work also."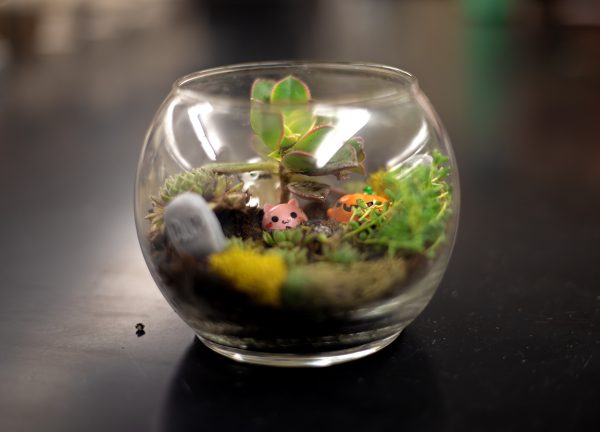 The Scare-arium event let people get their hands dirty to create their very own succulent mini garden from scratch, and decorate it with a variety of Halloween-themed items. The members and officers who helped host the event embraced the spooky spirit, dressed in an assortment of costumes, from vampires to witches.  
Sophomore Diego Lara was one member in costume and talked about the team's efforts both on and off campus. 
"It's a lot of community service, a lot of getting out there, being outside," Lara said. "We do sales every other week to fundraise…we go to the farmer's market and set up a little table there and it's always a great time."  
Being a part of the Floral Team is an excellent opportunity for students to learn about horticulture, floriculture, and industry-related affairs, regardless of their major or background. The team emphasizes community involvement to reach out to students and develop new experiences to grow the organization. 
Freshman and member of the team Cadence Tubbs attended the event and spoke on what it has been like to be involved.  
"Our very first meeting…[I] kind of just fell in love with it," Tubbs said. "I've learned so much about flowers and I had never really touched flowers before."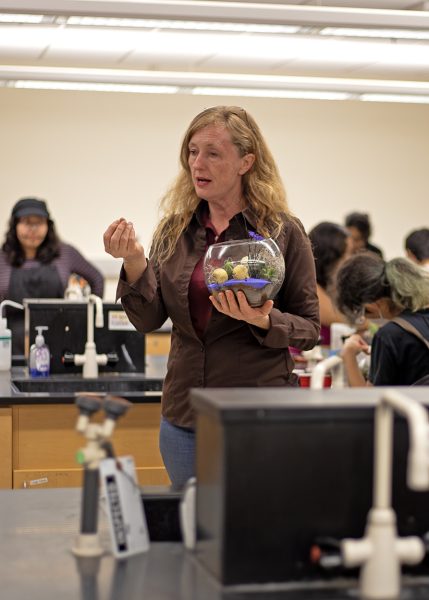 Lara also said that he had never done anything like it, and it's been rewarding to begin learning techniques about working with flowers.
Sabine Green, the faculty advisor of the program, gave her perspective on the team and shed some light on its history.  
"The floral team started in the 80s and there was a lull in the 90s," Green said. "This is our first year that we placed first at nationals — we also placed first at regionals."  
Montoya reflected on the impact that gardening has had on her life and what being a part of the team has meant to her.  
"I grew up in the garden with my grandma," Montoya said. "It really just gave me the appreciation for the beauty and impermanence of everything."