The 67th Senate of the Associated Students of New Mexico State University voted in favor of Resolution 15 and against Bill 55 on Oct.12, 2023, regarding the construction of a multipurpose field and an amendment to senate's bylaws. 
Resolution 15, introduced by Sen. Kolby Graham Taylor, Majd Mawla, and Victoria Sandoval, asked for the approval for construction of a multipurpose field. The field would primarily be used by the NMSU Rugby team and the Pride of New Mexico Marching Band. Its construction will be this year's Capital Outlay Project, as decided by the Student Advocacy Board. 
The PRIDE Band is currently holding practices on the Horseshoe. This poses safety issues for staff and band members. Because of the combination of uneven, rocky ground and heavy instruments, band members have fallen several times.  
Additionally, the band is using a scissor lift to act as their watchtower. With the new field's construction, the band will practice on a flat, turfed over field, with a watchtower for the staff to use safely. The Senators who presented the bill argued that at a Division 1 school, NMSU's band deserves the dignity of a field it can safely use for practices. 
"It's embarrassing that a D1 university doesn't have a practice field for their band. Even high schools and D2 universities have this. So why shouldn't New Mexico State? Why don't we have one?" Taylor said.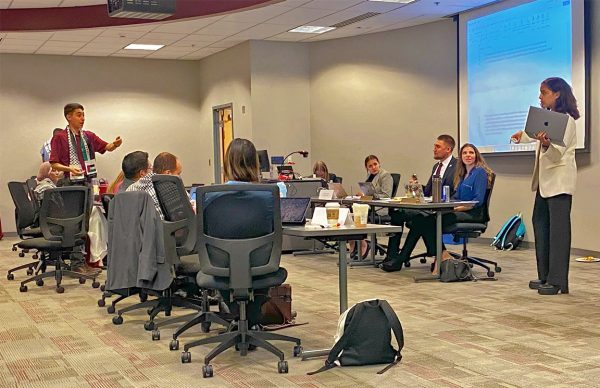 Additionally, the rugby team will be using the field, as the team currently doesn't have a field where they can practice. The field will resemble a football field, so both band members and rugby players can practice on the same kind of field where they play. According to Taylor, both the band and rugby team have expressed enthusiasm about the field's construction. 
"They all love the idea, the rugby team, especially in fact. They're hyped for it. But the band is really excited for it as well… They're really happy to hear that we're doing something about this," Taylor said.  
Following the passing of Resolution 15, the senators voted not to pass Bill 55. Bill 55, presented by Senator Rahaf Ben Ali, was written with the goal of amending Chapter 7 of the ASNMSU Financial Procedures. 
The Bill would have shifted the requirement for the senate's ability to change financial procedures from a simple majority to a two-thirds majority. Ben Ali argued that this would make financial procedures more consistent and harder to change.  
"As you know, we were in a financial crisis during last year, so I want to make it [so] that amendments made to financial procedures are difficult. So, we will be more aware of what we are doing." 
Although the senate didn't pass Bill 55, Ben Ali remains committed to making the legal system work better for everyone. 
"I want the lawbook to really work for us. And that's why I'm going to be making those lawbook changes, and that's why every meeting I have a lawbook change. I'd love it to work for us," Ben Ali said.