This story contains descriptions of suicide and mental illness. If you or someone you know is struggling, you can text or call 988 to receive mental health crisis care. If needed, the Aggie Health and Wellness Center provides on-campus mental health resources for students by visiting wellness.nmsu.edu or calling (575)-646-1512. 
NMSU's Peer Mental Health Advocate Program prepares students with tools to combat mental health stigmas and crises. Now running in its second year, the nine month training program is composed of applicants across campus that are being trained in mental health education and resources. By the end of the spring semester, members of the cohort will be trained in strategies for mental health advocacy. 
The first set of peer advocates completed their training and received certifications in April 2023. Once the fall semester began, so did outreach efforts to build a new cohort. Jagdish Khubchandani, professor of public health at NMSU and facilitator for the group, remarked that continuing the peer mentoring program builds infrastructure with students getting trained and having more strategic initiatives on campus. 
"We were looking for people who were struggling, wanted to change, and had a passion in this area," Khubchandani said. He emphasized the importance of decentralizing mental health so that it can improve community-wide, and explained that the goal of the peer advocacy program is threefold: to conduct research on mental health issues across campus; identify these issues and train students on how to deal with and overcome them; and transform these students into advocates for creating greater change and mental health awareness. 
"If our focus is on education, and we talk about student success and graduation and retention, why are we not promoting mental health as a part of the package?" Khubchandani remarked. "This is a place where young people should be catered to, and that's my agenda for the next few years." 
The need for this student cohort, as well as other mental health resources, has only grown due to the widespread impacts of mental illness on New Mexicans. The yearly publication, State of Mental Health in New Mexico, from the New Mexico Department of Health reports that issues related to mental health can affect anyone regardless of distinguishing characteristics, like age.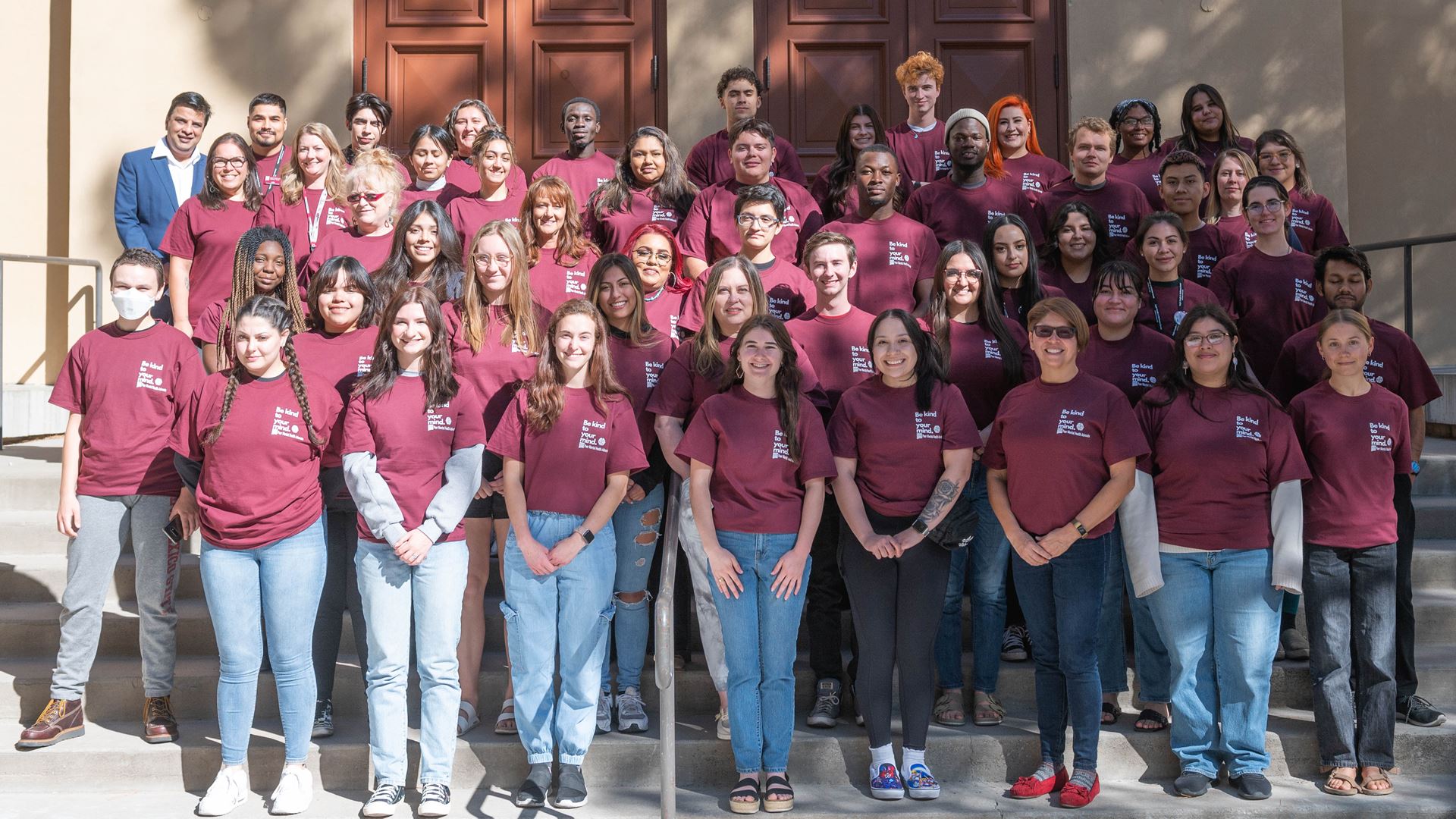 Their findings state that two out of five high school students described feeling sad or hopeless in 2019, while 13% of adults experienced frequent mental distress. Such statistics ranged from a myriad of causes, including but certainly not limited to, poor sleep, financial worries, and adverse childhood experiences. 
This yearly publication goes far more into detail on the various components of mental health, including suicide and suicide-related behaviors. They found that New Mexico is ranked fourth for the highest rate of suicide among U.S. states in 2020, with an age-adjusted suicide rate being 79% higher than the U.S. rate in 2020.
Now becoming aware of such alarming statistics, the students of this cohort are taking active steps to learn about resources available and what they can do to help. 
"As a teacher, I am concerned," stated Isaac Newton Nyatuam when asked about his motives behind joining the cohort. "I want to know more about this [mental health resources]. I want to be able to help my students understand how to recognize signs related to that."
The student cohort meets weekly to discuss important matters related to mental health, as well as work on training and outreach initiatives, just as they did at one of their cohort meetings on Friday, Oct. 6. 
The first hour of this meeting consisted of NMSU faculty congratulating the program's students with snacks and t-shirts for their service and time. Dean of Students Dr. Anne C. Goodman and Vice President of Student Success Dr. Renay Scott were also present to speak to the cohort personally, thanking each of them for their participation.
The second hour was spent teaching the students about mental health statistics and "Question, Persuade, and Refer" suicide prevention training. The meeting especially resonated with cohort participant Seth Owusu, as he was able to gain noteworthy information. 
"From this last presentation, I realized that women attempt suicide three times more than men, and men commit suicide 3.5 times more than women," Owusu stated. "So, this is really good information to help you and guide you when you are helping people."
The aspiration to help others was a pattern among the cohort's participants, as seen with student Tot McCormick, who expressed similar sentiments.
"I hope to learn about more ways to talk about some of those tough subjects, like when people are struggling with suicidal thoughts at the moment," McCormick explained. "Being able to talk about those really tough mental health subjects and getting people help."
The Peer Mental Health Advocate Program is creating lasting impacts on previously certified members, trainees in the current cohort, and faculty who have assisted in spearheading the program.
"I realize now that all of my hundred papers in the last 10 years have no value compared to this …" Khubchandani said. "It has changed someone's life. They have become stronger; they have little stigma now … and that makes me proud. I never thought we would do this."
If you or someone you know is experiencing a mental health emergency, you can call or text 988 to receive crisis care.