The Veterans of Foreign Wars office in Las Cruces hosted a Helping Hands Veterans Stand Down on Friday, October 20, 2023. During the event, homeless and near homeless veterans recieved backpacks of essential hygiene items and information about resources available to support them. 
The Stand Down gets its name from a military term that refers to a time when military officers would take a break from their usual duties. Gail Bamford, a School Certifying Official at the Military and Veterans Programs at NMSU, explained the story behind it. 
"A Stand Down traditionally is when they let [the military in combat] get away from the action and relax as much as they can during combat like reading letters from your family time…So now that we have all these homeless veterans, the stand downs are community effort to try to help our homeless and near homeless veterans," Bamford said.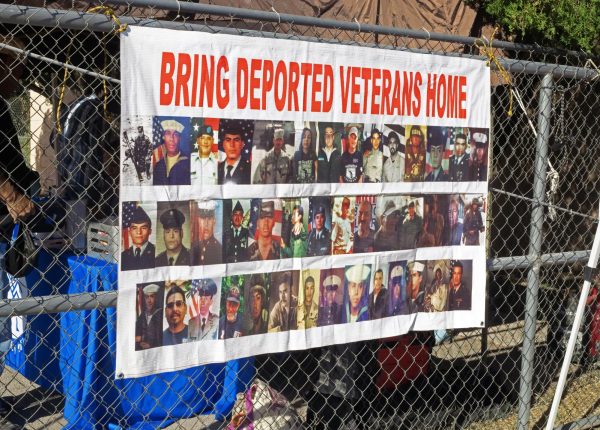 One hundred volunteers from thirty-one organizations helped with this year's Stand Down; each organization participating in their own way. 
"Walgreens came in and gave flu shots and COVID shots. Blue Cross Blue Shield did health screenings and blood pressure screenings. Then there's agencies in the community that help with housing, and just different things throughout mental health organizations," Bamford explained. 
Another main aspect of the event was donations. The Military and Veterans Programs, as well as other members of the community, collected donations such as socks, hats, and toiletries.  
"We, along with the whole university campus and Dona Aña County, donate toiletry items for those backpacks," Bamford said. "So what we really want is items for the winter, long John's, hats, gloves, socks, those are the most important. We put all the toiletries in there too, which everybody needs but if you're homeless, I think you'd rather have a pair of warm socks, than a toothbrush, I would imagine, but I don't know what it's like to be homeless." 
Some of the backpacks were TA 50 gear, which is gear that was used by the military, and now can only be donated to veterans.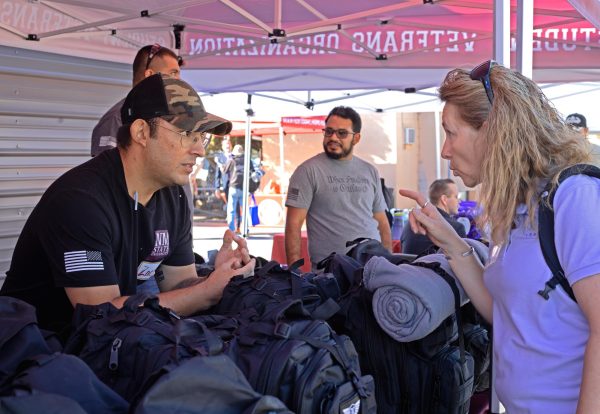 "These backpacks are a little special. They are military quality backpacks. So they come with many different types of many different types of features that they don't normally have for regular backpacks, or at least the more sporty or backpacks that cost a lot more," explained Kamaul Francis, a member of the Student Veterans Organization, who volunteered at the Stand Down. 
Another service provided at the event was registering veterans for available resources. Though there are many resources available to help homeless veterans, many of them either don't know what's available or don't feel comfortable asking for assistance. The goal of volunteers at the Stand Down was to make these resources more accessible for them to get the assistance they needed. 
"I think it's pretty important to help [veterans] out because sometimes they don't reach out so you've got to reach out to them first." said MVP employee Christopher Ostic. 
For many volunteers, helping homeless and near homeless veterans is personal. It is an oppurtunity to honor veterans and give back to the community.  
"My life could have taken a dramatic turn if I hadn't taken steps to prevent my own homelessness, so I can understand their postition," Francis said. "And in the Air Force, we always say we never leave an airman behind. So if I can actually reach out and help these people, even if it's just some hours of my day or just one or two items or you know, anything that I can do to help them transition to whatever phase in their lives that would be good for me," Francis said.