The historic inaugural season in Conference USA for New Mexico State University women's soccer ended in tears after falling to Liberty 2-1 in the championship game. 
All season long the NMSU soccer team had the same motto, "play for T," after the unexpected death of Thalia Chaverria over this previous summer. The team finished as regular season champions having a 6-0-2 conference record and 10-6-3 overall. 
Before kickoff, players on both sides shared in a moment of silence as one would come out victorious and the other's season would end. No matter the outcome, one team would punch its ticket for the NCAA Women's Soccer Tournament.  
As the referee blew the whistle, NMSU came out fighting and within four minutes senior Gianna Valenti found the hole in the Liberty defense for her first shot on net. As Valenti aimed for the bottom right corner, Liberty goalkeeper Ainsley Leja made a diving save to keep the score tied at zero a piece. After NMSU regained possession, Leja produced another save off of a shot from senior Megan Ormson to the bottom right corner.   
Players on both sides of the bench stood up anxiously waiting for the first goal to break through. After NM State had been dominating offensively, the tone changed after Liberty's Jena Johannes was found in the goalie box. 
After Johannes was fouled, Rachel DeRuby was set to take the kick. DeRuby stared at the eyes of NMSU goalkeeper Valerie Guha awaiting to take the penalty attempt then nailed the corner of the net for the first goal of the game.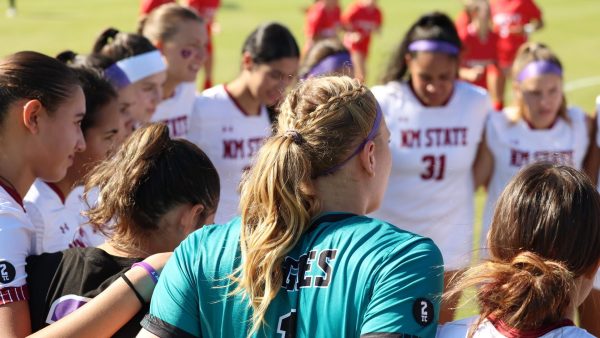 With momentum on their side, Liberty kept applying pressure as they attempted to put another tally on the board. Guha saved shot after shot as NMSU's defense did what it took to take possession as they attempted to tie the score in the dying minutes of the half.  
As 10 minutes remained in the half, NMSU was finally able to capitalize on the finish. Valenti fired another shot off a pass from junior Carolina Rodriguez to secure NMSU's first goal to tie the game at 1-1 before the end of the half.  
As the second half was getting underway, both goalkeepers were tested in the first minutes. After NMSU failed to find the net, Liberty's Saydie Holland capitalized on an assist from DeRuby to put the Flames up 2-1. As minutes remained in half, desperate times called for desperate measures as every single NMSU player pushed up the field for the tying goal. After one last shot, the referee signaled the end of the game and NMSU women's soccer team's terrific season came to close as they fell 2-1.   
Unable to clinch the championship, NMSU did not earn a spot in the NCAA Women's Soccer Tournament and will return next season.