History is All Around Us
The other day I had a gentleman come into my office inquiring about a story idea he had in mind. The man, in his 60's, attended NMSU during the early 1970's.
"I can't believe how much this place has changed" he told me. I used that as a transition point into asking him just how different the school once was.
Suddenly, for the next 20 minutes in the middle of an early March Wednesday in 2017, I felt as if I had been taken back in time to an NMSU none of us would recognize. Whether it was the man telling of how he once lived in an all-boys dorm in what is now currently Breland Hall, or of the times that Milton Hall was seen as the center of campus and housed not only places to eat, but a book store as well.
In addition, the man, who graduated with a journalism degree, also mentioned student media, of how he was the first Sports Anchor on what is now known as News 22 with KRWG, working for $50 a month. He also recalled the time his sophomore year he, along with most of the students on campus, began to protest a Board of Regents decision that there could not be any boys in girls' dorms or vice versa at any time of the day, a decision later reversed in 1976.
This kind of history  that we now occupy (both physical locations and job titles) have an enormous legacy in and of themselves that come with them. Odds are, problems both good and bad are not the first (or the last) of its kind that will be seen at this University. However, it can be beneficial to sometimes remind yourself to look up and realize that not only is history around us in every sense of the word, but also living through us as well.

Hang on for a minute...we're trying to find some more stories you might like.
About the Writer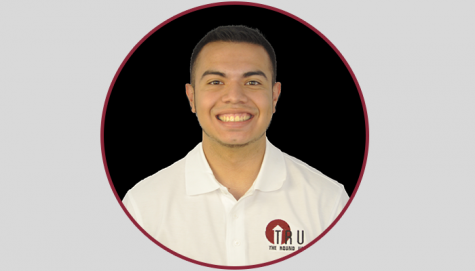 Albert Luna, Editor-in-Chief
Albert is in his second year as the Editor-in-Chief and third year overall working for The Round Up. Originally from El Paso, Texas, Luna brings to the table years of experience in journalism, including working as the Head of Content for the NBA columns at ESPN El Paso. He was also heavily involved with his high school newspaper, Eastwood's Sabre, which he credits as the primary influence which led to his interest in journalism. Upon coming to NMSU, Luna was quickly brought on to The Round Up as a staff writer, being promoted to Sports Editor shortly thereafter. Luna, a senior, is double majoring in Finance and Government with a couple minors as well. When he is not working or in class, Albert likes to play the latest game of NBA 2K or Madden, help out with CRU, an on-campus ministry group, or watch his beloved Dallas Mavericks. Luna wants nothing more than to see The Round Up succeed this year. He is confident that this year's entirely new product will serve the most important consumers, the students, in the best ways possible.