NMSU Women Stall Out in Second Half
By Albert Luna
Staff Writer
The New Mexico State women's soccer team looked poised to have the game in the bag. Then they abruptly stumbled. The Aggies must do some retooling in this young season, as youth and inexperience continues to plague them.
The team took the field once again on Wednesday afternoon for the latest battle against 1-10 rival UTEP, hoping to claim their first-ever victory versus the Miners. NMSU was previously 0-4 all-time against UTEP.
The Miners, who came in 3-3, were on the second leg of a three-game week. The first 65 minutes of the game could not have gone better for the Aggies, with a 1-0 score to show for it. However, less than 15 minutes later, UTEP had a comfortable lead, ultimately taking down the home team 3-1.
NMSU, fresh off their first win this past Sunday vs. Lamar, after opening the season with a 0-5 mark, simply just could not find a way to compete down the stretch.
"I don't know who that team was that came out in the second half," NMSU Head Coach Freddy Delgado says of his team's lack of effort. "Today is a very hard pill to swallow because we didn't work hard and we didn't come out to play."
The two teams came out with an offensive approach, each with eight shots apiece in the first period of play that was capped off by a goal for the Aggies by Sabrina Ruiz. The freshman forward took advantage of a broken play off a corner kick from freshman midfielder Rebecca Mazzie.
"The ball was placed perfectly in front of me and I saw it and kicked it has hard as I could," Ruiz says.
Sophomore defender Holly Abdelkader and Mazzie were credited with an assist.
For the rest of the half after the goal, the Aggies showcased an aggressive attack by taking four more shots in the remainder of the period compared to UTEP's two. Freshman goalkeeper Ashley Martin held down the fort, allowing no goals from the Miners in the second half while being credited with an impressive three saves.
The Aggies were also able to muster together two corner kicks compared to none for UTEP in the first half of play as well. To start the second half, the Aggies came out with the same aggressive mindset, but the inexperience and youth began to creep in.
"First half we came out with great intensity, but in the second half I think we became too relaxed and let our guard down," Ruiz says.
In minute 66 of the action, UTEP's Jeanna Mullen scored a header off a throw in from teammate Aleah Davis, quickly making the game interesting. Less than two minutes later, UTEP was in complete control.
The Miners' Maddie Heist scored at the 67-minute mark to make it two goals in two minutes for the Miners and delivering a big blow to the Aggies' hopes.
"In the second half, we just refused to do the little things that got us there," Delgado says. "We just didn't have the effort."
The head coach also added NMSU was a victim of defeat only to themselves.
"No offense to UTEP, but we gave the game to them, and to their credit they capitalized on some of our mistakes," he says.
The Miners would later score their final goal in minute 74, with Angela Cutaia being credited with the tally. The Aggies were already buried by then, failing to even get off a shot for the remainder of the game, tallying only one the entire second half compared to an astounding 14 by the Miners. The two corner kicks NMSU was able to assemble in the first half could not be duplicated either, while the Miners tallied seven such kicks in the second half alone.
Delgado, despite his disappointment, still says his team, now 1-6, can turn things around.
"I've been telling my team that we are our worst enemy, we control our destiny, and I'm not sure how many teams out there can say that," Delgado says.
The coach also added he is still taking into account the learning curve that may come with this young team.
"We're going to keep forging ahead and these ladies have to learn what is acceptable and what isn't here," he says.
Ruiz also agrees the team still has a lot to work on to put themselves in position to succeed.
"We need to work on playing with heart and energy consistently," she says.
Looking forward, the Aggies will be heading into a much-needed break from action, not taking the field again until September 18, when they head to San Marcos, Texas, to faceoff against Texas State.
"This gives us a full week and a half to figure out where we are and where we want to go from here" Delgado says of the rest period. "We are still talented enough and capable of winning a conference championship."
With this latest loss for the Aggies, that soul-searching better come quickly if they are to have any hope of remaining competitive. Despite a toughening schedule, Delgado still has confidence in his team.
"We know that if we play the right kind of soccer, we are going to win a lot of games, but we've got to do that on a daily basis," he says.

Hang on for a minute...we're trying to find some more stories you might like.
About the Writer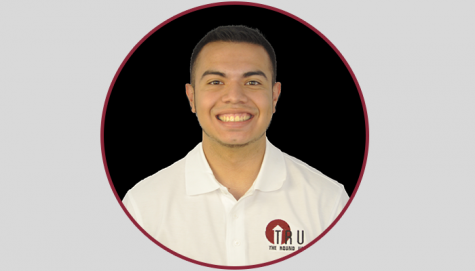 Albert Luna, Editor-in-Chief
Albert is in his second year as the Editor-in-Chief and third year overall working for The Round Up. Originally from El Paso, Texas, Luna brings to...