Sweet Volleyball: Aggies Get First Win Against Lobos Since 2012
The New Mexico State Aggies used some big plays to open up sets and were able to overcome a 1-0 deficit to come back and defeat rival UNM Tuesday night in the Pan American Center.
The Aggies were playing their second leg in a four-game home stand that started Saturday night with a 3-0 sweep of University of Texas – Rio Grande Valley. NMSU was looking to beat their rivals from up north for the first time in three years, after disappointingly getting swept in Albuquerque last year. The Aggies also welcomed back Brianna Ainsworth and Andrea Tauai from injury.
In the first set, the Aggies started off slow, despite a great opening kill by freshman Tatyana Battle. The Aggies quickly found themselves in a 5-1 hole, with UNM scoring primarily on some misfired serves from NMSU.
Despite the Aggies trying their best to pull ahead, they consistently allowed the Lobos to stay in the set with missed dig opportunities. NMSU took a timeout 15-14 down, but was unable to respond to Head Coach Mike Jordan's liking, forcing another timeout 19-18 down.
Questionable calls by the referees had Jordan livid as what would have been a 21-21 tie was turned into a 23-21 difference in favor of UNM. The Lobos would use that momentum to ultimately take the set, 25-20.
The Aggies, predictably, came out firing on all cylinders to start the second set, with Tatyana Battle having two of the first six points and Murphy garnering another two to put NMSU up 6-1. The Lobos would take a timeout of their own and would respond fairly well, cutting the lead to three at one point.
However, NMSU was able to garner a few points themselves, not letting UNM come within three points the rest of the set. The strong start by the Aggies proved to be the difference, as the remainder of the set was fairly even, particularly down the stretch.
This culminated in a deciding 25th point for NMSU, allowing UNM to score four straight before a Bradley Nash kill was able to close out the set, 25-20, and allow the Aggies to head into halftime with a tied match at one all.
"We get a little uptight sometimes as a team, and for us, the hardest points to get are the last ones," Jordan says of his team's late-game struggles.
Coming out of the break, Nash picked up right where she left off, getting two early kills to put the Aggies up three early.
"I thought Bradley was the star of the game," Jordan says of the senior. "She played the ball really well today." Jordan said of his senior.
A Natalie Castellanos-kill gave the Aggies a four-point cushion at 8-4.
Gwen Murphy also had two early pairs of kills and NMSU found itself with a 10-4 advantage, another strong start. NMSU slapped off some attempts at runs from the Lobos early in the set, which was topped off with a great sequence in which a Kaylee Neal-dig led to a powerful Tatyana Battle kill to make it 15-9, forcing UNM to call a timeout.
NMSU showed the talent fans have become accustomed to seeing all season, demonstrated by a 6-4 run that also saw NMSU make two straight diving plays in one sequence to force, in essence, two Lobo timeouts. Murphy then took it from there, as the star connected on two straight kills to allow the Aggies to take the set, 25-14.
With the Aggies looking to end the comeback in quick fashion in the fourth set, they started off slow in comparison to the previous set starts. In contrast to the runs that put them up early in sets two and three, the Aggies played from behind for most of the final set, ultimately forcing Jordan's hand in calling a timeout with his team down 10-7.
The team responded well by going on a run of their own to tie it up again at 12-all, which forced UNM to take time to chat things through. The Aggies came out with the same amount of fight with a 17-13 score to show for it on the scoreboard at one point. A pair of kills by Castellanos and Murphy kills gave Aggies a comfortable 22-16 lead, and that's as close as the Lobos would get.
The Aggies survived a bit of a scare down the stretch, needing yet another Murphy kill to finally seal the match and game.
"I surprised myself, I have been struggling recently and today was a big game and I'm glad we were able to get a win," Nash says, adding the team needs "to close out better."
The final set score was three-one, in favor of the Aggies.
"Rivalries games are huge," says Murphy. "This game was redemption (for last year)."
Looking ahead, the Aggies will next be in action on Thursday, October 1, against Chicago State, the first in six straight WAC-opponents before they will take a break to play another rival—UTEP.
"Our expectations don't change," says Coach Jordan. "We are still competing for conference championships."

Hang on for a minute...we're trying to find some more stories you might like.
About the Writer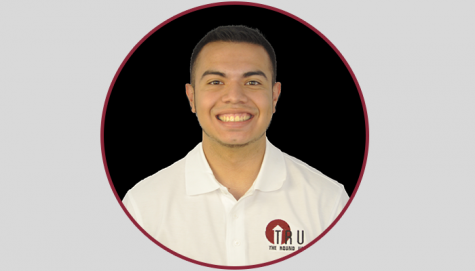 Albert Luna, Editor-in-Chief
Albert is in his second year as the Editor-in-Chief and third year overall working for The Round Up. Originally from El Paso, Texas, Luna brings to...