NMSU Rugby Team Paving New Roads
The New Mexico State University rugby team is slowly on the rise.
What first started off as a small endeavor by some students is quickly growing into a community- oriented event. Rugby is not officially recognized as an NCAA sport. However, that is not to say the team is simply an intramural team either.
The Chiles rugby team is organized entirely by students.
"Rugby is year-round and we have different types of groups with sevens, 10s, and 15s, which is the number of people on the field for each side," says Club President Brian Toles, who is also a player.
Rugby is played with 15 men in the fall and spring, and with seven in the summer. Currently, the main competition for the Chiles is teams from all over New Mexico and West Texas, with notable schools such as UNM, UTEP, and Western New Mexico.
The Chiles also compete in an annual Sante Fe tournament that serves as a tune-up for the season.
Despite the sport obviously not being one of the bigger attention-getters on campus, Toles says it is certainly headed in the right path.
"Rugby is not as big in the United States as it is overseas, but if you look at it its recent history, it is becoming more and more popular domestically," he says.
He says, one day, Rugby could be an NCAA-sanctioned sport.
"If you look at a lot of sports that are new to college sports, they have a similar path to this one in that they are organized by students or just people that love the game in general," Toles says.
He added rugby is in the process of becoming an Olympic sport, which could lead to a catch-on in America.
The Chiles have two home games this season. The first was on September 26, which they lost to the New Mexico Tech Pygmies, 31-27.
"We have a very strong team this year, but we played some pretty soft and sloppy rugby as compared to the rugby we know," Toles says.
The game started off in favor of NMT, as they were able to find the goal early and often, as compared to the Chiles, who also struggled with penalties, which Toles says he attributes to a lack of experience.
"We have a lot of guys that are new to the sport, so we are just trying to the get them familiarized with it," he says. "We'll clean it up."
A decent crowd turnout is evidence the team and sport are here to stay.
Their next and final home game is Saturday, October 10, at 1 p.m. against the UTEP Miners. The game will be played in the lower intramural fields, also called the rugby pitch, and is open to the public.
Toles encourages other students to tryout for the team, which practices Mondays, Tuesdays, and Thursdays from 5:30 to 7 p.m in the pitch.
"The practices can get tough," he says. "You definitely are battling the heat, as well as just how physical the game is becoming."
Toles asks potential team members to bring, shorts, water, and a desire to work hard.
Albert Luna may be reached at [email protected]
Follow NMSU Round Up Sports on Twitter! @RoundUp_Sports

Hang on for a minute...we're trying to find some more stories you might like.
About the Writer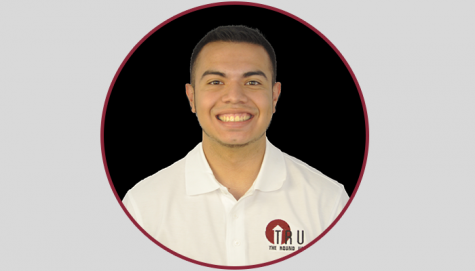 Albert Luna, Editor-in-Chief
Albert is in his second year as the Editor-in-Chief and third year overall working for The Round Up. Originally from El Paso, Texas, Luna brings to...