Cheap Eats: Inside the unique relationship between NMSU and Sodexo
Hang on for a minute...we're trying to find some more stories you might like.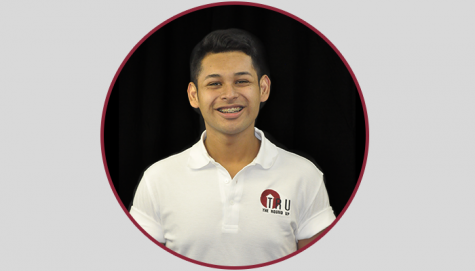 More stories from Andres Valle
Being on campus at New Mexico State University entails choice. Not only in the way of choosing classes, clubs, or friends, but also for many in what they choose to eat. However, of all the options the university might have, food may be the one that is not what is appears to be. These choices are limited to essentially one. This choice is Sodexo.
Kara Simeon, a junior studying accounting says, "I feel like everything tastes the same in Taos and in Corbett."
Taos is the campus dining hall located on the first floor of the Corbett Center Student Union Building. Taos is owned and operated by a third party food supplier called Sodexo. Sodexo also controls essentially all food vendors inside Corbett Center, The Pan American Center, Aggie Memorial Stadium and the Stan Fulton Center.
Numerous students have expressed their opinions about the company being on the NMSU campus and how they feel when deciding what they want to eat.
"It's not all that great, but it feeds," said Jared Tschetter a junior studying Kinesiology.
It seems like there is a negative connotation when it comes to getting food by anything operated by Sodexo.
"I refuse to eat in Taos," Simeon said.
NMSU Round Up spoke to John Rivers the marketing coordinator for Sodexo to give an insight on what they're trying to do to fix their quality of service.
Rivers said, "We have a committee known as the Student Board of Directors who give us direct feedback on what we're doing right and where we can improve."
The committee is comprised of student leaders in organizations such as the student government ASNMSU and the Housing department, but is open to any student who would like to give direct feedback to Sodexo. They meet on the first Friday of every month from 10 a.m. to 11 a.m.
Alexander Warner-Garrett is part of the Sodexo Student Board of Directors. He was appointed to be a representative by ASNMSU and says that he feels like the company really does care about students' opinions on their services.
"They genuinely take our feedback and do the best they can to accommodate it," Warner-Garrett said.
Some improvements he's seen come from Taos has been the expansion of options in their salad bar as well as the addition to having grilled chicken on a daily basis.
"I feel like Sodexo doesn't do a good job on advertising the board," Warner-Garrett said. "If they made it known, more students would come and give more of an input."
Warner-Garrett explained that at most meetings he sees about five to 10 students in attendance. He also expressed a concern over the fact that any event held by student organization needs to be catered by Sodexo.
If students do not always have a positive look on the company's services, why are they forced to have food catered by them?
John Rivers explains that the company is contracted by Auxiliary Services who has made them the primary food service for the university.
"Even though we are the primary food service, we aren't the only food source on campus," said Rivers.
Auxiliary Services handles all the basics to student life on the NMSU campus, including dining, housing and residential life, parking and many more.
Kim Huddleston, the Director of Auxiliary Business Support was able to speak about the contracts they have with food vendors on the NMSU campus.
"We are in our seventh year of an eight-year contract with Sodexo," Huddleston said.
Their contract began on July 1, 2011 and is set to expire on June 30, 2019. Throughout the time Sodexo has been on the university's campus, both Auxiliary Services and Sodexo have amended their contract six times.
"It's not uncommon for us to make amendments for contracts of this size," Huddleston explained.
NMSU Round Up was able to obtain certain pages of their contract to fully understand how and why Sodexo has the ability to oversee much of the university.
Auxiliary Services are a part of the NMSU campus, but they still have to pay a fee to operate for the university. They are a self supported branch of NMSU and only a certain amount of student fees goes to the department. In order to make a profit and give back to the university they need to find a way to provide services while being able to support themselves.
Since NMSU is a public university – the state funds the institution to keep it operating.
"You can't spend the state's money without letting them know what you're spending it on," Huddleston explained.
Before Sodexo came into the picture, Auxiliary Services had to present a "request for purchase" to vendors who would like to come to NMSU. The RFP is used to regulate the use of the state's money.
During the RFP process food vendors come to the university in a "shark tank" like setting and bid down to be on the campus. The stakeholder in this case, being Sodexo wanted to establish a market on the NMSU campus. A committee was formed to oversee which food vendor would provide the best quality of services to the NMSU community. After reviewing many different vendors in 2011, they decided that Sodexo would be their main food service provider for the next 8 years.
Huddleston explained that their contract with Sodexo allows them to have exclusive food rights such as being the only food source in Corbett Center. With every meal plan purchased 20 percent of that money goes back to Auxiliary services and not Sodexo. That's when it gets a little more complicated.
Some meal plans offer "Aggie Dining Dollars" which students and faculty members who have meal plans can purchase food at different food locations on campus. Sodexo's retail services include the food court inside Corbett, Subway, Einstein Bros. Bagel, etc. If a student purchases food at any of these retail locations – 11 percent of that purchase goes back to Auxiliary services. 10 percent of food caterings done by Sodexo goes back and 30 percent of concessions sold at the Pan American Center and Aggie Memorial Stadium also go back to the university.
Frenger Food Court, on the other hand, is on a completely different run contract. Food vendors inside Frenger also went through the RFP process, but the main focus with Frenger was to bring in more of a local flavor to the campus. Frenger vendors pay back 7.5 percent to the university.
Panda Express is under a "sliding contract" with the university. That means when Panda Express' sales reach a certain amount a day they pay a certain percentage. This percentage varies from day to day.
The reason these contracts are so defined is because of the Sales and Solicitation Policy. The policy states that no vendor of any sort can come onto the university property and make a profit without providing a commission to the university.
Students have expressed that they would like to see more food trucks come to the university in order to expand their food options without leaving campus.
"Food trucks aren't banned from coming to the university," Huddleston said. "They just have to contract with us, but many don't want to give back 7.5 percent of their sales to the university for being here."
The contracts are designed to make sure the university will receive a commission from food vendors.
"The reason we encourage people to cater through Sodexo is because, a percentage goes back to the university," said Rivers. "So when you cater through someone else the university loses money."
With Sodexo's contract coming to a close Auxiliary services will begin their search for the next food provider by next fall to have them ready by July 1, 2019.

Hang on for a minute...we're trying to find some more stories you might like.