Drones, 3-D printers, and a facial recognition camera highlight Tech Day 2018
Hang on for a minute...we're trying to find some more stories you might like.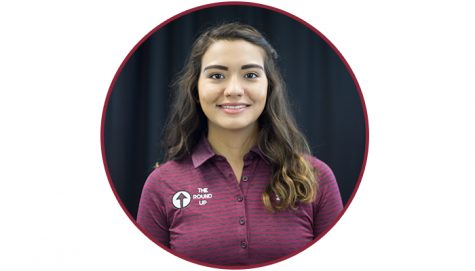 More stories from Cassidy Kuester
The twelfth annual New Mexico State Technology Day kicked off on Thursday with students and faculty showcasing services and programs as well as demonstrating tech such as drones, 3-D printers, and a facial recognition camera.
The event aimed at engaging students with hands on activities, demonstrations, and hourly prize drawings of tech accessories and even autographed Aggie basketballs and footballs. Over 15 vendors presented their services accessible to all NMSU students, faculty, and staff in hopes to spread awareness of those amenities.
"We want to get the word out with this event and make people aware of technology that is out there. We want them to utilize our resources," Student Technology and Planning manager Araceli Hernandez said.
The ICT department offers free antivirus software that everyone on campus has access to, as well as Microsoft Office 365 that can be used across five devices. They also offer equipment rentals of cameras, laptops and other tech according to Hernandez. She urged students to make use of the technological services and equipment they offer and to reach out about other kinds of tech they would like to see on campus.
Many students flocked to senior and mechanical engineering major Mario Garcia, who had the Parrot Mini RC drones on display. Students had the opportunity to pilot the drones and test their skills. The drones are a part of the STEM Outreach Centers efforts to showcase the technology they have available.
"Everyone here has been excited to try out the drones, and anyone can do it it's pretty simple. We offer a lot of different activities and labs on campus utilize the technology. We also just recently opened our new tech center that is essentially like a flight simulation and that's really cool," Garcia said.
The STEM Outreach center offers after school programs to 26 elementary schools and middle schools in which they get to be hands on with technology such as the drones.
3-D printers, which print a whole object from the bottom-up slice by slice, were demonstrated. The Aggie Innovation Space helps students bring their ideas to life using 3D printers and is free to all at NMSU.
Kyle Klinger works with the Aggie Innovation Space and said, "We do a lot with electronics like we have microcontrollers and we do workshops to teach students how to do 3-D modeling or programming. We also just received these two 30,000-dollar robotic arms that are industry grade so we're working on a workshop for those as well".
Facial recognition cameras were also demonstrated and displayed on the large screen in the Aggie Lounge at the Corbett Center. Students got to see facial recognition software in action, with their own faces being shown on the monitor. These cameras can operate without human intervention because it is able to track faces on its own.
"Compared to years before, there have been a lot more students coming through and I would say that this is our biggest crowd yet. I noticed that we've had a lot of staff and faculty, so we're really excited about that," Hernandez said.
Students were lined up at the door by 9 a.m. to get the chance to preview all sorts of new technology and learn about the kind of services NMSU has to offer, according to Hernandez. Technology will continue to advance before our eyes, and at the next Tech Day there will surely be a myriad of new products for students to try.
Hang on for a minute...we're trying to find some more stories you might like.
About the Contributor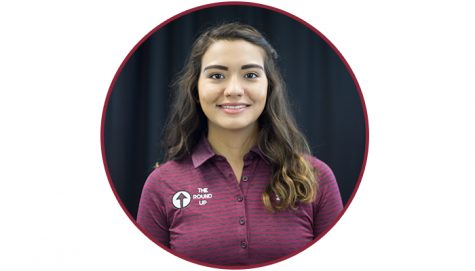 Cassidy Kuester, Director of Multimedia
Cassidy Kuester enters her second year at the Round Up and her first as the Multimedia Editor. In her first year, Cassidy reported on a plethora of subjects...