NMSU's Zeta Tau Alpha readies for "Capture the Crown" philanthropy event
New Mexico State University's Zeta Tau Alpha sorority chapter will host a philanthropic capture the flag tournament on Sunday, March 11, at the Intramural Fields from 10:00 a.m. to 2:00 p.m. to benefit the Zeta Tau Alpha Foundation which supports breast cancer education and awareness.
The tournament will be a double-elimination style capture the flag tournament, so if a team loses once they still have the chance to win the game.
"We have a bracket, and we will have two games going at one time," Zeta Tau Alpha Think Pink Philanthropy chair Shelby Fletcher said. "As Lambda Chi Alpha vs. Sigma Chi. It has normal rules, like no unnecessary roughness, and a time limit for each game."
Teams can consist of eight to ten men, women, or co-ed whether they are Greek affiliated or not. Registration packets must be turned in by Wednesday, March 7, at 7:00 p.m. The fee to participate is $250 per team, which includes t-shirts for every player. Portions of the proceeds will go to benefit the Zeta Tau Alpha Foundation.
The Zeta Tau Alpha Foundation focuses primarily on the issue of breast cancer research and education. The NMSU chapter often coordinates philanthropy events that will benefit the ZTA foundation but the "Capture the Crown" tournament is the only of its kind according to Fletcher.
"Capture the Crown is a team event we do, and it is obviously a more physical event than our others because it involves competing against other teams," Fletcher said.
The tournament is sponsored by Red Bull and every participant will receive a can of the energy drink. The winning team will be invited to the Zeta house for dinner and desert and will get to choose what their chef prepares.
Jessie Todd, the Zeta Tau Alpha Director of Philanthropy, said, "about 1 in 8 women will develop breast cancer during their lifetime. It is important to give back to a cause that touches so many lives and families every year. Fortunately, we are able to help donate to the ZTA Foundation so that we are able to provide women with education about early prevention,"
Fletcher explained the importance of philanthropy events to give back to the community and how the issue of breast cancer is especially close to the girls of ZTA.
"Breast cancer is a very common disease, and almost everyone in our chapter has been affected by breast cancer in some way, so that's one reason its so important to us," Fletcher said.
Madalyn Zastrow, the Zeta Tau Alpha Chapter President, said, "we are here for something bigger than ourselves, and I think that Zeta Tau Alpha really tries to think of other people rather than just ourselves. While it is fun to do events like this it really is a good reminder and a good way to raise that money. Even if people are not participating they are more than welcome to come and watch the tournament."
Zeta Tau Alpha will be tabling at the Corbett Center Student Union all week where interested students may ask questions as well as partake in the "penny war" which will collect donations in a unique and entertaining fashion. The teams will have a jar designated to them in which spectators as well as other teams can either hurt or help their score. The team that racks up 1000 points by the end of the week will win.
"One dollar is 100 points, a quarter is 25 points, a dime and nickel are 10 points. For every person that goes and supports their team, they get 50 points. But pennies are minus one points. So, teams can put pennies in other peoples jars so that they have less points," Todd said.
Zeta Tau Alpha's "Capture the Crown" tournament will begin on March 11, any interested students who would like to be a part of the event can visit their table in the Corbett Center until Friday.
Hang on for a minute...we're trying to find some more stories you might like.
About the Writer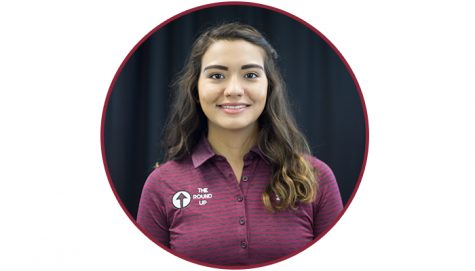 Cassidy Kuester, Director of Multimedia
Cassidy Kuester enters her second year at the Round Up and her first as the Multimedia Editor. In her first year, Cassidy reported on a plethora of subjects...