From Pistol Pete to athletic department employee: DJ Downs' career at NMSU comes full circle
Hang on for a minute...we're trying to find some more stories you might like.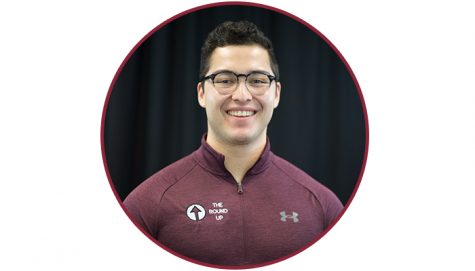 More stories from Derek Gonzales
DJ Downs has never been much of a fighter. With a youthful smile, a cleanly-shaven face and green eyes, Downs would appear to anybody that did not know him as the last person who would partake in any kind of physical altercation – but if you do know him, you also know he has never been one to shy away from doing the right thing.
Let's turn the clock back to 2009 for a second. March 15, 2009 to be exact.
It was a semifinal game in the Western Athletic Conference men's basketball tournament between New Mexico State and Utah State. With seven seconds left in the game and the score 70-69 in favor of NMSU, a timeout is called on the floor and the mascots from both schools took the court.
Downs, an undergraduate student at NMSU at the time and acting as the Aggies' beloved Pistol Pete mascot, goes to shake the hand of Big Blue, the Utags mascot (why USU's nickname is the Aggies but their mascot is blue bull is an million-dollar question).
Instead of a handshake, Big Blue, inside of a suit unlike Downs, rips off the mustache of Pistol Pete and as the kids nowadays like to say, "It was time to throw hands."
As Big Blue tried to walk away, Downs, face naked and no longer in his alias, ran after Big Blue and tried to take him down from behind. Luckily for Big Blue, the timeout had ended and both mascots had to return to their respective sides.
The altercation gained national attention and the legacy of Downs at NMSU had officially begun. Despite being suspended for a game that following season for the incident, Aggie fans adored Downs for his bravery and willingness to stand up for his University.
After the incident, Downs was christened as an Aggie for life.
"I just wanted to stand up for what was right," Downs said. "A lot of other people were proud that I stood up after he came after me and publicly, that is how everybody felt. …
"Looking back eight years ago when it happened, I never thought that incident would have changed my life the way it did but by getting suspended, I got to know university athletic administrators including Steve Macy and John Houser and help on some promotions leading up to the game where I had to serve the suspension. We gave out 5,000 mustaches and I thought, 'wow, this is really cool stuff that these guys are getting paid to do. They helped me look into graduate schools and that's how I got interested in marketing."
After earning his bachelor's degree in Journalism and Mass Communications from NMSU in 2010, Downs made the six-hour move east to Lubbock, Tex. to attend Texas Tech for his graduate studies. Three semesters as a Red Raider and a 10-month stint in Nashville working as a marketing intern for the NHL's Nashville Predators later, Downs got a call that gave him the opportunity to return where it all began.
"I knew I wanted to work in sports marketing because I knew I had the ability to get people excited," Downs said. "Because the NHL was in a lock-out, getting hired on wasn't even an option at the time. They had a position open up here in Las Cruces and Steve reached out and I am really blessed that we were able to stay in contact – he gave me the chance to come back here.
"Walking through the door, I was not even sure I knew what my job was going to be but I had passion for this place and I really cared about what was going to happen here, the success of the teams and the experience of the students and student-athletes."
In his four years as a student and six years as an employee, Downs has just about seen it all. Every athletic program had seen some success during Downs' time in Las Cruces except for the football team. He was present for a 17-game losing streak and numerous gut-wrenching losses – so when NMSU beat South Alabama on December 2, 2017 to become bowl eligible, he knew the story at his alma mater had come full circle.
"We had worked so hard to just get to the point so the bowl game was really just icing on the cake," Downs admitted with a smile. "To have that game happen at home in front of our crowd and to see a crowd like that in December. …
"Despite all the challenges that we had faced, we succeeded."
Now that Downs is set to depart from NMSU this week to join the Phoenix Suns' Marketing Partnerships Department, he is reflective of the relationships that have developed during his time in Las Cruces.
Apart from the many professionals who helped Downs along the way including Macy (now the Senior Associate Athletic Director of External Affairs at the University of Memphis, Mario Moccia (NM State Director of Athletics), Jimmy Sanchez (University of Arkansas Sports Marketing Dept.), John Vu (NM State Assistant AD of Media Relations) and Adam Young (Sports Broadcaster), the students that developed under his tutelage in his internship program will be among those he will miss the most.
The feeling is mutual for those currently in the sports marketing internship program and the few that have benefitted from learning under him and have gone on to have successful careers are grateful for the impact he has made.
"I try to think of words to describe how grateful I am for him, but I don't think there is a single word to describe my gratitude," former NMSU sports marketing intern and current Development Associate at Texas Christian University Zaina Atyani said. "He not only taught me the ropes of how to run a successful marketing department, but he also gave me some of my greatest qualities I carry today.
"I am where I am today because of DJ Downs."

Hang on for a minute...we're trying to find some more stories you might like.
About the Writer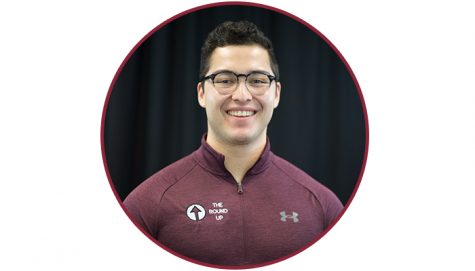 Derek Gonzales, Editor-in-Chief
Derek E. Gonzales enters his third year as an employee of the New Mexico State University Round Up and first as the Editor-in-Chief. The homegrown product played prep basketball at Oñate High School and has held a variety of positions in athletics. As a freshman, Gonzales worked inside the NMSU Athletic Department as a Marketing Intern. His duties included setting up advertisements, tabling events, cold calls to potential ticket buyers, and even included doing part-time public address announcing for volleyball (including 2016 WAC Volleyball Tournament) and men's basketball.
As a writer, Gonzales has become a prominent collegiate sports reporter in the state of New Mexico. Gonzales covered the 2016 NCAA Tournament in Tulsa, Okla. as No. 14 NMSU took on No. 3 Baylor. A year later, Gonzales returned to the Big Dance, covering the No. 12 Aggies against the Clemson Tigers in San Diego.
A men's basketball article written by Gonzales was tweeted out by CBS Sports' Dennis Dobbs during the Aggies conference championship run. The Las Cruces native wrote a highly-controversial opinion piece on former Aggie head coach Paul Weir, who left NMSU for in-state rival New Mexico, upsetting much of the fan-base. The article gained attention statewide and Gonzales subjected himself to criticism because of its honesty, cementing himself as a credible sportswriter in New Mexico.
Covering college football, Gonzales became the first sportswriter since 1960 to cover New Mexico State in both an NCAA Tournament and bowl game within the same calendar year, as he was on hand to witness the Aggies end their 57-year bowl drought in the 2017 NOVA Home Loans Arizona Bowl against Utah State.
Gonzales has also been published in The Louisiana Advocate for his game recap of the 2016 Louisiana-NMSU football game. On top of working at The Round Up, Gonzales also works as the Sports Freelancer for the Las Cruces Sun-News. In two full academic years at the Sun-News, Gonzales has written over 75 articles, covering NMSU athletics and Las Cruces preps.
Gonzales aspires to be a sports writer or a sports information director upon graduation in May 2019.