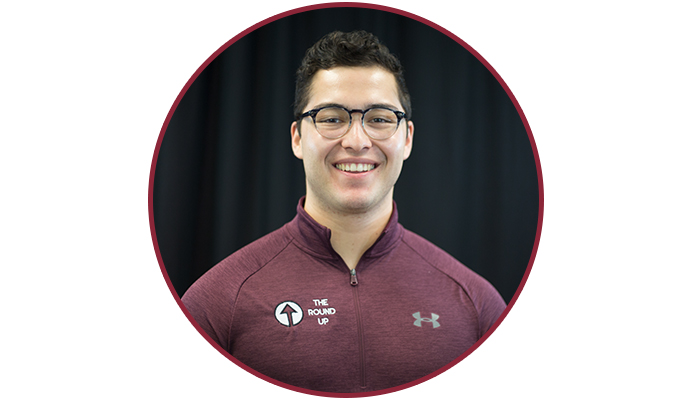 Derek E. Gonzales enters his third year as an employee of the New Mexico State University Round Up and first as the Editor-in-Chief. The homegrown product played prep basketball at Oñate High School and has held a variety of positions in athletics. As a freshman, Gonzales worked inside the NMSU Athletic Department as a Marketing Intern. His duties included setting up advertisements, tabling events, cold calls to potential ticket buyers, and even included doing part-time public address announcing for volleyball (including 2016 WAC Volleyball Tournament) and men's basketball.
As a writer, Gonzales has become a prominent collegiate sports reporter in the state of New Mexico. Gonzales covered the 2016 NCAA Tournament in Tulsa, Okla. as No. 14 NMSU took on No. 3 Baylor. A year later, Gonzales returned to the Big Dance, covering the No. 12 Aggies against the Clemson Tigers in San Diego.
A men's basketball article
written by Gonzales was tweeted out by CBS Sports' Dennis Dobbs during the Aggies conference championship run. The Las Cruces native wrote
a highly-controversial opinion piece
on former Aggie head coach Paul Weir, who left NMSU for in-state rival New Mexico, upsetting much of the fan-base. The article gained attention statewide and Gonzales subjected himself to criticism because of its honesty, cementing himself as a credible sportswriter in New Mexico.
Covering college football, Gonzales became the first sportswriter since 1960 to cover New Mexico State in both an NCAA Tournament and bowl game within the same calendar year, as he was on hand to witness the Aggies end their 57-year bowl drought in the 2017 NOVA Home Loans Arizona Bowl against Utah State.
Gonzales has also been published in The Louisiana Advocate for his game recap of the 2016 Louisiana-NMSU football game. On top of working at The Round Up, Gonzales also works as the Sports Freelancer for the Las Cruces Sun-News. In two full academic years at the Sun-News, Gonzales has written over 75 articles, covering NMSU athletics and Las Cruces preps.
Gonzales aspires to be a sports writer or a sports information director upon graduation in May 2019.
Derek Gonzales, Editor-in-Chief
May 03, 2019

Column: Thank you, Round Up

(Story)

Apr 24, 2019

NMSU regent Hutchinson set to resign from Board at end of month

(Story)

Apr 24, 2019

NMSU regent Hutchinson set to resign from Board at end of month

(Story)

Apr 12, 2019

Editorial: ASNMSU limps to the finish line in what has been an embarrassing year

(Story)

Mar 22, 2019

Atkinson: "When you face a Goliath, everybody has a David in them"

(Story)

Mar 19, 2019

Win or lose Thursday, Chris Jans has secured spot amongst greatest Aggie coaches ever

(Story)

Mar 16, 2019

New Mexico State women win 2019 WAC Tournament title in double-overtime classic

(Story)

Mar 15, 2019

NM State women survive Kansas City upset bid with overtime win; return to WAC final

(Story)

Mar 14, 2019

NM State looks to rest and prepare; now awaits stiffer competition in WAC semis

(Story)

Mar 07, 2019

Former NMSU student regent Vela questions legitimacy of Morrow impeachment grounds

(Story)

Feb 25, 2019

Editorial: The Round Up's role at New Mexico State University

(Story)

Feb 20, 2019

NMSU rips away journalism department's biggest classroom; department head feels disrespected

(Story)

Feb 06, 2019

Northern New Mexico's 'Weck's' restaurant looks to be front-runner to replace Dublin's

(Story)

Feb 05, 2019

Dublin's abruptly closes after denying speculation

(Story)

Feb 02, 2019

Reggie Theus still wonders 'what if' as the polarizing coach returns to Las Cruces

(Story)

Jan 25, 2019

Commentary: The introducing of UNM athletics' "bail-out bill" sets cringe-worthy precedent

(Story)

Jan 23, 2019

Contractor alleges unpaid invoices from Spin; electric scooters being held hostage

(Story)

Jan 11, 2019

McCants becomes latest hometown hero on New Mexico State roster

(Story)

Dec 04, 2018

New Mexico State humiliates New Mexico in Mesilla Valley Massacre Part II

(Story)

Dec 03, 2018

Column: Admit it or not, community support for NMSU athletics is a glaring issue

(Story)

Nov 28, 2018

NM State holds off pesky UTEP team, sweep Miners for fourth-straight season

(Story)

Nov 17, 2018

Harris torches his former head coach as Aggies win fourth-straight vs. New Mexico

(Story)

Nov 14, 2018

Saint Mary's stifles Aggie offense as NM State falls to Gaels at home

(Story)

Nov 09, 2018

Aggies overcome hot UTEP start to win eighth-straight over I-10 rival

(Story)

Nov 06, 2018

NM State men's basketball opens season with blowout win over North Dakota State

(Story)

Nov 03, 2018

Column: Thanks for the memories, Aggie Memorial

(Story)

Oct 30, 2018

New-look NM State men's basketball looks to embrace being the "hunted"

(Story)

Oct 10, 2018

From Pistol Pete to athletic department employee: DJ Downs' career at NMSU comes full circle

(Story)

Sep 22, 2018

Commentary: Do not write off NM State football just yet

(Story)

Sep 19, 2018

Chancellor Arvizu gives NMSU athletic department vote of confidence

(Story)

Sep 12, 2018

Column: Saturday's game is another opportunity to show how NMSU athletics does more with less

(Story)

Sep 11, 2018

NMSU administation attempts to move forward in letter to faculty and staff

(Story)

Sep 07, 2018

Regent Hicks rips former NMSU administration over response letter

(Story)

Sep 05, 2018

Floros addresses fragile NMSU scholarship situation

(Story)

Aug 15, 2018

NMSU leadership announces organizational restructuring

(Story)

Jul 25, 2018

New Pistol Pete bronze sculpture unveiled outside Corbett Center

(Story)

Jul 23, 2018

Letter from the Editor: The Round Up returns for its 111th year

(Story)

May 23, 2018

Commentary: Board of Regents finally trying something new to halt NMSU's downward trend

(Story)

May 10, 2018

Podcast: 2017-2018 Year in review

(Story)

Mar 28, 2018

Sports Podcast: NCAA Tournament; Mens Basketball outlook

(Story)

Mar 17, 2018

New Mexico State's upset bid falls short against Clemson

(Story)

Mar 16, 2018

Three keys to New Mexico State vs. Clemson

(Story)

Mar 16, 2018

Battle-tested Aggies look to embrace bright lights once more

(Story)

Mar 15, 2018

Chris Jans prepares experienced No. 12 New Mexico State for potential upset bid

(Story)

Mar 11, 2018

No. 12 New Mexico State to face No. 5 Clemson in NCAA Tournament

(Story)

Mar 07, 2018

Sports Podcast: Interview with Mark Rudi; WAC Tournament predictions

(Story)

Mar 01, 2018

Sports Podcast: NMSU Football outlook

(Story)

Feb 22, 2018

New Mexico State uses second-half surge to snap two-game skid

(Story)

Feb 22, 2018

Sports Podcast: Interview with NMSU Mens Basketball's Joe Garza

(Story)

Feb 16, 2018

Sports Podcast: Basketball Outlook; Mailbag

(Story)

Feb 10, 2018

The Pan American Center comes back to life during Pack the Pan Am III

(Story)

Feb 08, 2018

Sports Podcast: Interview with Las Cruces Sun News Sports reporter Mark Rudi

(Story)

Feb 07, 2018

COMMENTARY: Crowd support down the stretch could help keep Chris Jans at New Mexico State

(Story)

Jan 31, 2018

Sports Podcast: Men's and Women's basketball overview

(Story)

Jan 18, 2018

Chris Jans has become "superhero" figure to New Mexico State fanbase

(Story)

Jan 04, 2018

COMMENTARY: Help make Arizona Bowl the beginning of something special, not the end

(Story)

Dec 29, 2017

Rose III looks to cap off illustrious career with win in Arizona Bowl

(Story)

Dec 28, 2017

Former Aggie quarterbacks help New Mexico State snap bowl drought

(Story)

Dec 24, 2017

COMMENTARY: Is 2017 the greatest calendar year in New Mexico State athletics history?

(Story)

Dec 23, 2017

New Mexico State shocks college basketball world with win over No. 6 Miami

(Story)

Dec 13, 2017

NMSU ticket sales off to great start for NOVA Home Loans Arizona Bowl

(Story)

Dec 09, 2017

New Mexico State sweeps New Mexico for first time since 2002-03

(Story)

Dec 09, 2017

New Mexico State vs. New Mexico quick hits

(Story)

Dec 03, 2017

Poetic justice pins New Mexico State vs. Utah State in NOVA Home Loans Arizona Bowl

(Story)

Dec 02, 2017

Doug Martin enters Aggie lore by ending nation's longest bowl drought

(Story)

Dec 02, 2017

COMMENTARY: What makes today's game so great

(Story)

Nov 28, 2017

New Mexico State Looks For a Little "Magic in the Desert" Saturday Against South Alabama

(Story)

Nov 25, 2017

Quick Hits for Idaho vs. NM State

(Story)

Nov 17, 2017

Jans Christened as Aggie Coach as NMSU Blows Out Weir's Lobos

(Story)

Nov 16, 2017

Sports Podcast: Paul Weir Returns to NMSU

(Story)

Nov 15, 2017

Opinion: The Side of Paul Weir You Didn't Know

(Story)

Nov 10, 2017

Jans Era Begins with Blowout Win Over East Central

(Story)

Oct 12, 2017

Insight on Georgia Southern from Sports Editor Thomas Jilk

(Story)

Oct 07, 2017

Commentary: Aggie Football Enters October Playing Meaningful Games

(Story)

Sep 23, 2017

The Massacre Inside Aggie Memorial

(Story)

Sep 16, 2017

Commentary: Why NMSU Will Beat Troy

(Story)

Sep 16, 2017

Rogers'-Led Second Half Comeback Falls Short vs. Troy

(Story)

Sep 14, 2017

Commentary: It Is Time To Show Support for Aggie Football

(Story)

Sep 12, 2017

Sports Podcast: Episode 2

(Story)

Sep 09, 2017

"Little Brother" Beats Big Brother for Second Year in a Row

(Story)

Sep 09, 2017

Commentary: Why NMSU Will Beat UNM

(Story)

Sep 01, 2017

NMSU Hangs Tough But Falls to Arizona State to Begin Season

(Story)

Aug 30, 2017

Aggie Football Readies for Season Opener vs. Arizona State

(Story)

Aug 11, 2017

2017- 18 NMSU Athletics Outlook

(Story)

Aug 11, 2017

Sports Podcast: Episode 1

(Story)

Aug 11, 2017

Active Monsoon Season Leads to Near Record Rainfall at NMSU

(Story)

May 01, 2017

Commentary: Jans was the best option for Aggie Basketball

(Story)

May 01, 2017

Aggie Baseball sweeps Northern Colorado

(Story)

Apr 17, 2017

Paul Weir departs for UNM

(Story)

Apr 10, 2017

Aggie Baseball falls to No. 6 ranked Red Raiders

(Story)

Apr 04, 2017
Mar 17, 2017

Aggies valiant effort falls short against Baylor

(Story)

Mar 15, 2017

Aggie bats are off to hot start in 2017

(Story)

Mar 08, 2017

Global Warming: How it affects New Mexico

(Story)

Feb 24, 2017

Aggies drop first conference home game since 2012

(Story)

Feb 13, 2017

Turning Lifting Into a Lifestyle

(Story)

Feb 09, 2017

Gonzales: Do not be the reason Paul Weir leaves NMSU

(Story)

Feb 09, 2017

Aggies on third-longest winning streak in the nation

(Story)

Feb 05, 2017

Aggies blow past Chicago State

(Story)

Dec 28, 2016

Aggies rout ENMU for tenth straight win

(Story)

Dec 04, 2016

Aggies win fourth-straight game

(Story)

Dec 01, 2016

Garza Provides Spark as NMSU Beats Air Force

(Story)

Nov 14, 2016

Why Paul Weir Will Revitalize NMSU Basketball

(Story)

Nov 07, 2016

Marlon Jones: The Rewarding Road Isn't Always the Easiest

(Story)

Oct 31, 2016

NMSU Football Enters Bye Week Riding Three-Game Losing Streak

(Story)

Oct 17, 2016

Aggies look to improve to 3-0 at home against Georgia Southern

(Story)

Oct 03, 2016

Homegrown Xavier Hall's last games as an Aggie

(Story)

Oct 03, 2016

NMSU's football budget and how success drives attendance

(Story)

Sep 26, 2016

Why the Aggies are still in position to go bowling

(Story)

Sep 19, 2016

Aggies Break Through, Defeat Lobos

(Story)

Sep 12, 2016

Aggies Struggle without Rose, Lose Season Opener to Miners

(Story)

Sep 12, 2016

Abdelkader Takes On Leadership Role for Aggie Soccer

(Story)

Sep 07, 2016

NMSU Women's Soccer Back on the Road After Home Stand

(Story)

Sep 07, 2016

Larry Rose III: From Fairfield to Phenom

(Story)

May 01, 2016

Aggie offense leads to series-opening win

(Story)

Apr 24, 2016

Aggies take doubleheader vs. Bakersfield in home finale

(Story)

Apr 23, 2016

Aggies win vs. CSU-Bakersfield

(Story)

Apr 20, 2016

Aggie Football in depth: Tyrian Taylor

(Story)

Apr 16, 2016

NM State Football Concludes Spring with Annual Crimson and White Game

(Story)

Apr 15, 2016

Could Marvin Menzies still leave for UNLV?

(Story)

Apr 03, 2016

Aggie Softball sweeps Seattle in conference series Opener

(Story)

Mar 29, 2016

NM State Equestrian Wins Conference Championship

(Story)

Mar 25, 2016

Aggies Defeat Chicago State in Series Opener

(Story)

Mar 21, 2016

Aggies get swept by Missouri

(Story)

Mar 09, 2016

Aggies defeat UNM in first meeting of season

(Story)

Mar 07, 2016

Botello hits Walk-off homerun, Aggies avoid sweep

(Story)

Mar 06, 2016

Aggie baseball struggles against Stephen F. Austin

(Story)

Mar 02, 2016

Aggie softball sweeps doubleheader

(Story)

Feb 28, 2016

Aggie women's basketball snatch 15th straight win

(Story)

Feb 22, 2016
Feb 21, 2016

Aggie softball falls to Sooners again, beat Campbell

(Story)

Feb 21, 2016

Baseball beats Towson 2 times in 2 days

(Story)

Feb 15, 2016

Aggies softball has a perfect weekend

(Story)

Feb 07, 2016

Aggies get Help from Everyone, Win Big

(Story)