Harris torches his former head coach as Aggies win fourth-straight vs. New Mexico
Hang on for a minute...we're trying to find some more stories you might like.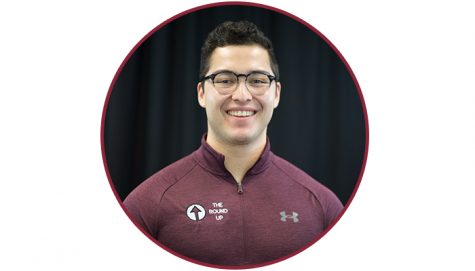 More stories from Derek Gonzales
ALBUQUERQUE- Most say revenge is a dish best served cold.
New Mexico State basketball point guard AJ Harris showed all 14,393 in attendance inside Dreamstyle Arena during Saturday night's rivalry game against the New Mexico Lobos that serving it piping hot can suffice too.
Harris, NM State's 5-foot-9 redshirt-junior point guard that was recruited to Las Cruces as Paul Weir's first signee in his only season as the Aggies' head coach, scorched the Lobos to the tune of a career-high 31 points and was the steady hand during a ferocious Lobo rally late came up short (9-of-11 FG, 6-of-6 3PT, 7-of-10 FT) in a 98-94 Aggie win.
When Harris was not blowing by the Lobo guards that could not stay in front of him, he was sizing up the UNM bigs on switches and give them the business too.
Lay-ups, mid-range pull-up game and a deadly 3-point stroke from the top of the key was what Harris had in his arsenal for the entirety of the night.
The only time Harris could be stopped was when he banged his knee late in the second half and had to come out of the game for a minute before returning to seal the too-close-for-comfort win.
"Wow, 31 points – that all came from my teammates – they helped me get those 31 points," Harris said. "Since we came to Albuquerque and got to the hotel, I have been getting on my guys about this important game that we had to come out here and win because we just lost to Saint Mary's and we did not want to come up here and get a second loss put on our record so I was just staying on my guys, getting in their heads and just talking to them about this game."
NM State head coach Chris Jans talked glowingly about his starting point guard after the game, crediting Harris for being the main cog in a win in front of a hostile crowd.
"I mean, he had 31 (points) on 11 shots so that's a model of efficiency – I don't know many players that can top that," NM State head coach Chris Jans said. "It had been coming and he got in one of those zones and we have all seen that – the basket just looked like the ocean to him. Like I talked about it before, he is becoming a real leader. … I was really comfortable having him out there the way he was playing, and he certainly led us to the victory."
The win marks the first time since the 1993-94 seasons that NM State has beaten the Lobos four-straight times (ironically in a streak Weir began at NM State in 2016), but the final score is deceiving.
The Aggies (3-1) led by as many 19 in the second half but missed free throws and an all-of-a-sudden scorching hot Lobo offense (they made six of their final seven 3-point attempts) cut it to two with seven seconds left. NM State turned the ball over to UNM in the backcourt in a frantic sequence of events but somehow, Aggie forward CJ Bobbitt was able to regain possession, getting fouled and sealing the game at the free-throw line.
"It is way more to win and learn from your mistakes than lose and have to grow that way," Jans said. "Certainly, we did not do a good job of managing the game down the stretch – I have to help them better. But they (UNM) wouldn't go away and credit to them – they kept fighting and making shots and we couldn't get any stops or make consecutive free throws until CJ's two free throws at the end.
"We didn't close out and we need to learn how to do that."
UNM (2-1) jumped out to an early 13-5 lead nearly seven minutes into the game and the Aggies were struggling to find offense in the half court, often taking low-percentage shots late in the shot clock.
There was no panic from the Aggies though – a Terrell Brown 3-pointer that was the first of 12 3-pointers NM State would make on the night calmed the team down and from there, it jump-started a 12-0 run that would push the Aggies ahead by four.
"We were down 13-5 but I thought we were defending – I don't think it was because we weren't defending or not adhering to the gameplan – we were just having a hard time with their size (UNM came into the game with the second-highest height average in the country), their length and our offense was sputtering a little bit," Jans admitted. "We came out of that media timeout it was a bit of an exhale for me because we evened the gap and eventually took the lead."
Weir fell to 0-3 against NM State as the Lobos' head coach and Jans became the first Aggie coach since Robert R. Brown to begin his career 3-0 against UNM.
The two teams will meet again on Dec. 4 inside the Pan American Center.

Hang on for a minute...we're trying to find some more stories you might like.
About the Writer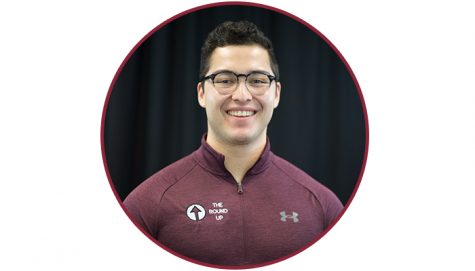 Derek Gonzales, Editor-in-Chief
Derek E. Gonzales enters his third year as an employee of the New Mexico State University Round Up and first as the Editor-in-Chief. The homegrown product...