Poetic justice pins New Mexico State vs. Utah State in NOVA Home Loans Arizona Bowl
Hang on for a minute...we're trying to find some more stories you might like.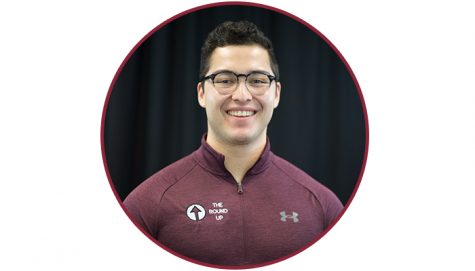 More stories from Derek Gonzales
This is shaping up to be a really good ESPN 30 for 30 one day.
New Mexico State, who became bowl-bound for the first time in 57 years Saturday night with a dramatic 22-17 win over South Alabama, will travel four hours down Interstate 10 west to Tucson, Ariz. to play the Utah State Aggies inside Wildcat Stadium on the campus of the University of Arizona.
It was Utah State that NMSU played in their last bowl game appearance in 1960.
After some speculation that NMSU might have to decline a bowl bid if the team was invited to a place not geographically convenient due to Chancellor Garrey Carruthers' comments on KTSM El Paso, the Aggies were placed in the ideal spot against the ideal team.
"It's a great day to be a New Mexico State Aggie and at 12:27 p.m., I received a telephone call from Alan Young, the Executive Director of NOVA Home Loans Arizona Bowl, inviting the New Mexico State Aggies as one of the teams and I instantly accepted with tremendous enthusiasm," NMSU Director of Athletics Mario Moccia said. "It was just amazing to see such a spotlight on Las Cruces, New Mexico, and New Mexico State University."
The Aggies went 6-6 and 4-4 in Sun Belt Conference play despite being only one of two teams in FBS along with the Naval Academy that played just five home games without any of those contests being against an FCS school. The team began the season with five of their first seven games on the road, including going from September 23 to October 28 between home games.
"I look forward to us playing our best football game of the year," Head Coach Doug Martin said. "We have something really special going on here and now our deal now is moving it forward. This is not the end of the journey. This is the beginning of the journey."
Utah State went 6-6 on the season and 4-4 in Mountain West play. The two teams shared a common opponent in New Mexico. Utah State beat the Lobos 24-10 in Albuquerque on November 4 and NMSU beat UNM 30-28 on September 9 on the road as well.
The Utags are coached by Matt Wells, who took over the program in 2013 for Gary Andersen, who left for Wisconsin. Wells is 34-31 at the helm. Utah State is no stranger to bowl droughts, having endured one from 1961 to 1993.
Andersen was who revived the program in Logan, Utah. Prior to his arrival, Utah State had gone 9-38 in the four seasons before Andersen arrived on campus.
After a couple of 4-8 seasons, Utah State turned the corner and went 7-6 in 2011 and 11-2 in 2012 before Andersen left and Utah State moved to the Mountain West Conference.
Wells has stabilized the program using the same spread run-heavy attack that Andersen implemented and had success with Chucky Keeton at quarterback.
NMSU will take the week off from practice this week for players to focus on final exams before beginning practice preparation for the bowl game.
The game is Dec. 29 at 3:30 p.m. (MST) and will be televised on CBS Sports.

Hang on for a minute...we're trying to find some more stories you might like.