NM State men's basketball opens season with blowout win over North Dakota State
Hang on for a minute...we're trying to find some more stories you might like.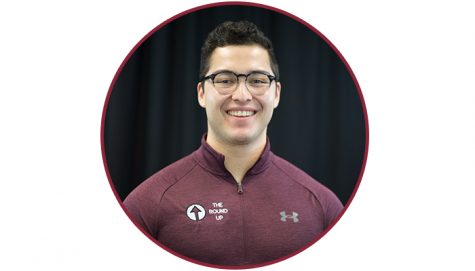 More stories from Derek Gonzales
There were a lot of new faces making their Aggie debuts in New Mexico State's season opener Tuesday night against North Dakota State.
Despite a rotation and an offense that will remain a work in progress throughout the first couple weeks of the season, the Aggies leaned on the two things head coach Chris Jans said would be a staple of his program – defense and rebounding to build a sizable early cushion and eventually pull away from the Bison for a 73-56 win inside the Pan American Center.
Despite a tough shooting night from behind the arc (5-of-26) from a team that Jans believes will take their fair share of 3s, the Aggies (1-0) were able to jump out to an early 15-point lead leaning on an energetic effort on the defensive end.
The Bison (0-1) missed five of their first six shots and turned the ball over twice in a 7:13 span that really dug the hole they would never get out of.
"I am happy we won our opener and like most coaches after the first game, you're going hear a lot of some good and some bad – I am no different," Jans said after the game. "I like the way we started the game, I think it was 18-3 pretty quickly. We put in some subs are put in a group of five in there that didn't play very well and they kind of cut it back down to 10 eventually in the first half.
"We had a pretty good lead at halftime and in the end, I think we got it to 24 or 25, then it got a little sloppy at the end of the game and we ended up winning by 17. But like my old mentor used to say, you have to start somewhere."
With so many fresh faces on the roster and the losses of Zach Lofton and Jemerrio Jones, there were question marks surrounding who would take on some of the scoring load for this year's team.
Utah transfer JoJo Zamora and junior-college transfer Terrell Brown answered for NM State and at least for the night, looked like they could provide a punch at the wing position for the Aggies. Zamora led the Aggies 16 points on the night and Brown finished with 13 off the bench in both players' NM State debuts.
"It felt good – that whole sit-out year, I just had to make a lot of improvements to my game and it just felt good coming out and playing a game after having that sit-out year," Zamora said. "We wanted to punch them in the mouth and come out strong and play to the best of our ability."
The Aggies will now turn their attention to I-10 rival UTEP for a Friday night rivalry game slated for a 7 p.m. tip-off inside the Pan American Center. The Miners kicked off the Rodney Terry era with a 90-63 home win over UT Permian-Basin.

Hang on for a minute...we're trying to find some more stories you might like.
About the Writer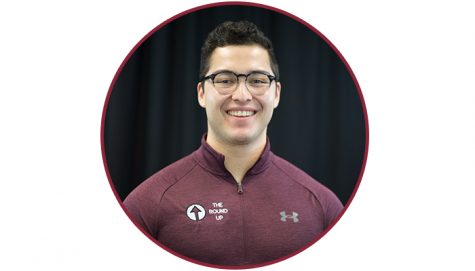 Derek Gonzales, Editor-in-Chief
Derek E. Gonzales enters his third year as an employee of the New Mexico State University Round Up and first as the Editor-in-Chief. The homegrown product played prep basketball at Oñate High School and has held a variety of positions in athletics. As a freshman, Gonzales worked inside the NMSU Athletic Department as a Marketing Intern. His duties included setting up advertisements, tabling events, cold calls to potential ticket buyers, and even included doing part-time public address announcing for volleyball (including 2016 WAC Volleyball Tournament) and men's basketball.
As a writer, Gonzales has become a prominent collegiate sports reporter in the state of New Mexico. Gonzales covered the 2016 NCAA Tournament in Tulsa, Okla. as No. 14 NMSU took on No. 3 Baylor. A year later, Gonzales returned to the Big Dance, covering the No. 12 Aggies against the Clemson Tigers in San Diego.
A men's basketball article written by Gonzales was tweeted out by CBS Sports' Dennis Dobbs during the Aggies conference championship run. The Las Cruces native wrote a highly-controversial opinion piece on former Aggie head coach Paul Weir, who left NMSU for in-state rival New Mexico, upsetting much of the fan-base. The article gained attention statewide and Gonzales subjected himself to criticism because of its honesty, cementing himself as a credible sportswriter in New Mexico.
Covering college football, Gonzales became the first sportswriter since 1960 to cover New Mexico State in both an NCAA Tournament and bowl game within the same calendar year, as he was on hand to witness the Aggies end their 57-year bowl drought in the 2017 NOVA Home Loans Arizona Bowl against Utah State.
Gonzales has also been published in The Louisiana Advocate for his game recap of the 2016 Louisiana-NMSU football game. On top of working at The Round Up, Gonzales also works as the Sports Freelancer for the Las Cruces Sun-News. In two full academic years at the Sun-News, Gonzales has written over 75 articles, covering NMSU athletics and Las Cruces preps.
Gonzales aspires to be a sports writer or a sports information director upon graduation in May 2019.