NM State women survive Kansas City upset bid with overtime win; return to WAC final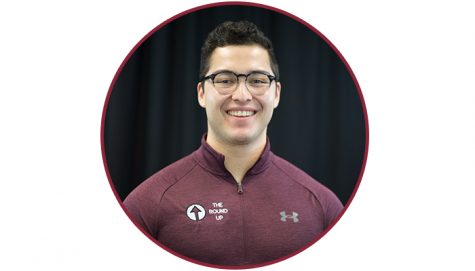 More stories from Derek Gonzales
LAS VEGAS—All season, the New Mexico State women's basketball team kept in the back of their minds last year's disappointing exit from the Western Athletic Conference tournament semifinals which came by way of a 23-point loss to Seattle U.
Using that as fuel, the Aggies arrived at the same spot once again.
Looking to return to the WAC final and redeem themselves while keeping their NCAA Tournament dreams alive, NM State outscored Kansas City 16-5 in the overtime frame to beat the fourth-seeded Roos 91-80 Friday afternoon inside Orleans Arena.
"It was a heck of a ballgame played by both teams but hats off to my team – every last one of our kids, whether they played or not, contributed," NM State head coach Brooke Atkinson said. "Just big buckets and big stops down the stretch. I couldn't be happier. We talked about this since last March, losing in the semis. We did not want that feeling and so now, we are hungry – moving one more step ahead to winning that championship."
Junior guard Gia Pack had a career game for the Aggies (25-6), scoring a career-high 36 points on 12 of 22 shooting from the field. Pack played all 45 minutes and it was back-to-back 3-pointers by the Phoenix native to start the overtime that set the tone in the extra frame and allowed the Aggies to pull away.
"The last time we played them at their place, I think I had 34 (points) but I was just feeling it," an exuberant Pack said after the game. "I told you that I come in here ready. It just felt good to just play with momentum and be the coach on the floor for my teammates, lead the game and then just take over."
Pack admitted that for most of the game, she was thinking about her senior teammates, specifically Brooke Salas, who has been a part of two WAC tournament title teams. Ensuring that the final tournament run did not end in the semis for Salas was at the forefront of Pack's concern during the game.
"The whole time, I thought about my seniors because it is their last year but especially Brooke, being with her for three years – I know she wants this more than probably anybody on the team but we all want it," Pack said with Salas to her right on the podium. "She is a great athlete, a great player and a great person so the whole time, I was just thinking about my seniors."
Kansas City (16-15) played NM State tough in all three meetings this season. The first two games were decided by single digits (both won by the Aggies) and the Roos had a chance to possibly win the game in the final seconds but were forced into a shot clock violation with 2.8 seconds left in a 65-65 game.
Roos guard Ericka Mattingly was unstoppable in the second half, scoring 27 of her game-high 37 points in the second half and overtime. Three other Roos scored in double figures, but it was Mattingly's performance that nearly upended the Aggies.
NM State will now face the winner of No. 3 Bakersfield and No. 2 UT Rio Grande Valley tomorrow at 3 p.m. (MDT) and will be televised on ESPN 3.