The Pan American Center comes back to life during Pack the Pan Am III
Hang on for a minute...we're trying to find some more stories you might like.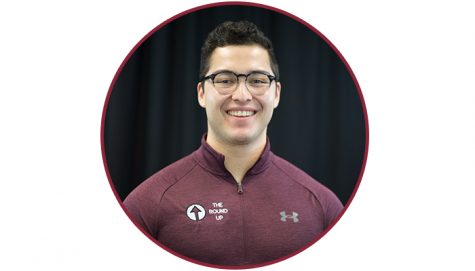 More stories from Derek Gonzales
Merriam-Webster has it that the definition of the word nostalgia is 'a wistful or excessively sentimental yearning for a return to or some past period or irrecoverable condition.'
Whether you attended New Mexico State during either of Lou Henson's stints, the Neil McCarthy era or were apart of 'Reggie Nation,' Saturday night's game between Grand Canyon and NMSU was a reminder of how much Las Cruces can love its college basketball.
With 15:00 minutes left in the game Saturday night, it was time for New Mexico State to make a run back into the game.
After trailing GCU for the entire second half to that point by as much as 13, the Aggies were in grave danger of taking a home loss in front of 12,989 for the third-ever "Pack the Pan Am," game.
The Aggies got a couple scores to cut the lead down to nine but with GCU shooting the ball well from the field, there was a sense of desperation in the air – one that had not been put in the arena by any Western Athletic Conference team in quite some time.
Sensing a need for defensive stops, the Aggie faithful brought the arena volume to a level only folks that have been around NMSU basketball for years had experienced before.
For the next 15 minutes, Aggie fans stayed on their feet and completely willed a team that could only muster up two 3-pointers and shoot a porous 36 percent back into the game NMSU finally dug themselves out of the hole and won 74-70.
"I feel more a part of the history of New Mexico State basketball after playing tonight because I have heard so many stories about back in the day and what it was like to play here, so I was looking forward to feeling it and I don't feel like we would've won the game without them," NMSU head coach Chris Jans said after the game. "It's human nature to rev it up a little bit when you have that many people cheering for you. We needed them and our guys responded."
The Pack the Pan Am promotion was happened two other times and did have similar crowd sizes, but the Aggies cruised last year against UMKC 94-71 and beat a lesser Chicago State team in 2015.
Director of Athletics Mario Moccia heads the promotion, selling nearly 5,000 tickets for this game on his own, something other athletic directors do not do. Moccia's leadership has set the tone for all of the successes the athletic department has had on and off the field, culminating with another win Saturday night.
"Not only was this great from a revenue standpoint, I mean we eclipsed the all-time individual game ticket revenue record for the last 18 years, but I could not thank the businesses who bought the tickets and the individuals who bought the tickets enough," Moccia said. "The energy they brought, it was fantastic. I really hope that people enjoyed themselves and will come back for the last two games because we could be playing for something big."
The Aggies went on a 31-14 the last 15:27 of the game.
Assistant coach Lou Gudino had a tough time relaying defensive calls to the other side of the floor, officials' whistles could not be heard at times (oh boy were they blown a lot) and the student section drowned out any noise that the 350 GCU students that were bussed in from Phoenix made.
Jemerrio Jones scored 27 points and 20 rebounds and credits the atmosphere for the comeback on a night where NMSU was tested by the Lopes really for the first time in Las Cruces since GCU entered the WAC in 2013.
"We needed the crowd. Shoutout to the fans."
Indeed so. Great work Las Cruces.

Hang on for a minute...we're trying to find some more stories you might like.
About the Writer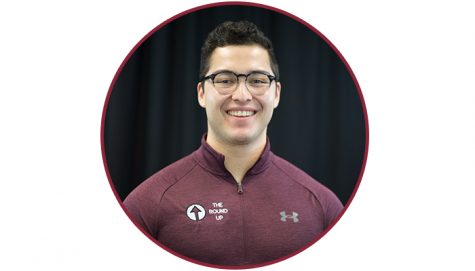 Derek Gonzales, Editor-in-Chief
Derek E. Gonzales enters his third year as an employee of the New Mexico State University Round Up and first as the Editor-in-Chief. The homegrown product played prep basketball at Oñate High School and has held a variety of positions in athletics. As a freshman, Gonzales worked inside the NMSU Athletic Department as a Marketing Intern. His duties included setting up advertisements, tabling events, cold calls to potential ticket buyers, and even included doing part-time public address announcing for volleyball (including 2016 WAC Volleyball Tournament) and men's basketball.
As a writer, Gonzales has become a prominent collegiate sports reporter in the state of New Mexico. Gonzales covered the 2016 NCAA Tournament in Tulsa, Okla. as No. 14 NMSU took on No. 3 Baylor. A year later, Gonzales returned to the Big Dance, covering the No. 12 Aggies against the Clemson Tigers in San Diego.
A men's basketball article written by Gonzales was tweeted out by CBS Sports' Dennis Dobbs during the Aggies conference championship run. The Las Cruces native wrote a highly-controversial opinion piece on former Aggie head coach Paul Weir, who left NMSU for in-state rival New Mexico, upsetting much of the fan-base. The article gained attention statewide and Gonzales subjected himself to criticism because of its honesty, cementing himself as a credible sportswriter in New Mexico.
Covering college football, Gonzales became the first sportswriter since 1960 to cover New Mexico State in both an NCAA Tournament and bowl game within the same calendar year, as he was on hand to witness the Aggies end their 57-year bowl drought in the 2017 NOVA Home Loans Arizona Bowl against Utah State.
Gonzales has also been published in The Louisiana Advocate for his game recap of the 2016 Louisiana-NMSU football game. On top of working at The Round Up, Gonzales also works as the Sports Freelancer for the Las Cruces Sun-News. In two full academic years at the Sun-News, Gonzales has written over 75 articles, covering NMSU athletics and Las Cruces preps.
Gonzales aspires to be a sports writer or a sports information director upon graduation in May 2019.