Letter from the Editor: The Round Up returns for its 111th year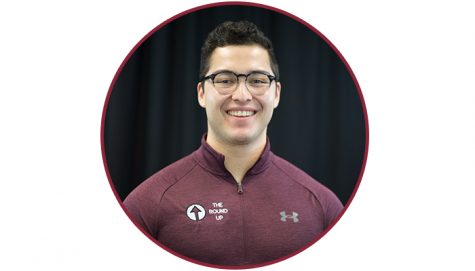 More stories from Derek Gonzales
"Hard work beats talent when talent does not work hard." – Tim Notke
For years, that quote has been the foundation of my life and the engine that has powered me towards every expectation and goal I have had for myself. Through trusting the process and a willingness to pay the price through hard work, I was able to overcome many challenges and eventually earn the opportunity of a lifetime to be the Editor-in-Chief for The Round Up for the 2018-19 school year.
I grew up a huge Aggie fan in Las Cruces. My childhood room was painted crimson and no kid at school was allowed to say anything negative about any Aggie teams if I was around. If I was not going to the game, I was listening to Jack Nixon on the radio wishing I was there. I had an Aggie shirt for everyday of the week and I could rattle off stats like it was my job (ironically enough).
My grandfather used to tell anybody that would listen that I would one day play basketball at NMSU. Unfortunately, coach Jans probably would not have much use for a 5-foot-11 power forward who shoots 20 percent from 3-point range and could not stay in front of a lightpole defensively.
That is okay though – I think I have found my niche with this journalism thing.
By way of Conlee Elementary, Vista Middle, and Onate High School, I like to think I represent what the city of Las Cruces is about – hard work and doing the little things with consistency and a high level of enthusiasm.
Now that I am leading NMSU's longest-standing student organization, I am extremely excited to assemble and lead a staff that will strive to be the best we can be. It is going to be a process that will not always be perfect or convenient, but we will put our hard hats on every day and build a culture in the office that understands the work that is required to be great is not pretty but is necessary.
We might not be the greatest collection of talent that this newspaper has even seen in its illustrious history, but I can assure you we will try to be the hardest working.
My predecessor, Albert Luna, laid a foundation that myself and future Round Up leaders need to build on. We have every resource we need to be successful and like any other business entity – we are result-driven. To the first editors, Justin R. Weddell and George G. Helde (1907-08), to Danny Villanueva and Dave Thompson (1959-60), Heath Haussamen (1999-2000), Geoff Grammer (2000-01), Lucas Peerman (2002) and Albert Luna (2016-18) and the countless others in between, we will honor the work of former employees put into our newspaper and make you all proud.
As the University ushers in a new president and chancellor, our job is as important as ever. Our students must and will be informed on how their new leaders are doing their job. We will stay on top of their successes and failures while shining a light on the decisions that impact the students and faculty of NMSU.
An attention to the details will be crucial to our success. We represent the NMSU student body and the community. Our stories throughout the year will cover as many organizations and groups of people as possible. We will gain readership through attacking these avenues of content with journalists eager to tell a good story.
Our credibility is what we hang our hat on. Because of those before us, we have the trust of the Las Cruces community and we will continue to grow it with hard-hitting journalism for the next 10 months. We are back to being the watchdog of this University.