Jans Christened as Aggie Coach as NMSU Blows Out Weir's Lobos
Hang on for a minute...we're trying to find some more stories you might like.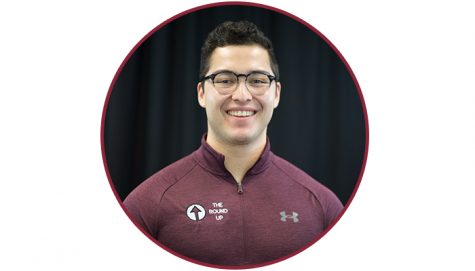 More stories from Derek Gonzales
First-year Aggie head coach Chris Jans was hired to replace Paul Weir eight months ago, and though Weir said that the opportunity at UNM was too good to pass up, Jans showed that the grass isn't always greener on the other side.
The Aggies defeated the Lobos 75-56 in front of 6,839 inside the Pan American Center Friday night to improve to 2-1 on the year and more importantly, anoint Jans as the new sheriff in town.
Talk all week was about Weir's return to Las Cruces, but the Aggies focused on getting a win for a coach who is growing on his players.
"I've seen it on his face that he (Jans) really wanted this game we really wanted the game for him," NMSU senior guard Zach Lofton said after scoring a game-high 28 points. "We like him a lot and to get this win for him, it's lovely man."
Lovely it was indeed for not only the team, but for a fan base who still had hard feelings for a coach in Weir that opted to leave for Albuquerque despite having been a part of the NMSU program for a decade.
The students showered Weir with chants the entire evening, with the loudest boos raining down when the coach picked up a technical foul in the second half as the game slipped away from the Lobos.
"I understand that there's a lot of talk about going back to the glory days in the '80's and '90's when the Pan Am was full, but I'll tell you what, if we can get it like that, that's a heck of an advantage for us," Jans said. "You could feel them (the crowd). They were a big part of the win today."
The Aggies controlled the pace against a UNM team that has tried to develop an identity as a full-court pressure team. NMSU only turned the ball over 14 times, and UNM coughed it up 17. That, coupled with the domination on the glass, led to NMSU pulling away late after the Lobos hung around for much of the game. The Aggies outrebounded the Lobos 50-25.
"I mean, Jemerrio Jones man… he had a 19-rebound game and now he has a 16-rebound game," Lofton said. "You can't teach that. He fuels us, he's our energy it was just great for us."
Three players reached double figures for the Aggies (Lofton-28, N'Dir-14, Chuha-13) and were able to save a nail-biting finish for another time despite shooting just 4 of 20 from behind the arc. A 23-5 advantage in second-chance points almost matches up perfectly with the margin of victory.
The team that was supposed to wear out the opponent ended up getting worn out at the end.
"You have to give a lot of credit to New Mexico State – they played a tremendous game and I knew obviously that they were very capable," Weir said. "Obviously seeing first-hand what Eli and Jemerrio could do to people on the backboard, they did an amazing job with that tonight. They really controlled the game there, particularly with those two leading the charger."
Weir said that this was a game he was really looking forward to and that Aggie fans kept it classy throughout the contest.
"I hope everyone out of the state and this community was just looking forward to a fun competitive game. My one disappointment was that it wasn't a competitive game. I thought the fans were terrific and I didn't feel mistreated in any way. Everyone (fans) did everything in great taste and there were little things here and there, but that happens in every game. I thought New Mexico State did an amazing job with their fans."
Before both fan-bases can turn the page and move forward past the Weir saga, they will meet again in Dreamstyle Arena on December 9. But for now, Jans and the Aggies can enjoy a win that solidifies that NMSU will continue its decade-long run of success.
"I'm just really happy for the fans," Jans said. "There's a lot of talk on what this rivalry means to people. People ask me all the time about the Lobo game and the Miner game. I just know what it means to them so certainly, it's a big win for our program and these fans.

Hang on for a minute...we're trying to find some more stories you might like.
About the Contributors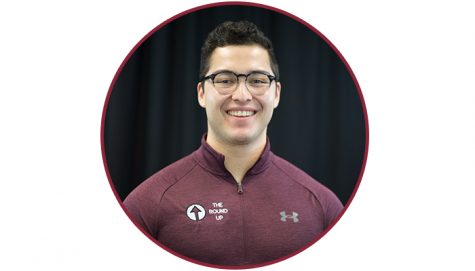 Derek Gonzales, Editor-in-Chief
Derek E. Gonzales enters his third year as an employee of the New Mexico State University Round Up and first as the Editor-in-Chief. The homegrown product...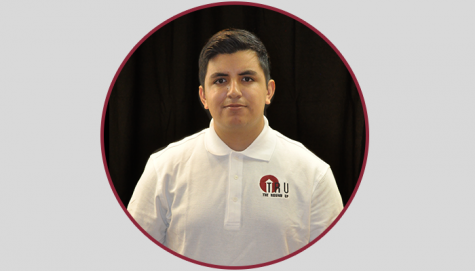 Christian Iglesias, Multimedia Editor
Christian is a first year at New Mexico State from El Paso, Texas. His passion for photo journalism began when he took up the mantle of head photographer...