Column: Thanks for everything, NMSU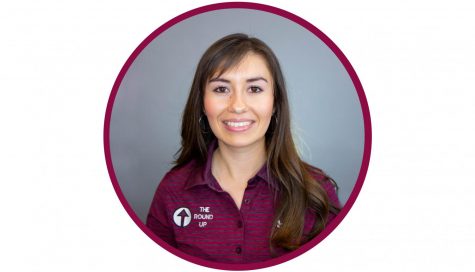 More stories from Leah Romero
I've been with The Round Up for over three years, but now it's time to say goodbye as I get ready to graduate this weekend.
That's wild to say: graduation. I've spent the last four years doing homework, joining clubs, changing my major every other semester and soaking up life at NMSU. I won't say I've loved every minute of it; I definitely spent a good amount of time crying. But now it's bittersweet to look back at where I started.
My first experience with college was Pride marching band camp the summer of 2016. It was overwhelming to be around so many new people, but music was familiar and I found my home there. After a few semesters of trying out education and business, I found journalism. Thank goodness! Otherwise I never would have been introduced to The Round Up and all of the wonderful people I get to call friends.
I've played flute in bands and joined clubs on campus which I loved, but student media will always be extra special to me. My co-workers helped me grow in myself and as a reporter. Walking into the newsroom everyday was exciting, you never knew what to expect. Breaking news could drop, crazy stories could be told around the staff table and you might just meet your best friend.
Having the chance to report on the news at NMSU has been an experience I will cherish forever. I'm stepping out into the "real world" now, but I know I'll always have my Round Up family there to support me, because I'll always be there for them.
Now here's the part where I thank a few people directly. Albert and Derek, you gave me my first reporting job and helped me find the confidence to write stories. Alanna, Ch'ree and James, we've been the dream team this past year. And James, thanks for putting up with my awkwardness. I couldn't have asked for a better office buddy. And to the rest of the staff, past and present, thank you for becoming my Roundie family. I love you all and can't wait to read your stories next semester as an alum.
Finally, thank you to my parents, brother and all the rest of my crazy extended family who total too many to be named. You all have always been at my side cheering me on and lifting me up. Not everyone made it to the finish line with me, but they will always be in my heart.
I'm not too sure what the future holds for me at this point, but what I do know is that I will always have a huge support system ready to make me laugh when it all gets to be too much. I've gained so many things during my time here at NMSU and I'll never be able to thank everyone enough. So I'll just say, thanks for everything, NMSU.
Leave a Comment
About the Contributor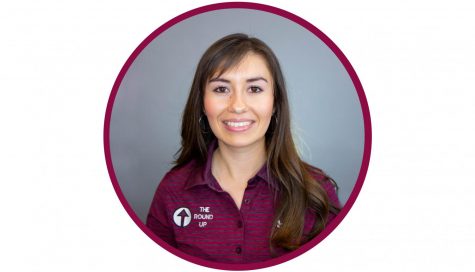 Leah Romero, News Editor
Leah Romero is a native Las Crucen entering her fourth year at NMSU where she is pursuing a bachelor's degree in Journalism and Media Studies along with...