"Little Brother" Beats Big Brother for Second Year in a Row
Hang on for a minute...we're trying to find some more stories you might like.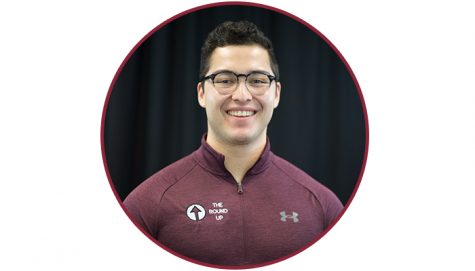 More stories from Derek Gonzales
ALBUQUERQUE, N.M.- They have better resources. A nicer stadium. A big city with more fans and more money to spend. The University of New Mexico has a huge financial advantage over New Mexico State University, especially on the gridiron, but for the second year in a row, the Lobos were unable to beat the team 225 miles to their south.
NMSU was winning 30-5 and most of the 32,427 in attendance headed for the exit before the fourth quarter had even begun.
UNM head coach Bob Davie pulled senior quarterback Lamar Jordan from the game after Jordan threw two interceptions and inserted redshirt-freshman Tevaka Tuioti. The game was over.
Until it wasn't.
The Lobos made a furious fourth-quarter push, scoring on two consecutive drives in the first 2:57 of the fourth quarter and converting a touchdown with 1:11 remaining, but a Javahn Ferguson tipped pass on the potential game-tying two-point conversion sealed a 30-28 win for the Aggies.
"All game, they were throwing those slants… so once I figured the game was on the line, they would go back to what was working," a gleaming Ferguson said postgame. "I just played it (the pass) and hoped it was there and it was there."
The fourth quarter was nothing short of a near-catastrophe for the Aggies (1-1), but for the first three quarters, it appeared that everything NMSU head coach Doug Martin had worked for since taking the job in 2013 fell in place. The defense was putting constant pressure in the Lobo backfield and caused four turnovers. Ferguson got the start at middle linebacker and led the team with 14 tackles on the night.
"I told our kids it was going to be a team win if we could win this football game and it was," Martin said, who improved his record to 2-3 against Davie and the Lobos. "Everybody contributed and had each other's back and they won as a team."
"What Coach Spaziani did, being able to pressure them even though they are an option team was key. Our defense did a great job tackling in space early on but we faltered in the second half. Our defense couldn't have done even just a year ago."
Quarterback Tyler Rogers was 34 of 57 on the night for 401 yards and four touchdowns, and his ability to stand in the pocket in the face of pressure to find his receivers outside against man-to-man defense was key in the game. Even with the 57 attempts, Rogers threw just one interception, which is a far cry from the 23-interception season he had in 2014.
UNM (1-1) held star running back Larry Rose III to just 33 yards rushing in the first half, stopping the man who torched them for 260 yards the last time the teams met in Albuquerque. The Lobos' attention to stop the Aggies rushing attack led to Rogers having nearly 300 yards passing in just the first half alone.
"That (game) was stressful, but the defense held in there and it was an exciting game and feels good to get the win and that's all you can ask for," Rogers said. "Offensively, we pulled off the throttle and started playing safe and conservative, and I think that kind of bit us a little bit. We need to be more aggressive in the second half."
Rose III went on to gain 102 yards rushing as well as 48 yards receiving, and Rose's 16-yard run to the UNM 11-yard line with 30 seconds remaining clinched the Aggie win.
The Aggies will now turn their attention for the Sun Belt Conference opener against the Troy Trojans, who will invade Aggie Memorial Stadium next Saturday at 6 p.m.
Hang on for a minute...we're trying to find some more stories you might like.