New Mexico State sweeps New Mexico for first time since 2002-03
Hang on for a minute...we're trying to find some more stories you might like.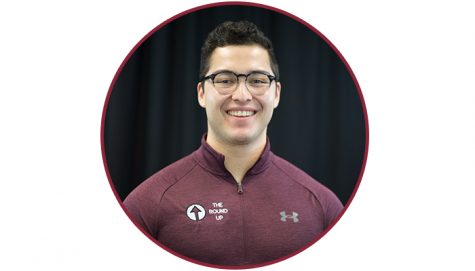 More stories from Derek Gonzales
Nineteen-hundred and eighteen.
That was the first and only time a first-year New Mexico State men's basketball coach had swept both UTEP and New Mexico but midway through the second half, it appeared that Chris Jans would fall just one leg short in his quest for the Quadruple Crown. The Lobos held a nine-point lead after freshman forward Makuach Maluach threw down a furious jam off an Aggie turnover with ten minutes left in the game and the Lobo faithful could sense blood in the water.
Not so fast my friend.
The Aggies held the Lobos to just one field goal after that Maluach dunk the rest of the game and NMSU chipped and clawed their way back before taking the lead for good on a Zach Lofton lay-up with 2:34 left, winning 65-62 in dramatic fashion to sweep the Lobos for the first time since 2002-03.
Jans follows John G. Griffith as the only two Aggie coaches to sweep both rivals in their inaugural season manning the NMSU program.
"(We) had to stay connected and for the most part, stay with each other and talk to each other," Lofton said about overcoming a nine-point second-half deficit in enemy territory. "We had to keep everybody poised and calm."
UNM has gone to a full-court pressure system to try and wear out opponents this year, and the Aggies did start to fatigue late. Jemerrio Jones began to suffer from cramps and Jans admitted he had to use a timeout late to get his players rest. Nonetheless, the Aggies stole a game on the road and improve to 3-0 against Mountain West schools this season (UNM twice and Colo. St.).
"They got a lead on us so like a lot of coaches do in timeouts, we talked a lot about there being a lot of possessions left in the game," Jans said. "In the end, a lot of plays were made and we came out on the winning end."
Lofton led the Aggies with 22 points, including two crucial buckets to flip a three-point Lobo lead into a one-point Aggie lead late.
Down three, the Lobos had a chance to tie the game at the buzzer, but a desperation three from guard Anthony Mathis fell short as the clock expired.
The game was played the way rivalry games should be played, down to the wire, and the Aggies were able to get only their third win in The Pit since 2008.
"It wasn't a pretty game – it was a toughness win and hopefully next time we are in that situation, we will talk about this game," Jans said. "I'm happy for us and our administrators and the fans (because) it's really important to all of them."
The Lobos (3-7) played with a sense of urgency and fought hard to get head coach Paul Weir his first win against his former program, but the team just could not find a bucket in crunch time, which made Sam Logwood's absence even more felt. Logwood was UNM's senior forward and leading scorer, averaging 14.9 points per game, but he took a leave of absence prior to the NMSU game to decide his future.
Weir is the first Lobo coach to start 0-2 against NMSU since Ritchie McKay in 2002.
Antino Jackson and Troy Simons were the only two Lobos to hit double figures, scoring 14 and 13 points respectively to lead UNM.
Saturday's game was the beginning of a stretch where the Aggies will play nine of their next 10 games away from the Pan American Center. After Tuesday's 7 p.m. home game against Eastern New Mexico, NMSU will travel to Chicago twice and Hawai'i for the Diamond Head Classic amongst the nine games away from Las Cruces.

Hang on for a minute...we're trying to find some more stories you might like.
About the Writer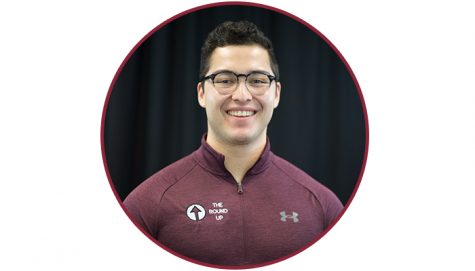 Derek Gonzales, Editor-in-Chief
Derek E. Gonzales enters his third year as an employee of the New Mexico State University Round Up and first as the Editor-in-Chief. The homegrown product...