New Pistol Pete bronze sculpture unveiled outside Corbett Center
Hang on for a minute...we're trying to find some more stories you might like.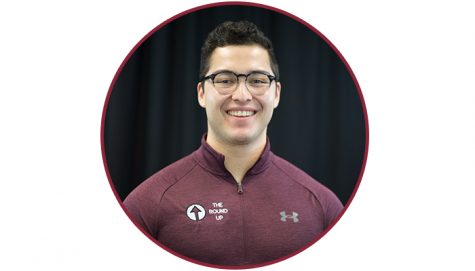 More stories from Derek Gonzales
Pistol Pete will now forever greet anybody that walks through the front doors of Corbett Center on the campus of New Mexico State University.
Members of the University's Facilities and Services Department, along with Chancellor Dan Arvizu and his staff, unveiled a new life-size bronze sculpture that sits on the left side of a crimson bench outside the Northwest entrance of the school's student union.
The idea came to University Architect Heather Watenpaugh while she was on a visit at Texas Christian University, which has a sculpture of their Horned Frog mascot outside of their student union.
"Earlier this year, we started having some conversations about a photo opportunity for the University and after to a visit to a Texas school (TCU) that had their mascot on a bench in front of their student union, we started looking at different groups that could complete this task," Watenbaugh said. "We had some funding from the President's Office and from the (NMSU) Foundation and we were able to come up with this."
The sculpture will act like a landmark of sorts for the school, as the sculpture is positioned on the left side of the bench with its legs crossed and left arm out, making it ideal for somebody to sit with it and take a picture.
NMSU student mascot Caleb Gustin provided the details of the Pistol Pete suit for the documentation required to fabricate the sculpture. From the famous moustache to the outfit, the sculpture will be easily identifiable with the University.
"Pistol Pete has always been one of our icons that we all love, and we want to carry with some sort of legacy," Arvizu said. "We love the idea that it is student-centric. It is something that we are trying to promote, and the students have been a big part of making this happen."
Because of the sensitivity some may have of Pistol Pete holding weapons, Arvizu did make sure to stress that he and the University are aware of all the problems and concerns people in the community have.
"We are trying to be sensitive to the various issues and concerns that people may have," Arvizu said. "We are pleased to celebrate what I think this monument statue represents. We trust that our alumni will be as proud as I am about our long and rich history with Pistol Pete.
"I also want to make it clear that we are very sensitive to all of the issues that we have on our campus — we are committed to safe campuses and having a place that people can celebrate and have a good time when they come on our campus."

Hang on for a minute...we're trying to find some more stories you might like.
About the Writer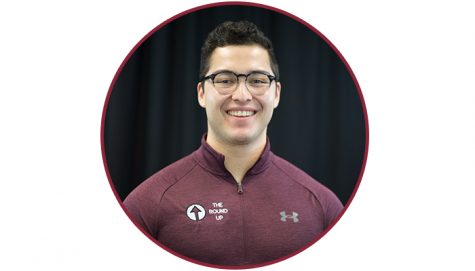 Derek Gonzales, Editor-in-Chief
Derek E. Gonzales enters his third year as an employee of the New Mexico State University Round Up and first as the Editor-in-Chief. The homegrown product played prep basketball at Oñate High School and has held a variety of positions in athletics. As a freshman, Gonzales worked inside the NMSU Athletic Department as a Marketing Intern. His duties included setting up advertisements, tabling events, cold calls to potential ticket buyers, and even included doing part-time public address announcing for volleyball (including 2016 WAC Volleyball Tournament) and men's basketball.
As a writer, Gonzales has become a prominent collegiate sports reporter in the state of New Mexico. Gonzales covered the 2016 NCAA Tournament in Tulsa, Okla. as No. 14 NMSU took on No. 3 Baylor. A year later, Gonzales returned to the Big Dance, covering the No. 12 Aggies against the Clemson Tigers in San Diego.
A men's basketball article written by Gonzales was tweeted out by CBS Sports' Dennis Dobbs during the Aggies conference championship run. The Las Cruces native wrote a highly-controversial opinion piece on former Aggie head coach Paul Weir, who left NMSU for in-state rival New Mexico, upsetting much of the fan-base. The article gained attention statewide and Gonzales subjected himself to criticism because of its honesty, cementing himself as a credible sportswriter in New Mexico.
Covering college football, Gonzales became the first sportswriter since 1960 to cover New Mexico State in both an NCAA Tournament and bowl game within the same calendar year, as he was on hand to witness the Aggies end their 57-year bowl drought in the 2017 NOVA Home Loans Arizona Bowl against Utah State.
Gonzales has also been published in The Louisiana Advocate for his game recap of the 2016 Louisiana-NMSU football game. On top of working at The Round Up, Gonzales also works as the Sports Freelancer for the Las Cruces Sun-News. In two full academic years at the Sun-News, Gonzales has written over 75 articles, covering NMSU athletics and Las Cruces preps.
Gonzales aspires to be a sports writer or a sports information director upon graduation in May 2019.