Jans Era Begins with Blowout Win Over East Central
Hang on for a minute...we're trying to find some more stories you might like.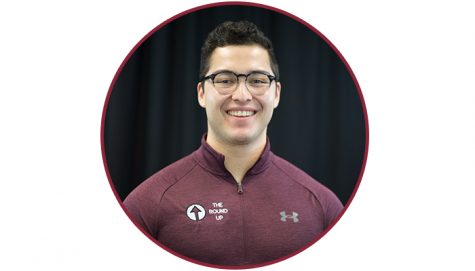 More stories from Derek Gonzales
The Chris Jans era has officially begun at New Mexico State. The former Wichita State assistant and Bowling Green head coach has picked up right where the Aggies' last coach regime left off, beginning the season with a 81-55 win over the East Central (Okla.) Tigers Friday night at the Pan American Center.
The former Wichita State assistant and Bowling Green head coach has picked up right where the Aggies' last coach regime left off.
It wasn't pretty for a half, but the Aggies used a defensive effort more appropriate for a defensive-minded Jans-coached team to pull away from an inferior opponent.
"I got to wondering as the game unfolded in the first half if we were ever going to make a jump-shot or even a lay-up," Jans said jokingly post-game. "That basket seemed to have a lid on it… (but) the best part of the first half was that even though we did not shoot the ball well, we were still ahead. I thought that was a great sign."
It did not take long for Aggie fans to get acquainted with New Mexico State guard Zach Lofton. The Texas Southern transfer and 2016-17 Southwestern Athletic Conference Player of the Year poured in game-high 25 points (14 of NMSU's 31 first-half points) in his NMSU debut in a game where the Aggies shot a dismal 32.5 percent from the field in the first half and only led by six at intermission.
Lofton averaged 16.8 points per game a year ago for Texas Southern.
"That's kind of why we brought him (Lofton) here," Jans said. "We felt like he could give us a shot in the arm offensively, but the thing where I think people make a mistake about Zach is that they pitch it all on him as a scorer. He is a basketball player. He had what, six rebounds and a couple assists and three steals? He knows how to play and he's comfortable on the floor."
NMSU (1-0) was able to share the ball and get good looks against the Tigers, but an old-fashioned off night from the field would allow East Central to stick around for a half. The Aggies shot 1-for-16 from the 3-point line, with Aussie newcomer Gabe Hadley shooting 0-for-4 from distance. Ohio State transfer AJ Harris, who had to sit out a year due to NCAA transfer rules, scored 12 points on the night, but his message to his teammates at the half was what helped the Aggies get going offensively.
"I just told my guys that in the second half, they'll (shots) start falling," Harris said. "We just had to keep shooting the ball and keep being confident."
Jans put an emphasis on the defensive side of the court after NMSU allowed 83 points to Southeastern (Okla.) and 84 to Texas Tech in exhibition games. The Tigers struggled to score against NMSU's length, shooting 34.5 percent in the game. Jamey Woods led East Central with 14 points (5-for-13 from the field) on the night.
Forward Jemerrio Jones had a career night with 19 points and 19 rebounds, which is a new career high. The 6'5 senior said last year that he was a forward in a guard's body, and he continues to put up numbers on the glass.
NMSU will now shift their attention to No.22 Saint Mary's, who the Aggies nearly beat in the 2016 NIT first round. The Gaels are led by long-time coach Randy Bennett and feature former UNM Lobo Cullen Neal, the son of former UNM head men's basketball coach Craig Neal.
After Monday, the Aggies will shift their attention toward the New Mexico Lobos, who will be welcomed into Las Cruces to what should be a very hostile crowd next Friday night at 7 p.m.

Hang on for a minute...we're trying to find some more stories you might like.
About the Writer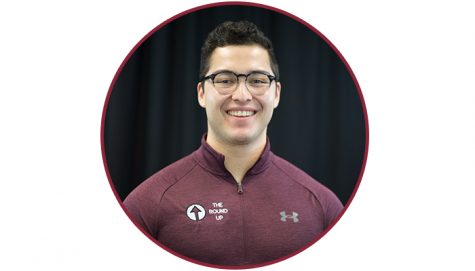 Derek Gonzales, Editor-in-Chief
Derek E. Gonzales enters his third year as an employee of the New Mexico State University Round Up and first as the Editor-in-Chief. The homegrown product played prep basketball at Oñate High School and has held a variety of positions in athletics. As a freshman, Gonzales worked inside the NMSU Athletic Department as a Marketing Intern. His duties included setting up advertisements, tabling events, cold calls to potential ticket buyers, and even included doing part-time public address announcing for volleyball (including 2016 WAC Volleyball Tournament) and men's basketball.
As a writer, Gonzales has become a prominent collegiate sports reporter in the state of New Mexico. Gonzales covered the 2016 NCAA Tournament in Tulsa, Okla. as No. 14 NMSU took on No. 3 Baylor. A year later, Gonzales returned to the Big Dance, covering the No. 12 Aggies against the Clemson Tigers in San Diego.
A men's basketball article written by Gonzales was tweeted out by CBS Sports' Dennis Dobbs during the Aggies conference championship run. The Las Cruces native wrote a highly-controversial opinion piece on former Aggie head coach Paul Weir, who left NMSU for in-state rival New Mexico, upsetting much of the fan-base. The article gained attention statewide and Gonzales subjected himself to criticism because of its honesty, cementing himself as a credible sportswriter in New Mexico.
Covering college football, Gonzales became the first sportswriter since 1960 to cover New Mexico State in both an NCAA Tournament and bowl game within the same calendar year, as he was on hand to witness the Aggies end their 57-year bowl drought in the 2017 NOVA Home Loans Arizona Bowl against Utah State.
Gonzales has also been published in The Louisiana Advocate for his game recap of the 2016 Louisiana-NMSU football game. On top of working at The Round Up, Gonzales also works as the Sports Freelancer for the Las Cruces Sun-News. In two full academic years at the Sun-News, Gonzales has written over 75 articles, covering NMSU athletics and Las Cruces preps.
Gonzales aspires to be a sports writer or a sports information director upon graduation in May 2019.