NM State looks to rest and prepare; now awaits stiffer competition in WAC semis
Hang on for a minute...we're trying to find some more stories you might like.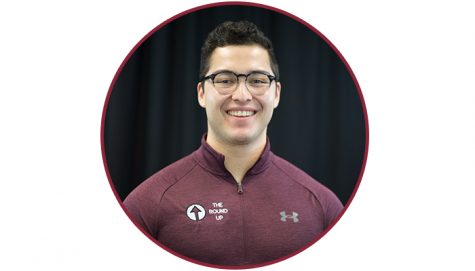 More stories from Derek Gonzales
LAS VEGAS – The New Mexico State men's basketball team earned the number one seed with an impressive 15 game winning streak to close out the regular season.
The benefits of the outright regular season title go beyond the guaranteed postseason berth (the Aggies will play in the NIT should they not advance to the NCAA Tournament) – it allowed NM State to play the opening game Thursday and against the worst team in the country.
Chicago State ranks dead last in the country in NET ranking (353). To put in perspective, the next lowest WAC team is 128 spots ahead of the Cougars (Kansas City).
The Cougars offered resistance for about 22 minutes Thursday afternoon, but the Aggies began to do what every good team does to a really bad one, overpowering them offensively and suffocating them defensively until the outcome was well in-hand.
In the semifinals awaits No. 4 UT Rio Grande Valley and a team that is many notches up from what the Aggies saw on opening day. The Aggies used an Eli Chuha lay-up with less than 10 seconds left in to escape Edinburg with a win back Jan. 26 and narrowly beat the Vaqueros nearly a month later by nine.
After voicing his opinion last year on not having an earlier-in-the-day quarterfinal game (the Aggies played the 6:30 p.m. quarterfinal game), NM State head coach Chris Jans and the Aggies now have the rest of Thursday to watch their next opponent live, prepare for it and rest.
"I think mentally and physically, it is a big help," Jans said after the Chicago State game in regard to getting that first game out of the way early. "We are now done at 2 o'clock and we do not play until six tomorrow and whoever we play is obviously not going to get done until 4:30-5:00 and by the time they get out of here, they will have a little bit less rest. Mentally, they deserve this, and I told them in the locker room we deserved this because we are the number one seed and I think it is a better setup to give that number one seed a little more chance to get some rest.
"You don't get many advantages when it's a perfect eight-team tournament so hopefully we will take advantage."
UTRGV's NET ranking (which is a key metric that the NCAA has gone to, replacing the old RPI) is 172 and have played the Aggies well in both games leading up to Friday's semifinal.
Could the Aggies have trouble beating them for a third time this season?
Well, according to college basketball analyst and former NM State video coordinator Jordan Sperber, that old adage is misleading. Teams that swept the regular-season series last year went 84-41 in the third matchup against the opponent in 2018. It is not to say NM State should not prepare with urgency, but it will take more than just it being the third meeting for the Vaqueros to upset the Aggies.
Nonetheless, Jans and his staff will look to have the team prepared as the Aggies look to advance to the WAC Tournament final for the tenth time in 13 years.
"At this point in the season, you have played everybody twice. Everybody scouts at a high level in college basketball and we will be prepared … and certainly we will be out there (inside Orleans Arena) trying to pick up a little thing here or there."
UP NEXT:
WAC Semifinals
No. 4 UTRGV vs. No. 1 New Mexico State
Friday, March 15
7 p.m. (MDT)
ESPN+

Hang on for a minute...we're trying to find some more stories you might like.