NMSU rips away journalism department's biggest classroom; department head feels disrespected
Hang on for a minute...we're trying to find some more stories you might like.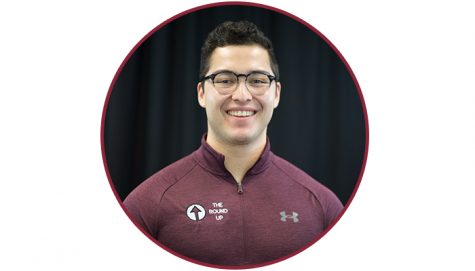 More stories from Derek Gonzales
The New Mexico State University kinesiology department is due to have a brand new virtual reality room for its students — curiously slated to be inside Milton Hall's room 155.
Milton Hall, built in 1941, was the first student union of NMSU until the construction of Corbett Center in 1968 and has been used as the home of the school's journalism department and Creative Media Institute for over three decades. As one of the campus's oldest buildings, questions have been raised recently about the building's lack of modern technology or plans for renovation.
In NMSU's 2017-2027 master plan, there is nothing about a renovation of Milton Hall.
All the while, the journalism department's head, Hwiman Chung, was gone on sabbatical during the Fall 2017 semester when the decision was made to give one of his department's classrooms to the kinesiology department, seemingly being left out of the loop until his return to Las Cruces.
"I was on sabbatical leave two years ago and after I came back, I submitted class schedules and all of a sudden, that room (Milton Hall 155) was unavailable," Chung said. "I asked why and they (facilities department) said they wanted to build a virtual reality room. I asked who agreed to this because I had no information about this but apparently, while I was gone, the interim department head (Mary Lamonica) and faculty discussed it but I do not think we had input in the process."
Former NMSU chancellor Garrey Carruthers told The Round Up in an interview in late 2017 that he had hoped the building would fall down when everybody was home for Christmas so the university could collect the insurance and build a new building.
Despite those remarks, it was under the Carruthers administration that this project was signed off on, allowing the kinesiology department to invest money and resources into a classroom inside a building that is horribly outdated and on its last leg.
The classroom was most recently used for journalism classes.
Now, the room is under construction and slated for an April 1 completion that was funded through a donation from a private company in the Las Cruces community named Electronic Caregiver, which is an organization that focuses on supporting older adults in home, according to interim kinesiology department head Phillip Post.
"We (kinesiology) department got a donation that was close to $350,000 to support equipment and students for this lab," Post said. "Part of the lab is going to be focused on research but the other part of it will allow our students to play around with this high-end equipment. Some of the research is an agreement to look at some of the things they (ECG) thought were interesting and Dr. Howard and I will look at things and figure how to use this lab for skill acquisition."
Post said that their department submitted a form to NMSU's space committee, telling them in detail what they needed for this project and it was the committee that went ahead from there and decided on Milton Hall room 155.
The committee made the suggestion to Carruthers and his signing off of it is where it became finalized, according to the space committee office.
Jim Murphy, NMSU's arts and sciences associate dean of research, argued that the journalism department was not maximizing the use of the space and that even with the recent building upgrades such as Dominici Hall and Hardman-Jacobs, a better place to house this virtual reality room could not be found on campus.
"There were not any other places that were obvious," Murphy said. "The issue was taken to the space committee. I talked a lot with Lamonica and she raised the concern of that room being used as a passway to get from one side of Milton to the other without having to go all the way around but they had submitted requests to get the room refurbished and improved and it never happened."
Chung confirmed that the journalism department had submitted requests for Milton Hall 155 to be refurbished but the funds were never collected for it.
Milton Hall room 155 was one of the biggest journalism classrooms but the carpet was old and stained and the orange desks were severely aged and students struggled to fit comfortably in them. Rumors of asbestos in the roof of the building continue to swirl as Milton Hall approaches 80 years old.
The kinesiology department will be the third department to have space inside Milton Hall along with journalism and the Creative Media Institute. Chung believes the taking of rooms that have been for journalism and given to other departments to use sends a bad message to his students and department.
"All of our students have used that room and they really feel like it has become part of our department," Chung said. "Now, everything is blocked off. All of a sudden, in the center of Milton Hall, we have the kinesiology department. It sends the wrong message to students.
"This department does not feel like it is being respected."

Hang on for a minute...we're trying to find some more stories you might like.
About the Writer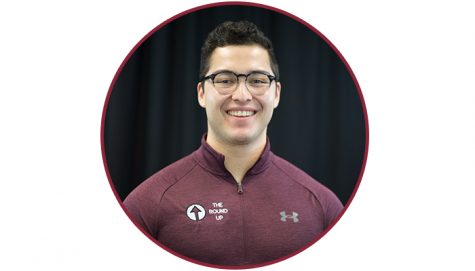 Derek Gonzales, Editor-in-Chief
Derek E. Gonzales enters his third year as an employee of the New Mexico State University Round Up and first as the Editor-in-Chief. The homegrown product...