New Mexico State humiliates New Mexico in Mesilla Valley Massacre Part II
Hang on for a minute...we're trying to find some more stories you might like.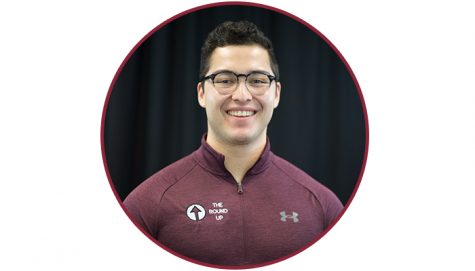 More stories from Derek Gonzales
Almost 12 years ago to the day, former New Mexico State men's basketball coach Reggie Theus and his Aggies welcomed in the visiting New Mexico Lobos, led by Ritchie McKay.
Led by a shifty lefty point guard that wore number 12 (Elijah Ingram) and an arsenal of weapons around him that included Justin Hawkins, David Fisher and Ted Knauber, the Aggies blew out the Lobos 103-72 in a game that is affectionately remembered as the Mesilla Valley Massacre.
McKay went on to get fired at the conclusion of that season.
Fast forward to Tuesday night and though nobody on either side looks to be losing their job just yet, Chris Jans and the Aggies absolutely humiliated former NMSU head coach turned UNM head man Paul Weir and the Lobos 100-65 in his second homecoming since spurning the program for their in-state rival.
The win improved Jans' record to 4-0 against UNM since Robert R. Brown did so since 1922-23 and Weir became the first coach in Lobo men's basketball history to begin 0-4 against NM State.
"I am proud of it (8-0 combined record against UNM and UTEP) and from my first interview, it was made very clear to the folks that were in the room how important these games were to the fanbase, administration and the community so each year, we try to make sure that our guys that are new to the program understand what this means to this fanbase and this university," Jans said. "They (NMSU students) have been awesome (6,777 was the official attendance) and I try to thank them every chance I get, and we did the deal this morning (players and coaches gave out snacks and scantrons inside Corbett Center in the morning as this week is finals week) as a thank you to them.
The closest the two teams came from battling each other came about 70 minutes before tip-off, where both teams got in a heated confrontation and had to be separated by security and coaches. NM State players Eli Chuha and Jojo Zamora declined to comment on the incident, but something was different about the Utah transfer in Zamora as he exploded for a career-high 27 points that included a 6-of-6 statline from 3-point range, identical to what AJ Harris did in Albuquerque to take down the Lobos on Nov. 17.
"We knew that they were going to be in that press and we just had to stay focused and not let them speed us up," Zamora said. "I have been down a couple games, but I just had to stick with the process and I had a good one tonight."
Once the game began, the Aggies (7-1) took control immediately, scoring the game's first 11 points, seven of which coming from forward Ivan Aurrecoechea (he finished with 23 points on the night).
That was only the beginning of the bludgeoning.
The Lobos (4-2) came into the game fifth in the country in effective offensive field goal percentage (60.2 percent) and there was nothing that was efficient about anything New Mexico did on the offensive side of the ball.
UNM shot 23.3 percent in the first half and struggled to just hit him on most of their first 10 shot attempts. It was a point of emphasis for the Aggies going into the game and their defense never allowed the Lobos to even think about making it a game.
Nobody on the Lobos could score. Not UConn transfer Vance Jackson. Not sharpshooter Anthony Mathis. Makuach Maluach had some open looks early while NMSU was struggling to get going from the floor but he could not connect. Freshman guard Drue Drinnon led the Lobos with 13 points.
It was nightmarish for Weir and the Lobos and a fairytale story for Aggie fans that just cannot seem to stop getting better and better.
"As ridiculously painful as this game happens to be, I don't want to necessarily take too much from it – I think the unique dynamics of who the opponent happens to be and my own past, if this is some weird Rick Pitino-ish thing (Pitino coached at rivals Kentucky and the University of Louisville, though he did not spurn one straight to the other – he coached in the NBA in between the two stints) that is going to be standing on its own, then I have got to find a way to deal with that and coach with that as my career unfolds," Weir said. "But I don't know if I am going to necessarily extract a bunch of decisions and things from these two games.
"Sorry doesn't do it any justice – I am sorry, I apologize from the bottom of my heart (to Lobo fans) – it's as embarrassing and humiliating as one (loss) can be."

Hang on for a minute...we're trying to find some more stories you might like.
About the Writer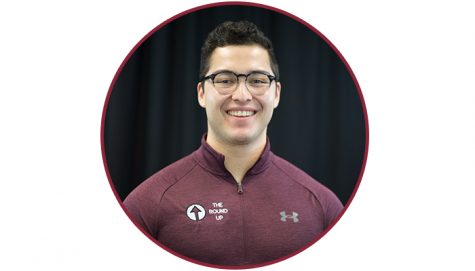 Derek Gonzales, Editor-in-Chief
Derek E. Gonzales enters his third year as an employee of the New Mexico State University Round Up and first as the Editor-in-Chief. The homegrown product...