Season In Review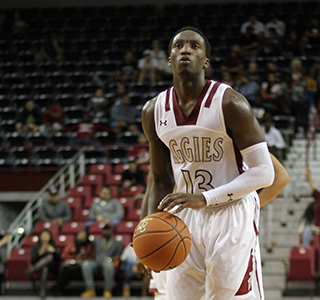 For the first 20 minutes of basketball, the 14-seed New Mexico State Aggie men's basketball team look to be every part of a team ready to play Cinderella. They were outrebounding the mighty 3-seed Baylor Bears front line that led the Big 12 in rebounding margin by three at intermission and were 6 for 14 from behind the arc. Unfortunately, in the end, the two-point halftime lead that was capped off by a Braxton Huggins 3-pointer at the buzzer was not enough, as the Aggies succumbed to a massive Baylor interior in a 93-71 loss Friday afternoon inside the BOK Center.
NMSU ends the season 28-6, breaking the school record for wins in a season that was held by the 1970 Final Four team that was coached by Lou Henson. Head Coach Paul Weir, who has kept Henson involved in the program, had the most wins in the country for a first-year head coach.
"I was talking to Coach Henson earlier in the week before we left, and coach told me 'you're going to have to play well but they are going to have a bit of an off night' and we didn't catch them on that off night," Weir said, who in his inaugural season as a Division I head coach, won the Western Athletic Conference Tournament Championship. "They made a lot of two-point jump shots and just made a lot of plays so you got to give Baylor credit."
The Bears (26-7) shot 19 of 32 from the field in the second half and connected on all 14 free throw attempts. Terry Maston, who came into the game averaging 6.4 points per game, kept Baylor afloat with 12 first-half points while All-American Johnathan Motley was on the bench with foul trouble. Maston and Al Freeman combined for 25 bench points for the Bears in the first half. With Motley acting as a spectator, Maston knew that he would need to step up to help avoid a third-consectutive first-round exit.
"He's (Motley) is a really essential part of our team and they (NMSU) were giving me the mid-range jumper and I made a couple and they just kept falling for me," Maston said, finishing with 19 points on the day, three shy of his career high.
Motley's second-half return to the floor was felt immediately. Baylor opened up the half with a suffocating man-to-man defense that made scoring inside extremely difficult. NMSU was only able to shoot 36.7 percent in the second half as opposed to a 50 percent clip in the first. The Bears' biggest lead was 20 with 8:43 left and outscored the Aggies in the paint 30-6 in the second half. An early 13-2 run in the second half turned a 42-38 deficit into a 51-44 lead in a game-defining stretch, as the Aggies were never able to stop the bleeding from the point on.
WAC Player of the Year Ian Baker led the Aggies with 19 points and five assists in his last game in an NMSU uniform. Baker was apart four postseason teams in his career and scored a career-high 36 points against UT-Rio Grande Valley on February 18.
"I would say my four years at New Mexico State, I had a blast," Baker said. "I told one of these people here the other day that in a million years I would have never thought I would have ended up at New Mexico State, but it was the place for me and I'm glad ended up there."
Tanveer Bhullar Transferring
It has been announced through an NMSU press release that center Tanveer Bhullar will be leaving the program to either join another program as a graduate transfer or playing professionally.
"Tanveer has been an absolute pleasure to coach in my time here," Weir stated in the press release. "I can't thank him enough for everything he's done for us and we all wish him nothing but the best at his future destination."
The younger brother of former Aggie center Sim Bhullar, the 7'2 Canadian saw a decrease in time this past season, as Paul Weir's new uptempo style made it tough for Bhullar to carve out a role. Bhullar scored a season-high 11 points against Seattle U and recorded a season-high 10 rebounds against rival New Mexico.
NMSU slated to face Illinois next season
Coming off a school-record 28 wins and another WAC Championship, NMSU is now looking to beef up their non-conference schedule and has added a semi-neutral site game with the Illinois Illni next season. The game will take place inside the United Center, home of the Chicago Bulls, as a tribute game to Hall of Famer Lou Henson, who took both programs to the Final Four. UI will be under the leadership of new head coach Brad Underwood, who left Oklahoma State after just one season to replace John Groce. Groce was fired after failing to lead UI to the NCAA Tournament in four straight years. NMSU will also play in the Diamond Head Classic on the campus of the University of Hawai'i, which will feature Akron (MAC), Davidson (A-10), Miami (ACC), Middle Tennessee (C-USA), USC (PAC-12), Utah State (MWC), and Hawai'i (Big West).
Incoming talent
The Aggies will have the challenge of having to replace WAC Player of the Year and leading scorer Ian Baker next year as well as Matt Taylor and Tanveer Bhullar, but the coaching staff has hit the recruiting trails and look to have the roster reloaded for 2017. L.J. Figueroa was the 87th-ranked player in the class of 2017 out of Orlando's West Oaks Academy and chose New Mexico State over Louisville and Florida among others. NMSU has also signed junior-college players Tyree Robinson and Jachai Simmons. They are both top 100 in junior college prospect rankings. Marlon Jones and Sidy N'dir will also return to action after both players suffered season-ending injuries.

Hang on for a minute...we're trying to find some more stories you might like.