Chris Jans has become "superhero" figure to New Mexico State fanbase
Hang on for a minute...we're trying to find some more stories you might like.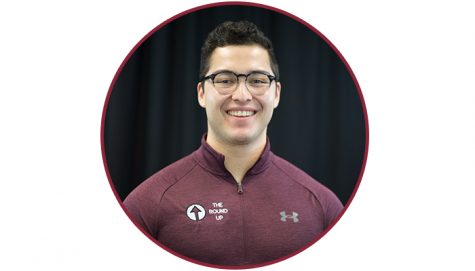 More stories from Derek Gonzales
Time is said to heal all wounds, but there is another medicine that can cure a case of the broken heart – winning.
And Chris Jans has done a lot more of it in his first year than most expected when he arrived in Las Cruces.
The New Mexico State fanbase sure felt the emotional ache when former head coach Paul Weir left for New Mexico, leaving behind a talented roster and a fan base that had grown to love the man who sort of took on a persona similar to legendary coach Lou Henson.
Jans was brought in as the new head coach, and most did not know what to expect from the former Wichita State assistant and Bowling Green head coach.
"Doubters are just dreamers with broken hearts," is an Atticus quote that related to the Aggie fans who were left wondering how championships could continue to be won with three different coaches in three seasons. People doubted whether Jans could sustain the level of success that Weir and Menzies had brought to the program for the last decade.
Jans needed to replace nine players and with the April hiring, was severely behind the eight ball on the recruiting trail, not to mention needing to fill out his coaching staff.
"Me and my staff are really fortunate that it's come together the way it has," Jans said. "It was a crazy spring and summer with a lot of moving parts and a lot of scratching your head wondering what the finished product is going to look like. The biggest thing for us is that the players have bought in."
He went to work, bringing in coaches to work with the returnees and help recruit while he sought players that would need to step in and produce right away. Seven new faces came into the program including a graduate transfer from Texas Southern named Zach Lofton.
You couldn't find Jans around campus too much early on in the school year – there was a lot of work to be done. It wasn't until Nov. 17 that Jans would officially arrive as the new sheriff in town.
A 75-56 blowout win over Weir and the Lobos in front of an Aggie fanbase desperate for revenge immediately put Jans into the good graces of Aggie Nation.
Things would only get better from there, as the Aggies would sweep UTEP and beat Weir's Lobos in Albuquerque to put Jans in the history books as the only head coach in NMSU history to sweep the Miners and Lobos in his first season at the helm.
The legend of Jans would then grow after NMSU beat Illinois, Davidson and No. 6 Miami (Florida) on national television as a part of an eight-game, 37-day road trip.
"Jans really came in and was like a superhero for Las Cruces and I think that was really important because the whole community just ran with it because of how we all felt when Paul left," NMSU senior Zach Aragon said. "Seeing them win on ESPN and seeing them win the big games they've won really locked in the love we have for coach Jans."
Now that the team has returned to the Pan Am for six of their next seven games, students and fans were eager to show appreciation for coach and team who had once again become nationally relevant. The Aggies sat at 15-3 on the year and 3-0 in WAC play entering Thursday night's home game against Seattle U.
"It's definitely a good feeling that Jans is making an improvement with this team," NMSU student Robert Medina said. "He has come to one of our (Lambda Chi Alpha fraternity) meetings and he was just trying to get us all involved, talking to each and every person and even brought a couple of the players, which really got us excited.
"I feel like there is a connection between the whole student section and Chris."
The feeling is mutual according to Jans, who laughed at the mention of the "Jans the Man" shirts that were worn by the student section.
"I absolutely feel the same — I've gone up and tried to interact with them when possible through the Greek system; I have met some really neat guys and we've tried to work together in situations and before the game today, I went to out there (to the ASNMSU pre-game tailgate) and played a game (cornhole), even though I didn't make any," Jans admitted with a smile. "It's huge for us, and hopefully with where we are at right now as a team, we will continue to grow the crowd."

Hang on for a minute...we're trying to find some more stories you might like.
About the Writer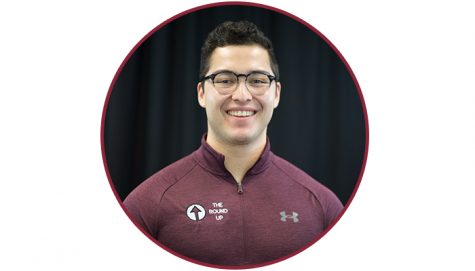 Derek Gonzales, Editor-in-Chief
Derek E. Gonzales enters his third year as an employee of the New Mexico State University Round Up and first as the Editor-in-Chief. The homegrown product...