2017- 18 NMSU Athletics Outlook
Hang on for a minute...we're trying to find some more stories you might like.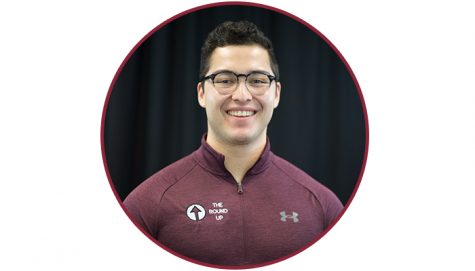 More stories from Derek Gonzales
As the new school year begins, New Mexico State Athletics is looking to build upon the success of last season. After earning the school's third-straight Western Athletic Conference Commissioner's Cup in 2016-17, Aggie Athletics ushers in a new era in both men's and women's basketball while the football program says goodbye to the Sun Belt Conference for the second time since 2004. Let's look at the main headlines for NMSU as the athletic season quickly approaches.
Aggie Football readies for tough 2017 schedule
It seems that this is a headline every year, but will 2017 finally be the year that the Aggies end their 57-year bowl drought? Entering Head Coach Doug Martin's fifth season at the helm, NMSU returns 19 starters and will have the full services of 2015 AP All-American Running Back Larry Rose III, who was hampered with injuries during the 2016 campaign. Quarterback Tyler Rogers was granted a fifth year of eligibility and will direct Coach Martin's offense for a fourth season after throwing for 16 touchdowns and rushing for another four a season ago.
The defensive side of the ball features Bronko Nagurski Trophy Watch List defensive back Jaden Wright in the secondary, with seniors Dalton Harrington and Derek Ibekwe manning the middle at linebacker. Defensive Coordinator Frank Spaziani returns for his second year, and the continuity should help an Aggie defense that allowed 38.8 points per game in 2016 (fifth-worst in FBS).
Though this is arguably the most experienced and talented team Martin has constructed on paper during his tenure in Las Cruces, the schedule features two Power-5 road games (Ariz. St and Arkansas) and each Sun Belt Conference team that made a bowl game last season (App. St., Ark. St., Troy, Idaho, Louisiana, S. Ala.). The last time the Aggies had a winning season was 2002 when the team went 7-5, and it appears that the 2017 edition will need to take a similar path to bowl-eligiblity by winning both non-conference rivalry games. It is easier said than done, but with unchartered waters ahead as an Independent beginning in 2018, a bowl-bound Aggie team in 2017 would make athletics a more-attractive entity when the next wave of conference realignment occurs.
Jans takes over for Weir
The saying goes that time heals all wounds, but as it pertains to a certain head coach at the University of New Mexico, the pain is still very fresh for Aggie fans. Paul Weir left for Albuquerque on April 11, but Las Cruces will not have to wait long to see Weir's return to the Pan American Center as the new head coach of the Lobos. UNM will visit the Pan American Center during the opening week of the college basketball season on Nov. 17 in what will surely be most-anticipated game to take place in Las Cruces since No. 15 Nevada came into town with a 10-game winning streak before falling to Reggie Theus' Aggies 80-73 in front of a raucous crowd of 12,482.
Jans inherits a 28-win team that returns starters Eli Chuha and Johnathan Wilkins but lost guards Ian Baker, Matt Taylor and Braxton Huggins. Ohio State transfer A.J. Harris will suit up for NMSU after sitting out last season as a transfer and has three years of eligibility remaining. Jans has brought in guards Shunn Buchanan, Kortriik Miles, Wayne Stewart while keeping Australian Gabe Hadley, who committed to NMSU during the Weir era.
Sidy N'dir and Marlon Jones were both in the starting lineup during the early portion of the year before suffering season-ending injuries. They will look to earn their starting spots back at the shooting guard and power forward positions respectively.
The team seems primed to repeat as Western Athletic Conference Champions, but it will be interesting to see how these group of players adjust to a new coaching staff and philosophy.
Will Mario Moccia seek greener pastors?
In the two-and-a-half years leading the NMSU Athletic Department, Director of Athletics Mario Moccia has done a tremendous job operating a shrinking athletic budget while making seven-figure payments yearly to the university as a part of the athletic department deficit to main campus. Chancellor Garrey Carruthers and the Board of Regents have made it extremely difficult for Moccia to supply his athletic programs and coaches the proper resources needed to compete regionally by mandating those repayments instead of being a bit more forgiving.
For example, the University of New Mexico is also in a budget deficit, but they owe a buyout to former men's basketball coach Craig Neal near $1 million. UNM will pay Paul Weir $625,000 this upcoming season, yet they racked up a $97,811 deficit in fiscal year 2017, bringing their athletic department to a $4.4 million debt. Regardless, then-Athletic Director Paul Krebs was able to do what was needed to keep his programs competitive before a Scotland golf trip scandal led to his "retirement."
The budget for fiscal year 2018 is $76,517 less than 2017, totaling $17,365,764. With a new endorsement deal with Under Armour, the successful hiring of Weir and baseball coach Brian Green, the facility renovations the baseball program received, and the doubling of the Aggie Athletic Club fund ($138,445 in 2015 to $384,752 in 2017), Moccia should be an attractive candidate to any Group of Five university in need of an athletic director. Moccia is an NMSU alum, but could you blame him for leaving to a university that gives its athletic programs the financially support necessary to be successful? Especially when the other Division I in-state school is given more resources and support?
It will be interesting to see how these headlines play out and what stories will develop this year.

Hang on for a minute...we're trying to find some more stories you might like.