Mariposas Campesinas art exhibition now open outside Milton Hall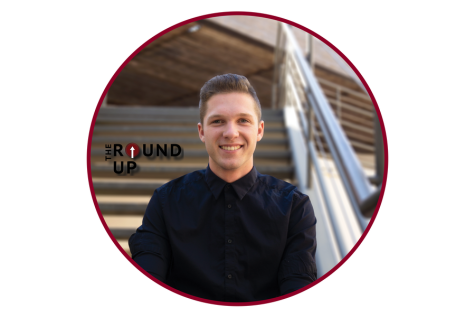 More stories from Elijah Nix
Artist Jesus Del Rio cut the ribbon for the opening of Mariposas Compesinas, an art installation honoring and thanking farmworkers which opened on Tuesday, Oct. 12. 
The project comes in lieu of the 16th annual J. Paul Taylor Social Justice Symposium held at New Mexico State University in Spring of 2021.  
According to a tweet by Enrico Pontelli, dean of the college of arts and sciences at NMSU, "These events are in partnership with the NMSU College Assistance Migrant Program (CAMP), the NMSU CAMP Student Council, the J. Paul Taylor Academy, and New Mexico State University… College of Arts and Sciences," Pontelli wrote.  
The Mariposas Compesinas display itself consists of strings of paper butterflies each with a drawing and/or note addressed to farmers everywhere. During the installation, the strings of butterflies are tied to a white shed-like frame which invites viewers to walk through the structure to appreciate the butterflies that catch their eye.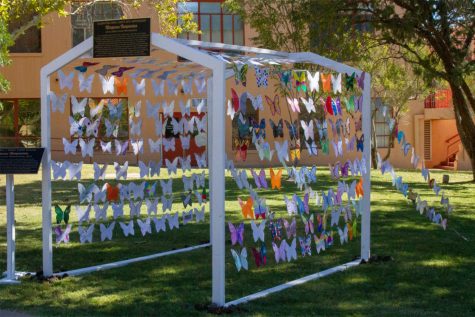 The individual butterflies come from many places. Some from as close as Las Cruces and some from much farther away. According to Del Rio, the installation's creator, some even come from across the ocean. 
"[The butterflies] even reached all the way to the Philippines," Del Rio said. 
The choice of butterflies for the installation holds a very important meaning as well. As Del Rio put it.  
"[The butterfly is] a metaphor for migration." Del Rio said. "The butterfly moves from place to place according to seasons, just like most immigrants that come to this country, it's to stand for the migration of people looking for a better life in America."  
Del Rio is a former New Mexico State University and College Assistance Migrant Program (CAMP) student. He has much experience with farming and understands firsthand the struggles and efforts that go into the work.  
"A lot of it is waking up really early, like the crack of dawn, working in harsh conditions, whether it be really cold, really hot, especially in the desert. It gets really cold at night or in the mornings, and then really really hot in the afternoons," Del Rio said. 
"I've gone from picking up pecans, packing onions, cutting onions in the field as well, cleaning up, planting marijuana now that it's more open… packing lettuce and stuff like that."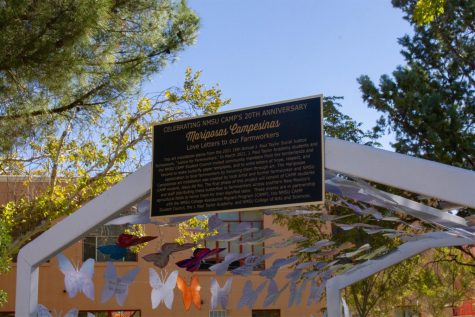 When asked what he hoped people would take away from this installation, Del Rio had this to say: 
"If anything, I want them—for fellow farmworkers or just people in general who have family working in fields—to feel seen," Del Rio Said. 
"Even though this whole Covid thing was going around they were still out there providing food for grocery stores, restaurants, stuff like that." Del Rio said. "If anything, hopefully, the people that see it and can't relate to it, at least hopefully they can appreciate what farmworkers do." 
The final phase of the project will begin after Friday, Oct. 15, during which the butterflies will be delivered to farmworkers in Southern New Mexico thanking them for their hard and fulfilling work. 
Leave a Comment
About the Contributor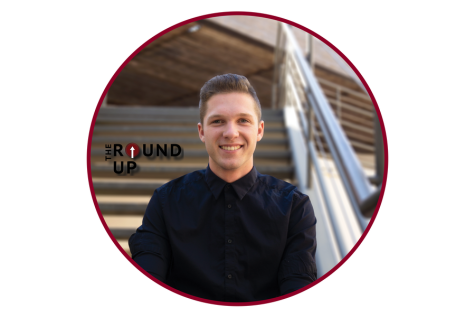 Elijah Nix, Lifestyle Writer
Elijah is working his way through his second year at NMSU and his second year at The Round Up as a Lifestyle Writer. He is currently pursuing a major in...