Downtown Blues Coffee: The local salons and atmosphere for everyone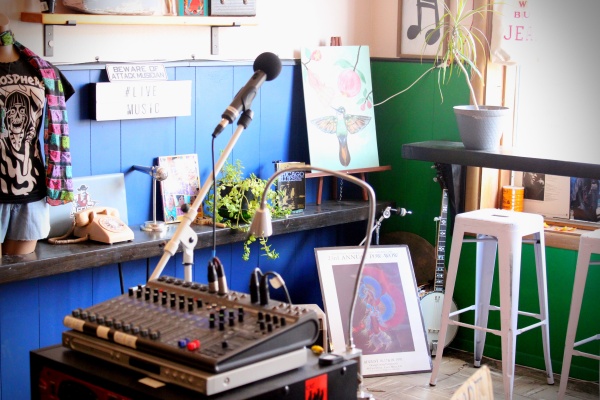 Downtown Blues is a locally owned coffee shop in Downtown Las Cruces. The shop is owned by Frankie Jaurequi, who opened the shop with the help of some friends in Dec. 2019. 
As the name suggests, the shop places a particular emphasis on blues music and art. 
"I brought [my friends] in just to sell a little bit of their stuff like records and some vintage items," Jaurequi said. "So, the concept was always there as far as coffee with vintage and it all just came together." 
Jaurequi later added, "Paying homage to these blues artists that are all up on the wall of my shop… means a lot to me because these guys are the foundation of tons of modern music."  
What sets Downtown Blues apart from other coffee shops is its incredibly unique atmosphere. The walls are lined with art, music, and even clothing, some of which are available for purchase. There's a TV that plays VHS tapes, a popcorn machine and lots of local New Mexican merchandise among many other trinkets and all kinds of eye candy. 
Jaurequi commented that new customers are often blown away by how much the small-town shop feels like a slice of Austin or Greenwich Village in New York. 
The food and coffee served at Downtown Blues celebrates other local shops around Las Cruces. Their pastries come from Lujan's Bakery, and their espresso comes from Millagros.  
Furthermore, the shop also hosts a variety of performance events throughout each month. They hold open mics on the first Friday of every month as well as weekly Wednesday night salons, which are open to anyone who has something to perform. 
"If you're a musician and you haven't played in a while, or you're used to playing back home, and you just want to get up on… what we call our 'Hashtag Stage' and just, you know, do a song or two… [we] would love to have you," Jaurequi said.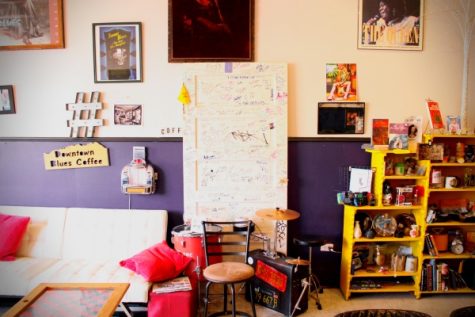 One of Downtown Blues's biggest promoters is Cleve Hattersley, a member of the Greezy Wheels, a rock/alternative/Americana band out of Austin, Texas. Alongside his wife Mary, Hattersley is doing what he can to bring out Las Cruces art through Downtown Blues. 
According to Jaurequi, "[Cleve] knows everybody from Elvis Costello to Frank Zappa." 
"When we got to Austin in 1969," Hattersley said, "it was the same size as Las Cruces is now… and there was that same kind of bubbling-under-the-hot-one-hundred culture that's just trying to get out…. and we see the same thing here in Las Cruces." 
One of his main goals is reaching younger generations, particularly students, with hopes that the art scene will have people to carry it forward. 
"Unfortunately, I'm seventy-five. My wife is older, and even though we're full of shit and vinegar now, we're trying to plan, so that when we age out, perhaps somebody [a student's] age can come in and sort of take it over and take it to another level," Hattersley said. 
For Hattersley, it's not just about Downtown Blues or even Las Cruces; it's about our humanity as a people. 
"We just have to keep [making art]," he said, "If it's not there, then we're just a bunch of fucking monkeys." 
So, whether you have a talent to share or just want to enjoy some good atmosphere, Downtown Blues is the place to go. 
"Just give us a shot, you know?" Jaurequi implored, "See if you like it. Come hang out [and] celebrate life and music with us."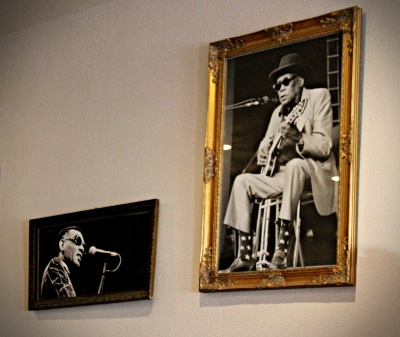 The salon shows have previously featured readings and performances from media personalities, local editors and columnists, cowboy stars, children fiddlers, playwrights, university legends, and even the Dona Ana County Sheriff Kim Stewart. 
Downtown Blues has more fun upcoming with such as the Las Cruces Ukes playing Xmas songs and Ivonna Bump bringing her enormously popular drag show to the stage in December.  To get more information on what Downtown Blues is up to, check out their website at https://downtownbluescoffee.com/.
Leave a Comment
About the Contributors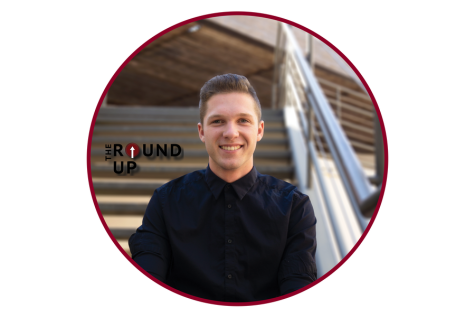 Elijah Nix, Lifestyle Writer
Elijah is working his way through his second year at NMSU and his second year at The Round Up as a Lifestyle Writer. He is currently pursuing a major in...
David Castañeda, Multimedia Director
David Castañeda is starting his second year here at The Round Up, this being his first year as Multimedia Director. This is his second year at New Mexico...