New Mexico State University's Department of Theatre Arts and the American Southwest Theatre Company's production of Shakespeare's "As You Like It," was just as I liked it; interactive, comical and exceptionally heart-warming.  
Both NMSU and community actors performed the play from Nov. 3 through Nov. 12 at the Associated Students of NMSU Center for the Arts. Larissa Lury, associate professor in NMSU's Department of Theatre Arts and director of the play, designed a classic yet unique production, including a musical adaptation. 
Shakespeare's timeless story, which was published in 1623, has one overall message — love. The prominent role of gender-swapping and escaping to the forest of Arden sets the characters on a path of self-discovery and finding what love truly means to them. NMSU's charming cast brought the story to life once again. 
Eliza Phillips absorbed the character of Rosalind by displaying the emotions of someone who finds love at first sight when she meets Orlando, the youngest son of Sir Rowland de Bois. Orlando, played by Elia Vasquez, reciprocates the connection through Vasquez's riveting performance.  
Rosalind and her cousin, Celia, played by Athena McPeake, run off together to the forest of Arden after Celia's father, Duke Fredrick, deems Rosalind a traitor and banishes her from the kingdom. Rosalind disguises herself as a man named "Ganymede," and Celia as a shepherdess named "Aliena."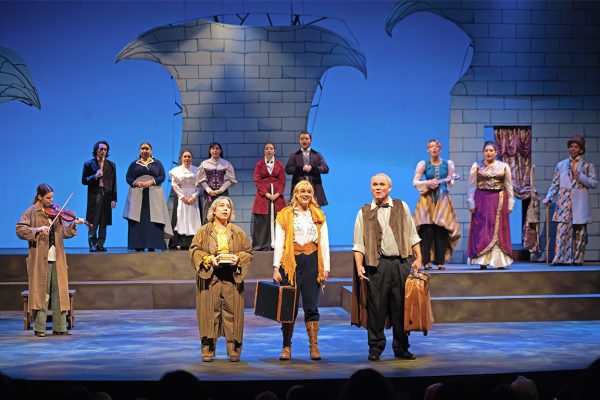 Phillips and McPeake's approach to their characters' resilient and witty personalities took the audience on a humorous journey to Arden — especially in their new identities when Orlando meets Rosalind as Ganymede, who pretends to be Rosalind to help Orlando pursue Rosalind until he develops feelings for Ganymede.  
These lead characters paved the show's entertainment through Phillips' showcase of masculine energy filled with giddy emotions towards Orlando and how Vasquez perfectly masked Orlando's confusion towards the feelings developed for both characters, unaware of Ganymede's identity which enhanced the dramatic irony.  
On this adventure, a handful of characters are introduced, such as Duke Senior, who is the opposite of his cruel brother, Duke Fredrick, whose characters are both diversely played by Jeff Peckham. Another character is melancholic Jacques, played by Darcy Harman, who flawlessly executed Jacques' famous monologue; "All the world's a stage, and all the men and women merely players. They have their exits and their entrances, and one man in his time plays many parts," — a perfect description of this multi-role presentation.  
Adding to the list of appealing features, the actors' musical talent made the production more captivating. Ben Ramsey played guitar, Greta Greenblatt played bass and Vance Cook played ukulele. Even Vasquez joined and played violin while Phillips played ukulele.  
The way the cast used the theater aisles as a part of their stage was a great way to immerse themselves in the audience. Ramsey's distraction with his guitar and how he persuaded the audience to sing along while crew members adjusted stage props for a new scene was another delightful interactive addition.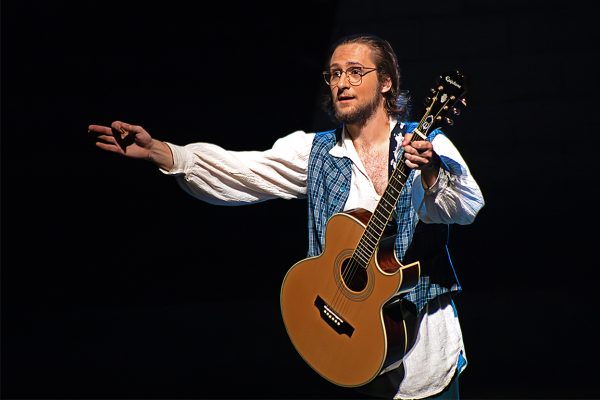 Towards the end, the stage flooded with a lively atmosphere when all the characters came together to create a sense of community, illustrating how the forest of Arden is a place where social norms of gender boundaries can be forgotten, and happiness is prioritized. This was especially shown as Phillips enacted an empowering moment when Rosalind was no longer in disguise and wearing a skirt. After she realizes she can wear the attire of her wishes — we know Orlando won't mind — she ditches the skirt for the vest and pants she wore as Ganymede, no longer impersonating.  
The props, musical instruments, singing, costumes and how each cast member embodied their roles showed the effort that went into this seamless ensemble.  
Visit NMSU's Department of Theatre Arts website to learn more about the department and future shows.