New Mexico State University's Latin American Council invited members of the NMSU community to celebrate Día De Los Muertos at the council's community altar event on Thursday, Nov. 2 at Garcia Center.  
Día De Los Muertos, also known as Day of the Dead, is a holiday celebrated in Mexican culture on Nov. 1 and Nov. 2, in which the living honor those who have died and celebrate their lives. It is believed that the spirits of the dead return to Earth to spend time with their relatives on those two days.  
Altars are made as a way for the living to welcome the dead. Ofrendas are placed on the altars, usually including photos of the deceased loved ones, their favorite food and beverages, or other personal items in remembrance of them.   
The NMSU Latin American Council, a group of Hispanic student organizations within Chicano Programs, created this community altar to provide a space not only for students, but for anyone to attend and honor their loved ones.  
"This student-led event is impactful for our community to have those elements as a reflection of our culture and our values," said Rio López, director of Chicano Programs. "I was a student here and I appreciated these opportunities where I could connect with my traditions and my roots, and I know a lot of students feel the same way. That is one of our hopes to have this kind of visibility and culturally relevant events, so hopefully this becomes a tradition of the university and our program." 
The organization also served pan de muerto, a sweet bread traditionally baked for Día De Los Muertos. Attendees also dressed for the Catrina contest. This costume resembles the holiday's icon, La Calavera Catrina, usually portrayed with sugar skull face make-up.  
"With NMSU being a Hispanic and minority-serving institution, hopefully with events like this we are able to offer a place for these students to feel safe and feel like they are able to celebrate holidays that are so meaningful like this one and give a sense of community," said Karla Robles-Guzman, student president of the Latin American Council. 
The altar was full of traditional decorations like paper flowers and "papel picado," perforated paper with intricate designs. Council members designed the altar and made each of the paper flowers.  
"We really hope to continue this, especially for this holiday, we want to grow this celebration," Robles-Guzman said.  
Arik Ruiz, owner of Alma's Kitchen, a local restaurant in NMSU's Frenger Food Court, attended the event and said the organization did an amazing job of bringing people together to honor those who have passed away.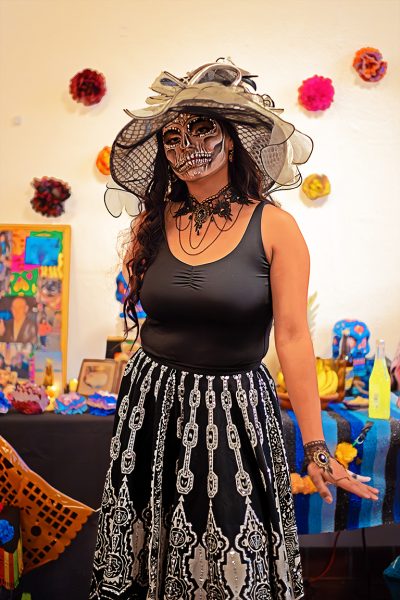 "I think it is important because it is a part of our history; especially with the newer generations, we need to make sure they understand what Día De Los Muertos means, and to make sure everyone participates and understands because sometimes we just forget about traditions," Ruiz said. "We need to make sure to keep this tradition alive. Hopefully next year more people will get involved and it can be bigger."  
Events like this not only allow people to commemorate holidays like Day of the Dead but also are a way to educate those who may not be aware of the importance and significance of cultural traditions. 
"This is the first event I have attended in regard to Spanish culture, and I really like it," said Christopher Joseph Francis, a freshman student at NMSU. "I think they should definitely expand on this, but even though it is a small event there is still that feeling of culture and family, and I can feel that." 
For more information on the Latin American Council, visit the Chicano Programs website.