Hernandez hits career high in assists as Aggies secure third straight win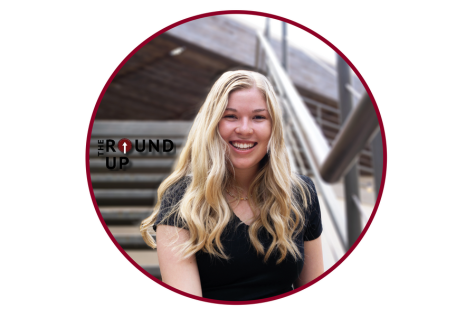 More stories from Shelly Doyle
The New Mexico State soccer campaign kept their clean streak picking up their third win in a row friday night, now 3-2-1 on season. After starting off the season with two losses and a tie this NM State team has seemingly found their niche in these last three matches.  Setting a theme of keeping the opposing team on their toes near the games end, the Aggies racked up three of their four goals with less than 20 minutes left till the 90-minute mark.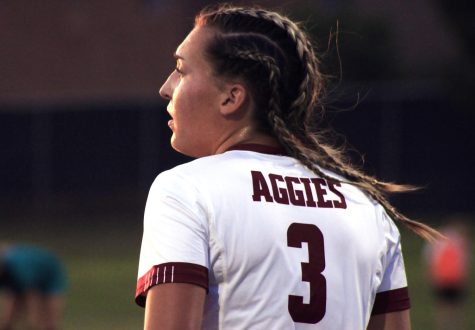 "The first three games on the road were rough, but I think they taught us how to battle. Those lessons that we took out of those games have come big time brought home for our three wins, in my opinion." Head Coach Rob Baarts continued, "I think just kind of wearing teams down in all three games. You know, we score one in the first half, grind through, grind through, and then take our opportunity before the game's end."
Regardless of when in the game the on target shots came, this Aggie team dominated on the offensive with veteran players like Xitlaly Hernandez paving the way. Hernandez elevated her total assist record to six, with three attempts on goal of her own as well.
Within the first half of the match, there was not much offense early from either side, with the exception of Bianca Chacons' score in the 7th minute, thanks to a swift assist from Hernandez.
After a 70-minute stalemate, the Aggie offensive kicked into their late game scoring ways with Jena Johannes scoring a gorgeous header off of a soaring free kick from Hernandez. It was all NM State from then on with Mya Hammack plowing down field only a minute after the previous goal, making a quick one-two connection pass with Megan Ormson and then hitting it back out to McNeese for a smooth goal. Within the next two minutes Hernandez would hit yet another strategic pass upfield received by Sydnee Johnson on the run for a one touch goal straight in the left corner.
"The way we play creates avenues to score late in the game. The other team is going to get tired from being moving around a lot. They had to move around a lot in the first half." Baarts explained, "They worked hard in the first half. That team is going to do damage in the Mountain West in my opinion. [Erin Otagaki] has got them grinding, and they're a difficult team to play. In all fairness, I thought we were very fortunate to get a four goal win."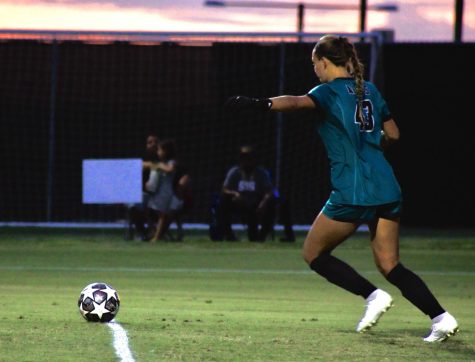 Look forward to seeing more from this NM State squad who now have a combined score of 10-0 goals on the three opponents. Not to underestimate the steadfast crimson defense either, limiting Nevada to seven shots on goal only three of which on target. With their next match marking the beginning of conference play, the Aggies will look to continue their win streak as they host Utah Valley on Friday, Sep. 16 and Seattle U two days later on Sunday, Sep. 18.
Leave a Comment
About the Contributors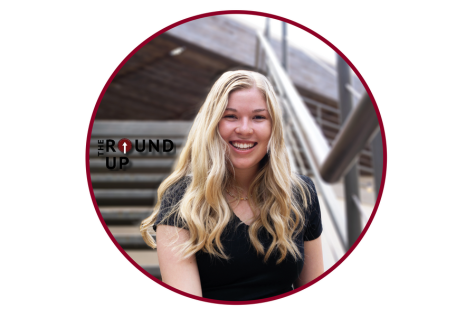 Shelly Doyle, Sports Editor
Shelly Doyle is entering her third year at The Round Up and her second year as the Head of the Sports Department. She is working towards a degree in social...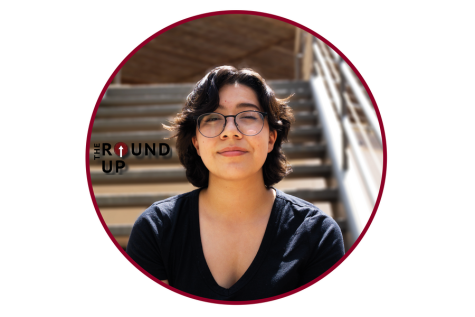 Leah De La Torre, Multimedia Specialist
Leah De La Torre is entering her first year at the Round Up as a multimedia specialist. This is her first semester at New Mexico State University where...