Ecosystem disruption: Why trees are being removed around NMSU's campus
"I was horrified when this happened. I thought they were trimming the trees, I didn't know they were cutting them down." Dr. Brown said.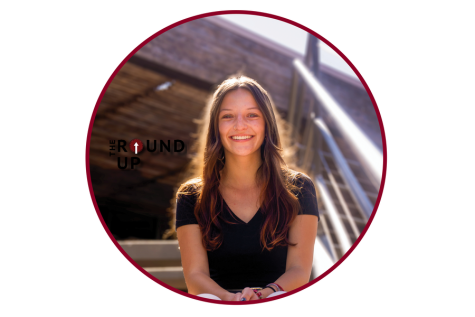 More stories from Riley Robertson
The removal of many trees around campus has sparked rising concerns, upsetting faculty and students who share worries of ecosystem disruptions, impacts on wildlife and vegetation, and the overall beauty of New Mexico State's campus.  
Dr. Carol Campbell, NMSU Geography Department Head, is an ornithologist who spends a lot of her time watching and studying birds. She said she has been watching birds nest on campus for several years, and that birds that migrate to campus annually to nest are protected under the Federal Migratory Bird Treaty Act. Her office is located in Breland Hall, where various trees have been cut down in recent months for the purpose of painting the building's exterior. 
"Hundreds of birds roosted in those five trees every night in the winter," Campbell said. "Because they were close to the building, that really gave them a lot of protection and thermal storage so they wouldn't have to worry about being frozen to death while they're roosting at night." 
Dr. Campbell said she believes NMSU Facilities has "assigned no value to the trees on campus at all." She said that since the university is actively increasing its carbon footprint, it needs to be mindful of the ways it continues to impact the environment. Campbell also commented on the importance of vegetation on college campuses. 
"It's supposed to be rejuvenating and empowering and relaxing to see natural things," she said. "Humans need nature." 
Geography professor Dr. Christopher Brown, whose office is also in Breland Hall, discussed how the trees serve as homes for birds, squirrels, and other wildlife – by cutting them down, it "robs them of their habitat."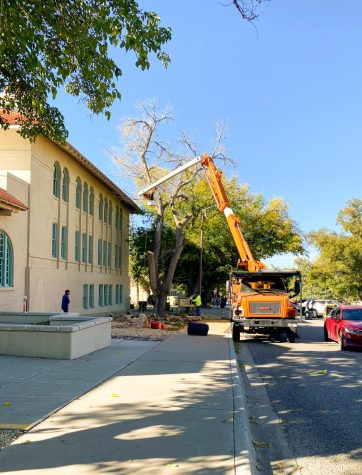 Dr. Brown said the trees at Breland were removed by Facilities and Services because they were seen as an impediment to the exterior painting. He mentioned that the west side of the building may now heat up more in the summer since the shade provided by the trees will no longer cool it down. 
"I think it also has a really negative impact on the quality of life and the atmosphere of campus," Brown said. "Visitors often tell us what a beautiful campus we have, and part of it [the beauty] is the landscaping and the trees." 
When deciding where to allocate this year's funds for campus beautification, Facilities and Services did a walkthrough of campus from a "student perspective." They noticed that there were several buildings in need of exterior restorations, primarily new paint jobs. 
"Most students and parents, within fifteen minutes of seeing the campus, make their decision [whether to attend NMSU]," said Timothy Dobson, Executive Director of Operations for Facilities and Services. "We have always focused on setting aside some special project money every year for beautification efforts." 
According to Dr. Brown, most faculty members, including the building monitor of Breland Hall, did not know about the project until after the trees were already being cut down.  
"This was a poor decision that facilities made without notifying and having a discussion with the campus community about it," he said. "I was horrified when this happened. I thought they were trimming the trees, I didn't know they were cutting them down." 
In the future, Dr. Brown hopes that Facilities and Services will communicate more with building monitors and faculty members about bigger projects like this that can have lasting effects on not only the aesthetics on campus, but the wildlife ecosystems.  
"They have a job to do," he said. "Their job is to maintain the physical plan for this campus, and it's a very challenging job, especially with older buildings, but there should have been a better way." 
Orlando Flores, grounds manager for NMSU, explained the reasoning behind this specific project at Breland, as well as the purpose of other trees being cut down around campus. He said that one of the biggest maintenance projects currently being worked on across NMSU's campus is the painting of exterior buildings. Flores receives requests from the craft shop if workers are faced with challenges that block the way of completing their tasks. In this case, trees standing too close to the buildings were deemed as impediments obstructing the painters.  
"We'll look at every avenue as far as, 'do we have to take this route first?'" Flores said. "Removing of trees is the last ultimate choice that's on our list – it's our last resort."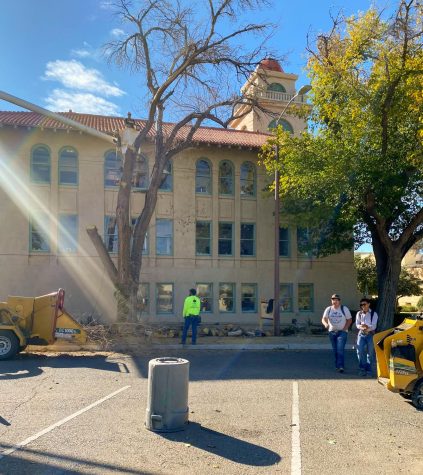 Flores remarked that he bases his department's decisions on standards of safety, the structural hindering of projects, and overall health. He said that tree management is on his radar – specifically pruning, grooming, and other general maintenance to keep the trees healthy and beautiful. Generally, groundskeeping removes trees that are dying or infected, and has efforts to minimize the amount they cut down for other purposes – but for Breland, the structural integrity of the building itself was prioritized. 
Dobson said that at Breland, they planted some new trees further away from the building so "they can continue to grow." He also mentioned that Facilities has a current practice stating that for every tree that is removed, another must be planted somewhere else on campus.  
Flores said that they consider factors like aesthetics, student safety, ample locations, and better suited-species in the process of replanting trees. Additionally, he addressed concerns about the removal of trees causing changes in campus ecosystems and impacting wildlife. He remarked that while grounds-keeping is selectively removing some trees, they are not removing entire tree species on campus.  
"We look at how it's going to pertain to the students before we really look into ecosystems," Flores said. "We're here for the students, first and foremost, so we want to make sure we provide a safe environment." 
Flores discussed the efforts that Facilities and Services has previously made to encourage alternative ecosystems that are mindful of the natural habitats of wildlife, like creating temporary housing for barn swallows, duck nesting habitats, and hawk birdhouses. 
"To say displacing an ecosystem – we're nowhere near that," he said.  
Dobson and Flores explained that trees getting cut down near power lines, such as those that were recently cut on Espina St. and near Knox Hall, are out of Facilities' control. Those projects are up to the discretion of El Paso Electric, who sometimes needs to remove trees for safety measures and precautions. 
"There's a lot of things that the general public doesn't see that happens behind the scenes, and for me it's the safety piece," Flores said. "Everything we're doing is conscientious, rather than just reactive." 
Dobson said that Facilities has planned an upcoming exterior project at the Business Complex, where they will have to remove some pine trees. Flores is working with a faculty member at the complex to gather some input on how to replenish these trees. 
In addition to upset faculty, some students shared their thoughts on what the removal of trees on campus means for both animals and people. 
"I think a lot of wildlife was relocated to areas on campus with more foot traffic, making it more dangerous for those animals," said junior Elora Roberts, horticulture major and secretary of the Horticulture Forum. 
Roberts mentioned that some of her fellow horticulture students feel sad that parts of the ecosystem that they study is being removed from campus.  
"Different people have different opinions about what makes a beautiful campus," Dr. Brown said. "We can trim the trees, paint the building, and live happily ever after. I understand the need to take care of old buildings … but we could have done it both ways." 
Leave a Comment
About the Contributors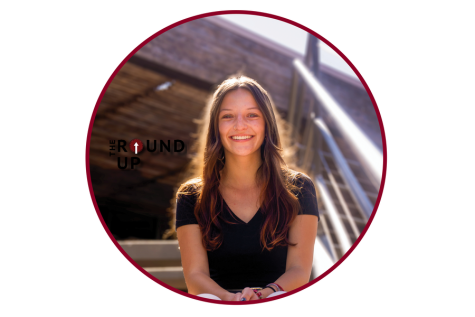 Riley Robertson, Staff Writer
Riley Robertson is entering her second with The Round Up as the Editor-in-Chief. She is a junior at NMSU double majoring in Journalism & Media Studies...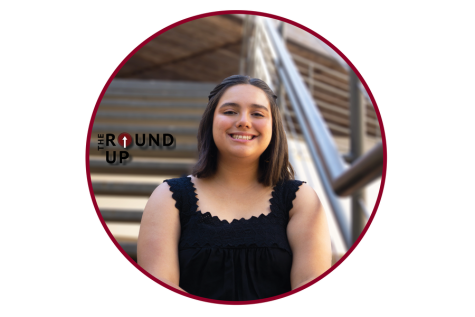 Claire Quintana, Political Writer
Claire Quintana is the political writer, starting her first year with The Round Up.  She is a freshman and is studying journalism with a minor in education. ...