City of Las Cruces Celebrates Quick Lane Bowl Victory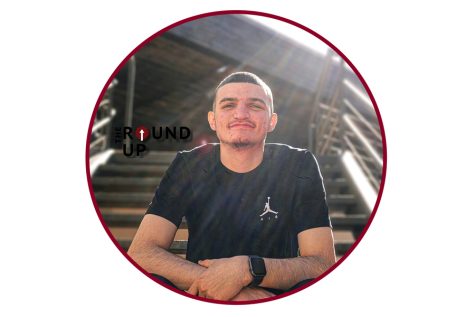 More stories from Connor Moreno
The New Mexico State football team was joined by all of Las Cruces on Saturday afternoon in Plaza De Las Cruces to celebrate their 24-19 Quick Lane Bowl game victory on Dec. 26, 2022, over Bowling Green University. This win marked just the second time that the football team appeared in a bowl game since 1960, and their fourth all-time bowl win in five appearances. New Mexico State remains the only current FBS team to not lose a single bowl game with a record of 4-0-1 all-time.
Las Cruces natives and Aggie football fans alike came together in the downtown plaza awaiting the celebration of their championship football team. The New Mexico State band and cheer squad were welcomed with cheers as they entered the plaza. The Aggie faithful sang along with glee as the band played the universities fight song welcoming in the football team.
First-year head coach, Jerry Kill, took his time to greet and shake hands with every single fan he could upon arrival. A testament to the relationship between Kill and the people of Las Cruces.
Las Cruces Mayor, Ken Miyagishima, highlighted this relationship when he was first to address the crowd. "We won a bowl game in 2017… but there's something different today, you've turned us into champions," he exclaimed towards Coach Kill. The Aggies won the Arizona Bowl in 2017 but had not been met with such a celebration as was seen on Saturday.
Kill was met with an impressive cheer and loud applause when introduced on the podium.
"I wouldn't be here without Mario Moccia, not a chance," Kill noted. Moccia, the university's Athletic Director, hired Kill as the head coach back in November of 2021. Kill has made it known on several occasions that Moccia saved his career by giving him another chance at coaching.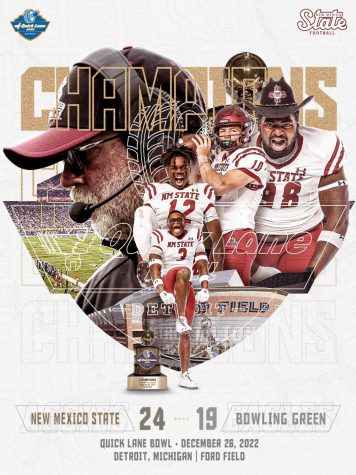 Kill's perseverance rubbed off on the crowd during his speech. He compared the team's 0-4 start to an integral life lesson of never giving up. "There's some of you, me, a lot 'a people been zero and four in life… we've all been there," Kill explained, "They didn't quit, they continued to work, the coaching staff didn't change, and the tide turned," he continued, "That's life, and that's why [college football]'s the greatest game ever invented. The Aggie Football program finished the season miraculously winning six of their last seven regular season games en route to a bowl game appearance.
It's no question how polarizing a character Jerry Kill is to the city of Las Cruces. If any single person hadn't been won over by Kill before Saturday, they were definitely met with a powerfully convincing closing statement during the final parts of the ceremony.
"Las Cruces, you're incredible. I love it here; I love the sunshine, but what I love most, is the people in this place!" coach Kill exclaimed. "We're hard-hat, lunch pale, going to work every day, fighting our tail off, chip on our shoulders, that's who we are! And we ain't apologizing for it either." However, what really got the crowd on their feet and cheering was Coach Kill's commitment to get a tattoo that represents Las Cruces, a promise he made to the team had they won the bowl game.
Jerry Kill and all of Las Cruces are looking forward to the coming years as NMSU joins Conference USA next season, and as Kill will remain with the program through the year 2027.
For more pictures, please visit the gallery with photos by Round Up Multimedia Specialist Carlos Herrera.
Leave a Comment
About the Contributor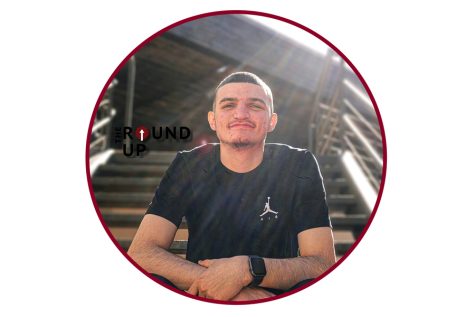 Connor Moreno, Sports Writer
Connor Moreno is a senior majoring in journalism and minoring in sports marketing. He has been in love with sports all of his life and has been consuming,...