NM State men's basketball ends historic drought in 73-67 win over Stephen F. Austin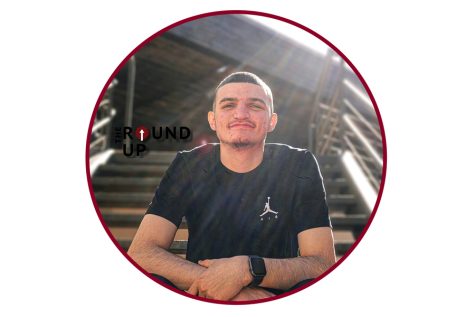 More stories from Connor Moreno
New Mexico State mens basketball campaign (8-14, 1-9 WAC) embarks on its toughest stretch of the conference season, and it started on Wednesday night as they host Stephen F. Austin (15-8, 7-3) who shared a top-2 record in the conference coming into the game. NMSU found their edge and stayed consistent throughout to finally put one in the win column with a 73-67 win over the Lumberjacks.  
"We definitely achieved something today," forward, Issa Muhammad said after putting up a game high 11 rebounds along with 12 points to contribute to the win. "Everybody did their job tonight…so it's feeling good right now." 
Tried and deflated as the Aggies may be through their worst conference start in program history, they feared having to take on a top team in the conference without their star point guard, Xavier Pinson, who injured his knee against Utah Valley. The playmaking-guard is second in the conference in assists per game averaging 4.48. Pinson was a game-time decision and went through precautionary stretches and evaluations prior to the game.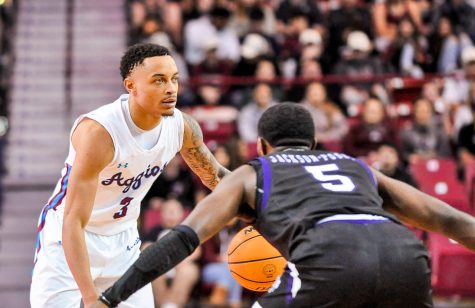 Pinson did not start the game but would check in at the 16:33 mark with the home team down 7-11 and his impact on the floor cannot be overstated. NM State went on an 18-5 run where he showed elite control of the floor, putting the Aggies up 25-16 with 10:45 left in the opening half. 
"He was a different player today…his ability on the defensive end of the court to get over screens and stay engaged," coach, Greg Heiar, added to Pinson's impact on the floor. 
The New Mexico State defense started the game with the most energy displayed all season, which was a key factor for their early 9-0 lead in the first frame. The intensity would slowly start to dissipate for the remainder of the half. SFA shook off their slow start and would claw their way back into the game. Credit to the Aggies, though, for staying in the game, which isn't something they'd done in prior conference games. NMSU led 40-38 at the half on an efficient 57% from the field.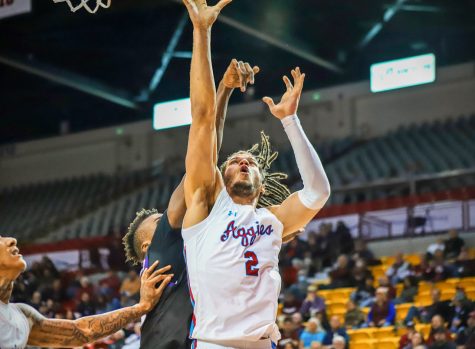 Coming out of the break, NMSU continued aggressiveness on both sides of the ball, pushing out an 11-2 run to give them their biggest lead of the game with 15 minutes left in the second half. However, Lumberjack guard, Latrell Jossell, kept his team in this game by quietly having a very solid game. His 14 points and four made threes cut the Aggie lead to 54-53 halfway through the final frame. 
Up by one with two minutes left, Xavier Pinson put together a crucial sequence when he took a charge on defense and, immediately thereafter, drove down the lane on offense and tossed up a perfect alley-oop pass to Quaye Gordon for an and-1 dunk that would put the Aggies up 67-63 with just over a minute left in the game. New Mexico State would continue to defend well and hit crucial shots down the stretch to get their first conference win of the season over the SFA Lumberjacks. 
It would be a big defensive push as five Aggies would score in double figures along with Xavier Pinson tacking on 9 points and 6 assists off the bench. New Mexico State had control of the game for the majority.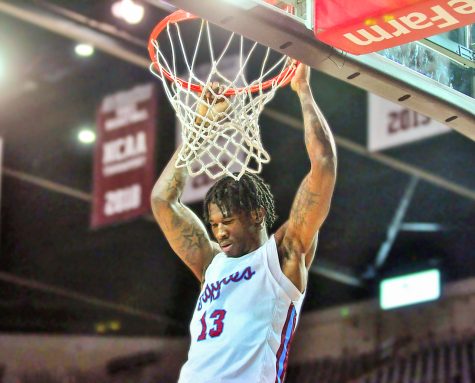 Coach Greg Heiar was proud of his team being able to come out with this win, but made it known that this is what was expected all along. "This is what type of team [we were supposed to have] night in and night out," Heiar said. "It was a complete team effort and that's what it's all about." 
New Mexico State now has a quick turnaround until their next game where they will be hosting Seattle University (16-7, 7-3 WAC) on Saturday, Feb. 4, at the Pan American Center to close out the season series. Like SFA, the Aggies lost a close one to Seattle in their first matchup. Heiar and the team are looking continue their solid play and make a push to qualify for the WAC tournament.  
Leave a Comment