Bravery is a coveted virtue that can run thin in many people. We tend to read or listen to stories of these admirable heroes as they illustrate their grand adventures and righteous deeds. We hold in high regard those who possess this exceptional trait as if it were a symbol of honor. However, there are numerous service members who may go unnoticed, walking the same halls as us students.
The Military and Veterans Programs (MVP) at New Mexico State University stand as a beacon of hope and gratitude, exemplifying the selfless dedication and service of our nation's brave men and women who have served in the armed forces. MVP aptly acknowledges the sacrifices made by veterans, offering them crucial support and resources to aid in their successful transition back into civilian life.
These resources comprise many invaluable services, such as comprehensive healthcare, specialized education, extensive job training, and essential housing assistance. The Military and Veterans Programs are a crucial lifeline for those who have selflessly given their all for our country. Through MVP, veterans can rediscover a sense of purpose and a renewed sense of hope for their future endeavors.
Hector Sanchez, director of MVP, explained the program's history and how it originated.
"Our office was first established in 2010," Sanchez said. "Before that, there was no military veterans' program on campus. I was here during that time. In fact, there wasn't an office, but it was just the process of educational benefits, and there was not much advocacy at all. And so, the administration decided that we have way too many veterans here at NMSU not to support them with a better programming department."
Sanchez's motivation as director is the veterans and military. He was a student at NMSU, and there was very little to no support for veterans and military students. When Sanchez filled the position of programs director, his primary mission became the advocacy of veterans from the moment they are admitted to when they graduate. The staff behind the programs make sure to help students and veterans throughout the whole process, whether it is getting their educational benefit so they can pay for school, or if they're having issues in the classroom where they may need to miss time because of appointments, or they're having a hard time transitioning.
Student Programs Coordinator, Paul Aragon, is the primary faculty member who meets with the first-year veterans transitioning from the military into school. Aragon explained one of the most prominent challenges veterans go through when they're transitioning.
"One thing a lot of veterans assume is that their domain is going to pay for their tuition," Aragon stated. "That's not necessarily the truth, so our job is to try and help them understand what is covered and what isn't covered."
Through the program, many bright veterans can excel in the class. Most are often extremely smart, team leaders, and overall pillars in the classroom. The program steadily transformed into an excellent resource for veterans to help them in various ways. One thing that the program has been instrumental in providing is work-study opportunities for veterans. Veterans can gain valuable experience in multiple fields, including healthcare, education, and technology.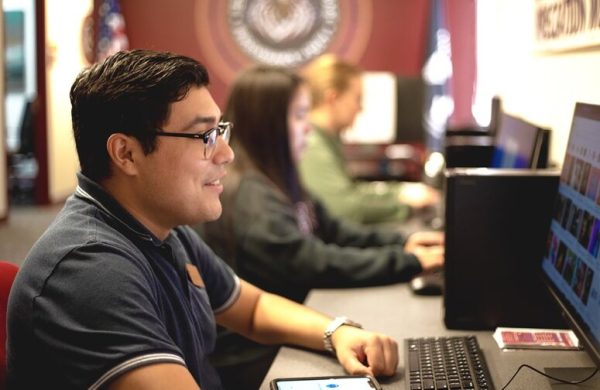 By participating in a work-study program, veterans earn a paycheck and gain practical skills and knowledge that can help them transition into civilian careers. Additionally, the program provides a sense of community and support for veterans, allowing them to feel more connected and valued. Overall, the program's work-study initiatives are a crucial resource for veterans seeking to build successful careers after service.
A veteran participating in the work-study, Christopher Ostic, provided insight into what he does to continue to serve.
"What I do is I help veterans with their certifications," Ostic said. "Every veteran that uses GI Bill benefits, they have to get certified through the VA, and we're the middleman between the school and the VA because we process their credits and all their classes."
The program not only reaches out to their veterans and dependents, but to the whole campus community and beyond. This is to promote a culture of respect and appreciation for our veterans, which can help bridge the gap between military and civilian communities and create a more cohesive and supportive society.
One community event the program is involved in is the Homeless Veterans Stand Down, which the Program Coordinator, Gail Bamford Tolar, often participates in. The Stand Down provides homeless veterans with many necessities, including food, clothing, medical, legal, and mental health assistance, job counseling and referral, and most importantly, companionship and camaraderie. These events allow the program to engage with the community and share many veterans' stories.
Bamford passionately explained how essential community events are.
"You don't have to be a veteran or dependent student to support your veterans," Bamford exclaimed. "They do a lot of things with the community, which, for people in the military, it's not really about them; it's about their country and helping everyone. These events bring the people who aren't military affiliated in, and they learn."
The skills acquired by our veterans during their service are truly exceptional. They have a wealth of knowledge and experience that deserves recognition. One of the future goals this program aims to achieve is to help veterans graduate quickly by taking advantage of the skills they learned while on duty to earn college credits.
Providing them the opportunity to receive college credit for their achievements would be an excellent way for the program to show appreciation while supporting them on their academic and professional journeys. Not only would this recognition help them transition into civilian life, but it would also allow them to pursue higher education and achieve their career goals.
The Military and Veterans Programs stand as a beacon of hope and gratitude, providing crucial support and resources for veterans' successful transition to civilian life. This program, born out of a need for better support, has evolved into an invaluable resource that not only aids veterans academically and personally but also fosters community engagement and appreciation. It serves as a testament to the enduring commitment of our nation's brave men and women and reminds us of the importance of supporting those who have selflessly served their country.
Sanchez conveyed to the campus community the importance of supporting veterans.
"I believe that we all have an obligation," Sanchez stated. "Whether we're a staff member, a faculty member, or a student, our veterans and our military have given the ultimate sacrifice, their lives. And we all need to give them a debt of gratitude for their service and what they've done."