Bachelor of Fine Art students graduating in December organized and produced an art exhibit during homecoming weekend, Saturday, Nov. 4, 2023. Five students displayed their work in Wells Hall, each of their exhibits representing various categories of fine arts. Each exhibit had its own meaning to the artist and showcased their talents and passions in a final curtain call before they graduate. 
Bobbie Montes Larez's exhibit, "I Wish You Called Me Beautiful Instead of Sexy," was the first one visitors saw when walking into the exhibition. Larez's exhibit showcased her photography in a bright pink room. Pictures of a woman's body, with her face purposefully hidden were displayed on the walls. A sculpture of a woman's torso with stretch marks coated in glitter was displayed in the center.  
"It has to do with the way that we view women's bodies, specifically how they can either be sexualized or infantilized. [It's about] the way that beauty works when it comes to women and their desire to be beautiful," Larez said.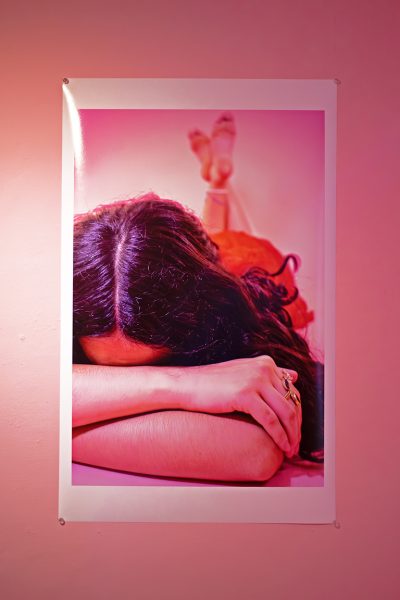 Another exhibit that had to do with the human body belonged to Natalie Morales. Her "Touch" series combined charcoal drawings and clay to make viewers think about what touch means to them. Morales displayed drawings of different parts of the body with hand prints on them, and a ball of clay sat in the middle, which visitors could interact with. 
"I found that touch is something that really affects us psychologically whether unconsciously or consciously, and when you're younger, you don't realize how many times you are touched," Morales said, "It's getting people to really think about their relationship with touch, and how they perceive touch through their own lived experiences and memories." 
Another topic discussed in the exhibition was trauma. Two artists approached the topic in different ways – one using pottery and the other using paint. 
Susana Campos's exhibit used pottery.  Her pieces consisted of colorful painted jars in unique shapes that represented the process of recovering from trauma. 
"It talks about trauma and how people can be reborn from it. I hope you can actually look into your past and just take the pieces that you feel like you've lost during those times and transform them into something better," Campos explained. 
Evelynn Lopez displayed paintings that discussed childhood trauma and the process of forgiving her parents. The exhibit is titled "After it All, I'm Thankful You Are Mine." It features paintings of parents and a child, with two pendant pieces. 
"I use art as a way to gather my thoughts and my feelings. I feel that in growing older especially, I can start to use art as a way of coping and also relearning and kind of deconstructing things that have happened in my life and coming at them with a new perspective," Lopez said.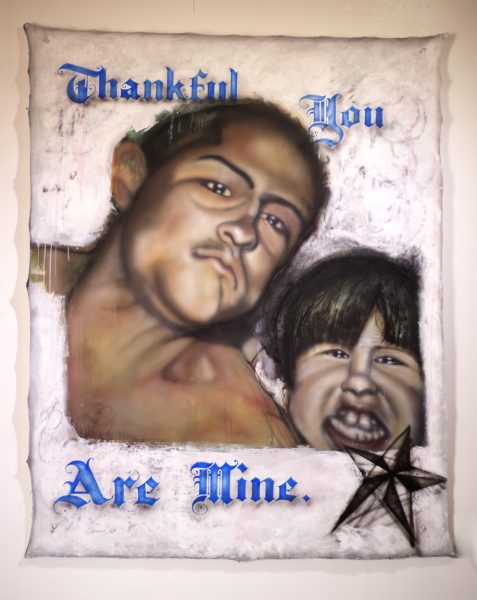 Yunnel Acevedo's exhibit was a tribute to the people who have helped him through his college years. The exhibit showcased trailers for two films, "Debrief" and "Cops v. Cryptids." On either side of the trailer, posters featuring Acevedo's friends and family hung on the walls. 
"[The exhibit is] the most creative way of saying thank you to friends and family who have encouraged and supported me. They've been there for me through my tough life in college and I just want to do something in return to show them my appreciation," Acevedo said. 
The exhibit took months of hard work for all the BFA students. They expressed that it was a long process that involved lots of restarting and revising. School schedules added to the difficulty of completing the exhibition. 
"The hardest part was motivation. I had my drawings get destroyed in the process. So to begin with, that was something that kind of slowed down the process. I think another thing is that once that graduation date starts coming closer and closer, you start to slow down on your work," Lopez said. 
Despite the hard work that went into it, the students agreed it was a worthwhile and rewarding experience.  
"If you graduate in December, you have to organize [the exhibit] yourself. And I think this was a great learning experience… It's definitely interesting to see what goes into creating your own show. You learn how to organize, like getting a building, and how to get your art finished within a certain deadline," Morales said.