The Indian Students Association and the Asian, Asian American, and Pacific Islander community hosted Roshni on Nov. 5, 2023. Serving as a homage to the Indian festival of lights often referred to as Diwali, Roshni is a celebration of Indian heritage that allows Indian students to celebrate while away from home.  
"As a custom, Diwali is a big deal in India. It's like our version of homecoming with lights, food, and fireworks. So, this was originally intended as a way to celebrate Diwali with Indian folks — with folks from India," explained Sarbajit (Sam) Basu, a chief organizer of the event. 
Since it began, the event has grown to include students representing other nationalities from South Asia and elsewhere. According to organizers, more people came to this year's Roshni than others in recent years.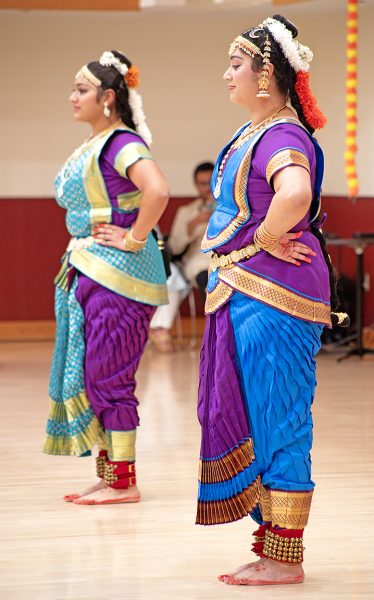 "We had, I would say, an extremely overwhelming turnout. We had not only people from Las Cruces but also the El Paso Community, and we had people from El Paso Community perform, and we had students from different South Asian nationalities represented, which is a very nice start," Basu said. 
The event began with a Hindu prayer, sung by Preeti Maurya. She sang about Saraswati, the Hindu goddess of knowledge. 
"I think when you start with Saraswati on any occasion, it's like India, and it feels like you are in some kind of protection. You know that circumstance between us. When you kind of enchant anyone. It gives you all the energy and creates a positive vibe around," Maurya said. 
Following the prayer, performers danced and sang on stage. The dancers came dressed in beautiful traditional garb and bangles. Some of the dancers were students at the University of Texas at El Paso, and there were also child performers. 
"[The dancers] were great. Especially those two little cute performers. They were really cute and beautiful," said Shashank Dharba, a member of the Indian Students Association. 
Performers also sung Bollywood songs in Hindi. Though many of the guests couldn't understand all the words, they participated by clapping along to the beats. Some of the songs were more upbeat, while others were more melodious.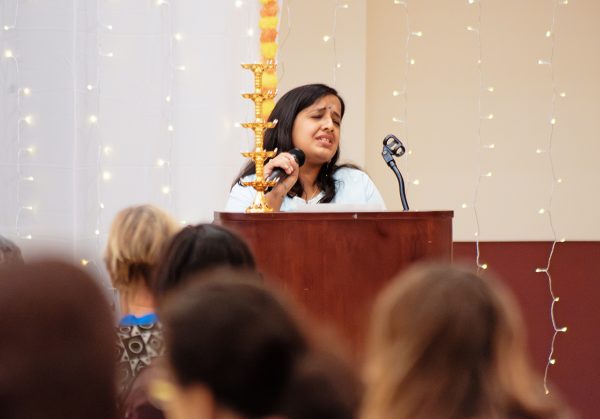 "I chose some fast numbers because I realized this [audience] would be interested in lively, fast numbers… The meaning is not all that understood, so the beats and everything they put in was so amazing and it made me feel so much at home," said performer Latha Sankaran. 
After the performances, guests shared a meal consisting of traditional Indian food such as curry, pita, and gulab jamun. Even with the high turnout, there was still enough for everyone. Organizers also set off fireworks for guests to enjoy. 
"Everyone was very happy about the quality of food that was served. Food is a very integral part of an event like this, but the fact is that everyone who came and ate was very satisfied with the quality of food that was served, and with the fireworks that we did, or the precision with which we performed the fireworks," Basu said.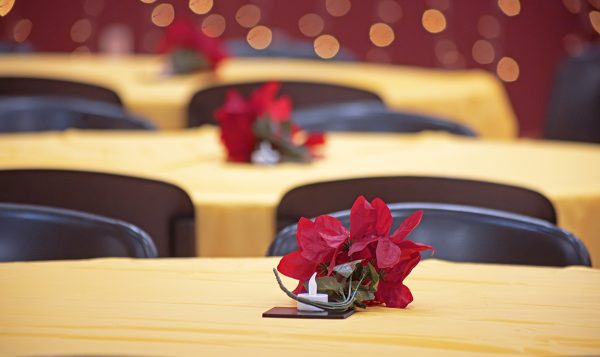 Throughout the event, performers and speakers described the importance of an event like Diwali, or Roshni, because it celebrates the light and goodness in the world. Speakers expressed that this message of light is needed now more than ever. 
"Diwali signifies the triumph of good over evil, light over darkness, and knowledge over ignorance. So I wish for all of you to go out into the world and shine your light. We live in troubled times and it is really important that every corner of this delivers, see some of that light," NMSU Regent Ammu Devasthali told guests.