Second half surge propels NM State into WAC Tournament Semis
Hang on for a minute...we're trying to find some more stories you might like.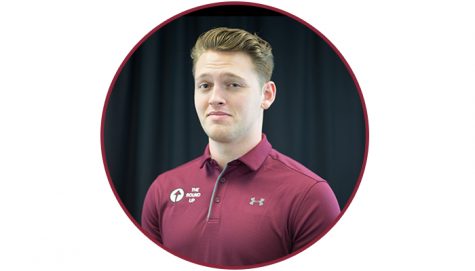 More stories from James Martin
A dominant second half elevates New Mexico State to their third rout of Chicago State this season, defeating the Cougars 86-49 in the opening quarterfinal contest of the men's WAC Tournament to move one step closer to a third-consecutive conference tournament title.
Chicago State refused to go away in the first 20-plus minutes of the game, using a 2-3 zone defense to force the Aggies into shooting, and missing, a lot of three-pointers in the first half, with 20 of their 31 field goal attempts coming from beyond the arc (only making four) while keeping it within single-digits at the start of the second half.
The Aggies would flip a switch after that, though, going on a 16-0 run over a three-minute span to blow the game open with a majority of the period to play.
"I thought our defense had a little more grit, a little more frenzy — we got some deflections, we started pressing a little bit, we got some run outs. Obviously, we had a crowd here, and hopefully we continue to build," head coach Chris Jans said when asked about the game sealing second half run. "We didn't start off the game as well as we'd have liked… [but] the second half we regrouped and came out a little more feisty… in the end we accomplished what we wanted to accomplish."
NM State would outscore CSU 51-26 in the second half, giving Jans the opportunity to rest some heavy rotation players and distribute minutes pretty evenly, with no player playing more than 21 minutes in the blowout.
"I was hopeful. You never know how a game is going to play out and certainly we'll try to prepare them for whatever is thrown at us, but definitely once we had that little lead there, that was a focus for our whole staff, to keep it at a minimum if possible," Jans said of resting his players. "It couldn't have worked out any better that way."
All 14 active Aggies made it onto the court, with 12 of them finding the score sheet. Eli Chuha led all scorers with 14 points on perfect 5-for-5 shooting, but from Terrell Brown's string of threes to back-to-back alley-oops to Trevelin Queen, it seemed like there was at least one point in the game where each NM State player was the man.
This was all done in the wake of a travel complications that forced the Aggies to charter out of Las Cruces much later in the evening than originally anticipated, but Jans doesn't believe that had any effect on the team, despite the slow start.
"Basketball is a game of distractions and we talk to our team about that all the time… That's just a part of playing collegiate sports," Jans said. "Our guys handled it great. We got here in time, no worries that way, and some of them probably liked it — they got to sleep in their beds in the afternoon a little bit longer — but it will all work out."
With the win, NM State reaches the program-record 28-win mark for the third year in a row and will have a chance to break it tomorrow evening when they play the winner of the matchup between Cal State Bakersfield and UT Rio Grande Valley for men's semifinal matchup No. 1 at the Orleans Arena.

Hang on for a minute...we're trying to find some more stories you might like.
About the Writer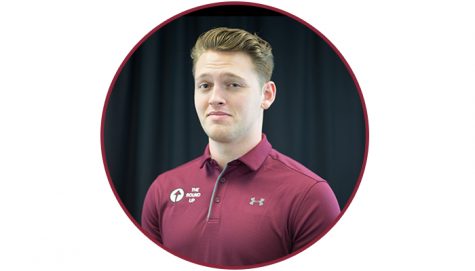 James Martin, Sports Editor
A Las Cruces native, James Martin enters his third year at The Round Up and first as assistant editor. The junior loves Minecraft and good vibes...