All of Us medical research program seeks to represent diverse communities
This week, New Mexico State University welcomed the All of Us Research Program onto its campus—a new program that stems from the National Institutes of Health.
The program collects health data from at least one million participants living in the United States to expand the research base on biomedical and clinical research among the many diverse populations in the country.
During its visit at the university, All of Us, a program that began in 2018, parked a traveling van and educational trailer in Corbett Center Student Union's west parking lot from the week of Oct. 14-18 to interact with NMSU students and the rest of the local community.
Angie Gonzalez, an All of Us tour manager, said the program came to NMSU as a part of their mission to collect health data from different backgrounds.
"It's important because it gives all of us an opportunity to have a voice in research. Currently, only 10% of the US population participates in studies," Gonzalez said. "So, we put that into perspective—ten people participated in a study, but all of their results are going to apply to 90 other people."
The All of Us team hoped that by visiting NMSU, the university's community would help diversify the program's research sample, Gonzalez said.
"We're basically looking for underrepresented communities that have been historically underrepresented in clinical studies all over the US," Gonzalez said. "In some areas, we have like a partner that is more likely to have a Hispanic-rich campus, but in other places, it could an Asian population. Anybody who is historically underrepresented, we're going to try and tap into."
A central focus of the program entails collecting a large data base to develop future breakthroughs in precision medicine. According to the All of Us program, precision medicine is health care based on the factors of an individual such as lifestyle and family health history. Students that volunteered their time to share health data with the All of Us program went through several steps.
Students would enter the van, create an online account and fill out consent forms. From there, everything that students shared with All of Us was voluntary and anonymous.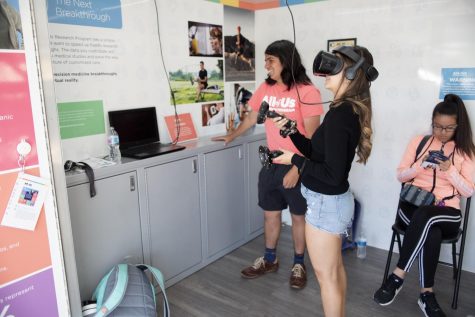 The All of Us educational trailer gave students room to walk around, read different health statistics, ask questions and engage in different learning activities.
Augustine Sanchez, an All of Us local brand ambassador, gave students a tour guide of the program's educational trailer. He also mentioned that the program has collected data from approximately 277,000 participants and that New Mexicans make up 1% of the data collected so far.
Riley Fitting, a graduate public health student, decided to become a participant in the program and discussed his experience from touring the educational trailer.
"It synthesized a lot of data from a lot of diverse populations to find solutions for different health problems," Fitting said. "I think it's cool."
Students who became participants completed electronic surveys about their individual environments and lifestyles and provided blood and urine samples to give future researchers an understanding of their genetics. All data collection was conducted inside the van.
Sanchez mentioned that participants who chose to donate blood and urine samples will be able to access their genetic results for free in the future.
"By becoming a participant in the program, down the line, you'll get a genetic mapping for free. So, you'll get to see where you're from genetically," Sanchez said.
Another aspect of the van included a section of the inside wall that was called "A Million Leaves."
Lead Tour Manager Mel Lopez said on this wall section, participants had the opportunity to write down their reasoning to participate in the program.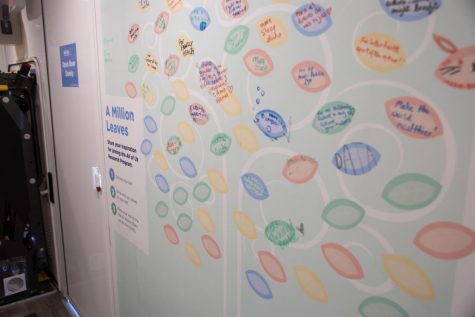 "The 'million leaves' is to share your inspiration as to why you joined the All of Us research program," Lopez said. "I myself joined for my family. Others have joined to better mental health, to find better support for medical research, even for cancer treatments."
Lopez explained that participants have seemed to share a common goal.
"Everyone has a different reason for signing up. Our angle is ultimately the same goal—to just have better health for everybody across the board," Lopez said.
Gonzales shared the meaning behind the title of the program.
"We want to have a database and a data set that's just as rich and diverse as the US is right now. We want to include everyone—that's why it's called 'All of Us'", Gonzalez said.
The team that visited NMSU will visit Albuquerque, NM next week to continue the ongoing hunt for health data.
More information about All of Us can be found at https://allofus.nih.gov/.
Leave a Comment
About the Contributors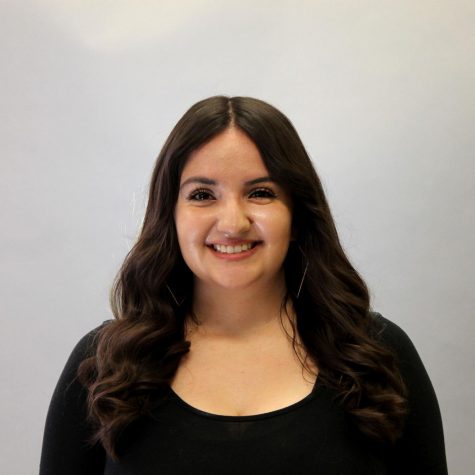 Aimee Ryan, Managing Editor
Aimee Ryan is a senior and Southern New Mexico native entering her fourth year at The Round Up and her first year as an editor. She worked as a staff writer...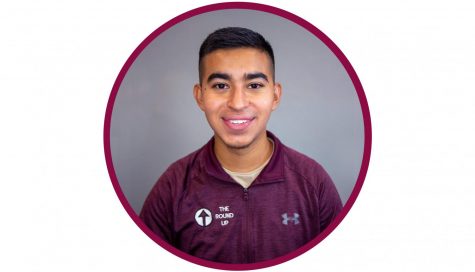 Mitchell Allred, Photographer
Mitchell Allred is attending New Mexico State as a junior, majoring in Criminal Justice to become a General Practice Lawyer, with a minor in philosophy...