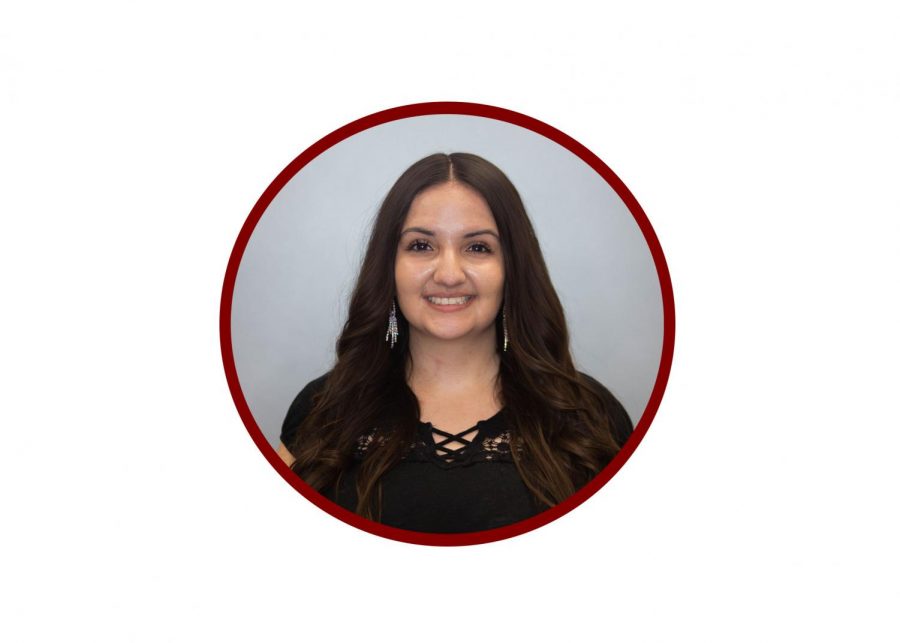 Aimee Ryan is a senior and Southern New Mexico native entering her fourth year at The Round Up and her first year as an editor. She worked as a staff writer for two years before writing as a political writer during her junior year. Ryan is majoring in counseling and community psychology with a minor in psychology. She hopes to attend graduate school in the near future and eventually become a licensed school psychologist.
Ryan is grateful to have worked for
The Round Up
throughout her time in college not only because she has been able to give a voice to a range of diverse NMSU students and employees but also because she has been able to record historical events that have affected the NMSU community such as winning a bowl game after a 57-year drought or navigating a viral pandemic--just to name a few. In general, she has covered a variety of story topics for the student news publication ranging from campus life matters to different levels of political issues.
Aimee Ryan, Managing Editor
Aug 27, 2020

Administration says new payment policy will aid students

(Story)

May 11, 2020

NMSU receives emergency funding from CARES Act due to COVID-19

(Story)

May 06, 2020

Madrid, Flores and 64th ASNMSU Senate sworn into office

(Story)

Apr 30, 2020

Mathew Madrid, Tiffany Flores elected as ASNMSU president, vice president for 2020–2021 academic year

(Story)

Apr 27, 2020

ASNMSU passes legislation to fund students, Chief Elections Officer under fire

(Story)

Apr 23, 2020

NMSU Board of Regents approve tuition hike for Fall semester

(Story)

Apr 20, 2020

NMSU Employees granted two types of leave under Families First Coronavirus Response Act

(Story)

Apr 15, 2020

ASNMSU passes 2020–2021 General Appropriations Act; Urges NMSU Administration to increase graduate benefits

(Story)

Apr 14, 2020

President Conner addresses voting issues during ASNMSU Senate meeting

(Story)

Apr 03, 2020

ASNMSU spring election schedule changed due to COVID-19 pandemic

(Story)

Apr 02, 2020

Las Cruces City Council weighs options for community response to COVID-19

(Story)

Mar 19, 2020

NMSU leaders address COVID-19 questions during virtual townhall Wednesday

(Story/Media)

Mar 17, 2020

ASNMSU Senate passes resolution to have virtual meetings the remainder of semester

(Story)

Mar 16, 2020

ASNMSU presidential election campaigns set to begin March 30

(Story)

Mar 10, 2020

NMSU Board of Regents welcome new regent, hold officer elections

(Story)

Mar 09, 2020

ASNMSU passes resolution to lower associate justice term

(Story)

Mar 05, 2020

Trump proposing cut in tribal scholarship funding

(Story)

Feb 27, 2020

Opportunity Scholarship dies in Second Session of NM Legislature

(Story)

Feb 24, 2020

Turning Point USA stirs debate at ASNMSU senate meeting

(Story)

Feb 21, 2020

Las Cruces to hold 2020 'If Every Woman Voted' suffrage event Saturday

(Story)

Feb 14, 2020

NMSU kicks off PRIDE season

(Story)

Feb 11, 2020

New Mexico Senate Bill proposes e-cigarette ban

(Story)

Feb 04, 2020

New graduate application process stirs faculty concern

(Story)

Jan 30, 2020

Brief: Former criminal justice professor files lawsuit against NMSU

(Story)

Dec 05, 2019

Criminal Justice majors to see heavy online-course load for spring 2020

(Story)

Nov 19, 2019

NMSU Foundation nearing completion of $125 million Ignite Aggie Discovery campaign

(Story)

Nov 12, 2019

NMSU teams up with UNM for cancer survivor research study

(Story)

Nov 07, 2019

Construction set to begin in 2020 surrounding NMSU on Triviz and University

(Story)

Oct 31, 2019

NMSU Criminal Justice Department speaks out amidst professor's attempts to purge CPB recruitment efforts

(Story)

Oct 22, 2019

Arvizu, Floros outline university goals in State of University address

(Story)

Oct 18, 2019

All of Us medical research program seeks to represent diverse communities

(Story)

Oct 09, 2019

Breast Cancer Awareness Month recognized by NMSU organizations

(Story)

Oct 08, 2019

NMSU provost speaks on her non-traditional journey to academia

(Story)

Oct 01, 2019

Student concern surfaces surrounding NMSU Athletics' controversies

(Story)

Sep 20, 2019

Las Cruces to rally against climate change

(Story)

Sep 18, 2019

NMSU introduces Aggie Mentorship Program

(Story)

Sep 16, 2019

NMSU students receive scholarships from Virgin Galactic

(Story)

Sep 09, 2019

Sodexo to replace Pastaggio's Restaurant at Frenger Food Court

(Story)

Sep 03, 2019

C EP department receives federal funding to train students in opioid addiction counseling

(Story)

Aug 27, 2019

New hotel provides hands-on experience in HRTM field

(Story)

Aug 21, 2019

First-year students look forward to campus life

(Story)

May 02, 2019

ASNMSU approves resolution to observe Mental Health Month

(Story)

Apr 30, 2019

New Mexico minimum wage bill will affect on-campus employment

(Story)

Apr 23, 2019

NMSU to extend Sandia Laboratory partnership additional 10 years

(Story)

Apr 11, 2019

NMSU Dining responds to circulating cockroach video in Taos Restaurant

(Story)

Apr 09, 2019

NMSU student captures video of cockroach near food at Taos Restaurant

(Story)

Apr 09, 2019

NMSU students participate in 16th-annual community clean-up

(Story)

Apr 08, 2019

Aggressive birds return to NMSU campus

(Story)

Mar 18, 2019

Anne Frank's step-sister, Holocaust survivor Eva Schloss visits NMSU

(Story)

Mar 13, 2019

How to get out of a bad grade rut

(Story)

Mar 06, 2019

Ash Wednesday 2019 to include masses held on NMSU's campus

(Story)

Mar 04, 2019

New plagiarism detection software to be installed into NMSU's Canvas feature beginning summer 2019

(Story)

Feb 27, 2019

New Las Cruces restaurants add to off-campus dining scene

(Story)

Feb 21, 2019

Delta Gamma to host Hoops for Troops philanthropy event

(Story)

Feb 18, 2019

NMSU ICT hosts 2019 Technology Day

(Story)

Feb 08, 2019

Confucius Institute hosts Lunar New Year festivities

(Story)

Feb 06, 2019

How to have a healthy semester

(Story)

Feb 01, 2019

Dublin's rumored to close; owners nowhere to be found

(Story)

Jan 29, 2019

Newly inaugurated Aggie Stampede welcomes students back for Spring semester

(Story)

Jan 16, 2019

NMSU students look to find cheapest textbooks for new semester

(Story)

Nov 29, 2018

Research team pushes for gender-neutral restroom in O'Donnell

(Story)

Nov 15, 2018

NMSU's Crimson Concierge aids student travel and more

(Story)

Nov 09, 2018

'Panamaniacs' are ready to give NMSU basketball a 6th-man advantage as season begins

(Story)

Nov 07, 2018

Up in Smoke: Juuls on NMSU campus

(Story)

Oct 17, 2018

Pistol Pete gets a western wardrobe upgrade

(Story)

Oct 10, 2018

NMSU Pride band sports new uniforms

(Story)

Oct 03, 2018

NMSU will host fifth Aggie Shark Tank

(Story)

Sep 26, 2018

Suicide Awareness Month at NMSU

(Story)

Sep 21, 2018

NMSU Celebrates 130th Birthday

(Story)

Sep 14, 2018

Aggie fans brace for game against bitter rival New Mexico

(Story)

Sep 07, 2018

Las Cruces named best New Mexico college town

(Story)

Sep 04, 2018

NMSU parking regulations go into effect beginning Tuesday

(Story)

Aug 24, 2018

NMSU students eager for season opener Saturday

(Story)

Aug 16, 2018

Welcome Back Concert set to feature Skizzy Mars

(Story)

May 01, 2018

NMSU students discuss benefits to unpaid internships

(Story)

Apr 18, 2018

Video: Are NMSU students working hard or hardly working

(Story)

Apr 17, 2018

New Mexico State officially identifies two-finger pistol as school-spirit hand sign

(Story)

Apr 13, 2018

15th annual 'Big Event' set to take place April 14

(Story)

Mar 29, 2018

NMSU cheerleaders to compete in NCA College Nationals

(Story)

Mar 12, 2018

Bike Theft has been an issue for some NMSU students

(Story)

Mar 05, 2018

NMSU Society of Automotive Engineers prepare for regional competitions

(Story)

Mar 01, 2018

ASNMSU hosts first-ever Leadership Conference

(Story)

Feb 20, 2018

Some New Mexico State students try to handle long-distance relationships

(Story)

Jan 22, 2018

New Year brings new alternative gym options

(Story)

Jan 19, 2018

New Year's resolutions offer chance to improve self

(Story)

Dec 08, 2017

NMSU students find newly-instilled pride in football team

(Story)

Dec 05, 2017

Navigating finals for freshmen

(Story)

Nov 21, 2017

Balancing your Thanksgiving Meal

(Story)